I've been keeping a big secret from you.
Imagine for a moment, though, that there's a little redbreasted robin beside you on the fence. He's a very talkative fellow, and something about his birdish banter gives you the oddest feeling — like maybe he's trying to get your attention. He seems very interested in one particular flower bed, and upon closer inspection, you notice a key nestled under one of the bushes. Not just any key, but a key that will finally open the mysterious gate situated in an ivy-covered wall — the key to a Secret Garden. Or in this case, to my Secret Secret Garden Party. Won't you come in?
…she held back the swinging curtain of ivy and pushed back the door which opened slowly–slowly. Then she slipped through it, and shut it behind her, and stood with her back against it, looking about her and breathing quite fast with excitement, and wonder, and delight. She was standing inside the secret garden.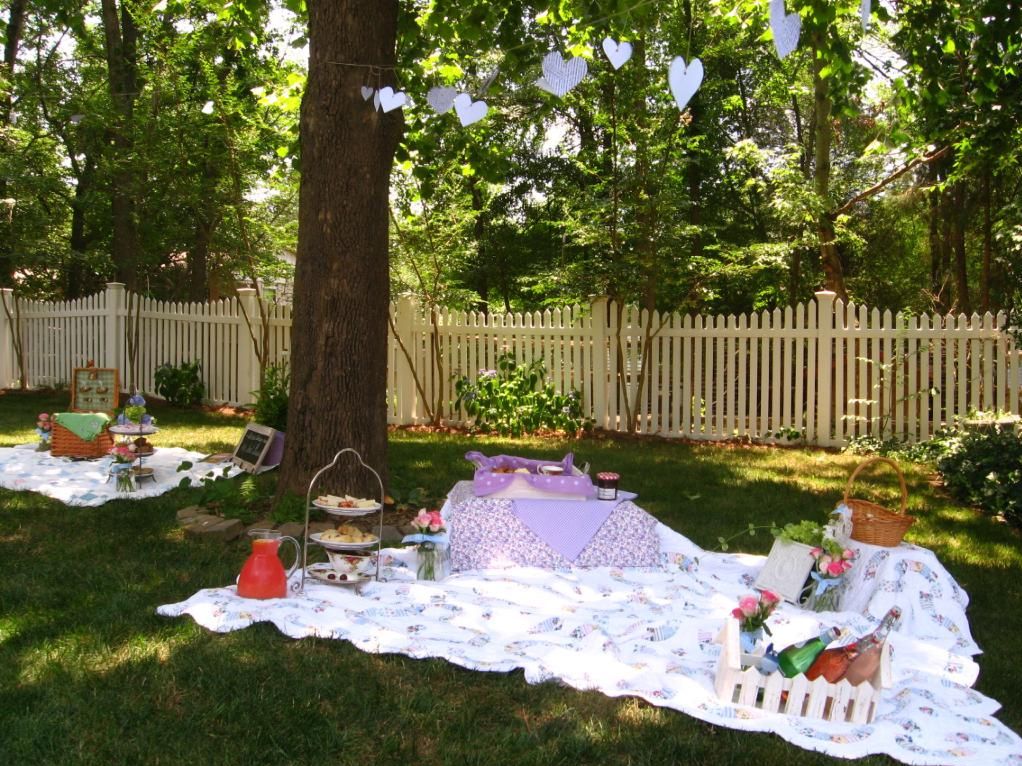 My sister, Sarah, is a bibliophile. She loves reading all sorts of books. One day she confided to me that her absolute favorite book of all time was the classic children's novel, The Secret Garden. This sparked my curiosity since I had passed over that book as a child. Unbeknownst to her, I picked up the book and read it in hopes of understanding its appeal to her. What I read planted an idea in my mind of a way to show Sarah how much we loved her — a Secret Secret Garden Party for her birthday, which at this point was still months away. The idea grew and blossomed and, come June, we were busily buzzing about getting ready to give Sarah the surprise party of a lifetime: a bountiful picnic in my mother's garden complete with a meal inspired by British tea.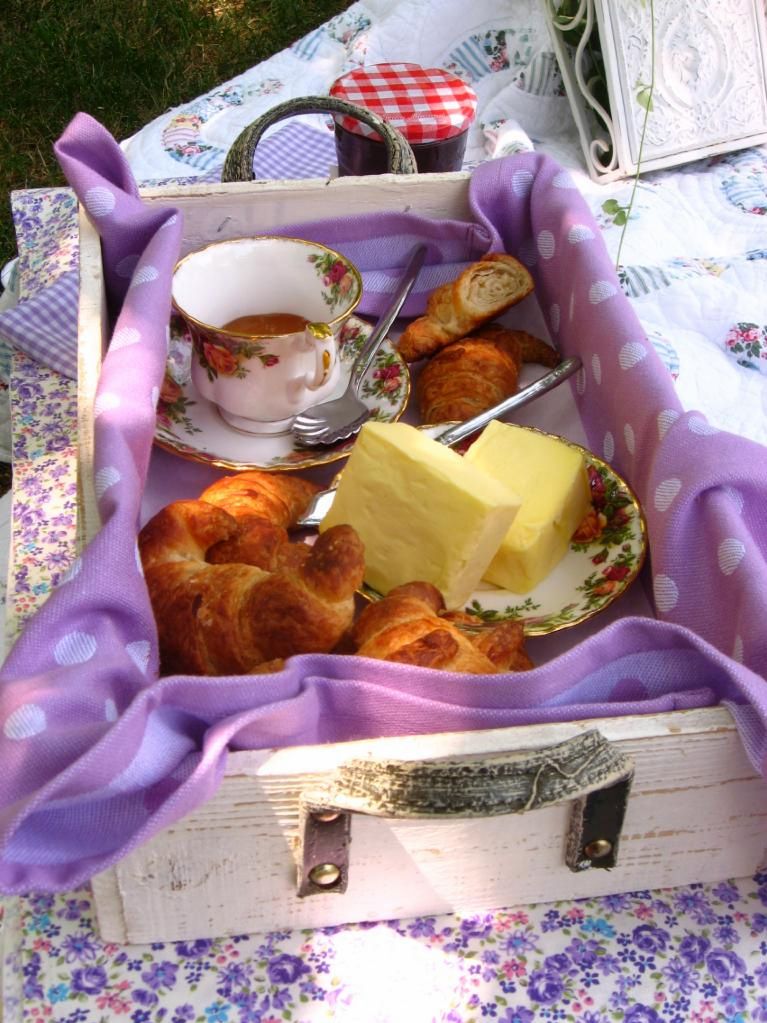 In The Secret Garden, Mary Lennox is the young protagonist who, like Sarah, had to confront issues of identity and find small oases of joy. Mary, a sour and skinny girl, is transported from the dust of India to cool, green England. She finds herself blossoming on the moor as she interacts with nature — a connection with the beauty of living things that Sarah shares. Just as Mary pruned and weeded and planted and nurtured her newfound nest, Sarah has built her own "garden" — a lovely life for herself full of friends, family, her loving boyfriend, a zest for life . . . and, in keeping with the Ruble way, full of food!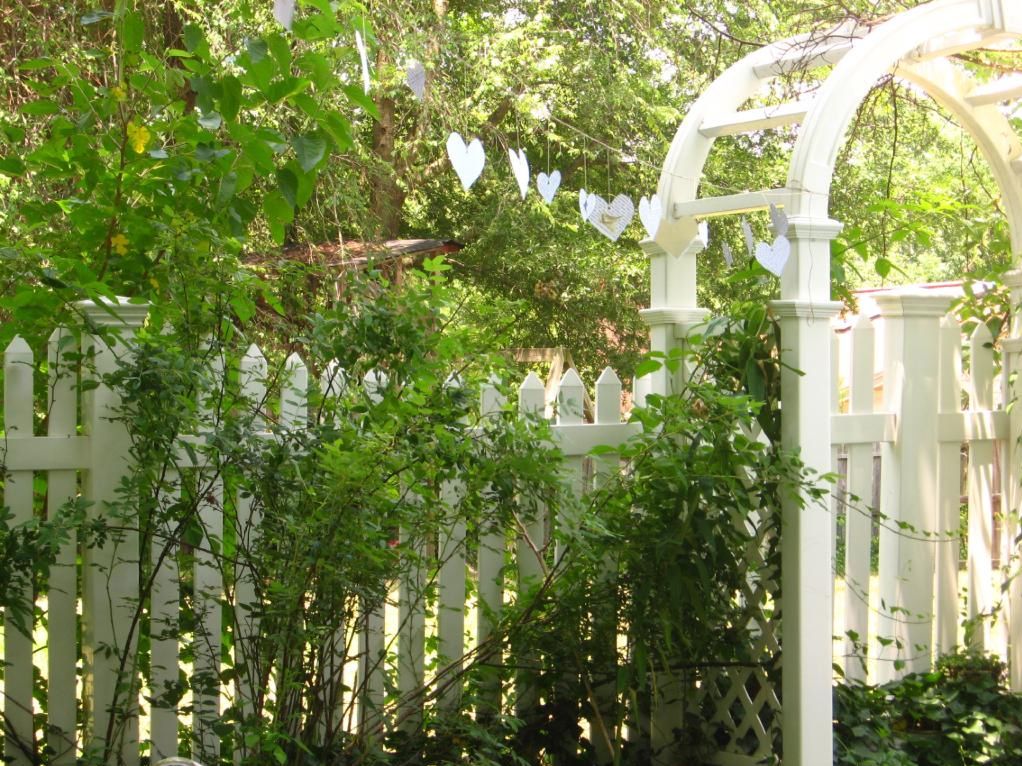 When I read the book, one of the things that jumped out to me were the lush feasts the children secreted to the garden and devoured voraciously in the stimulating moor air:
When the white cloth was spread upon the grass, with hot tea and buttered toast and crumpets, a delightfully hungry meal was eaten, and several birds on domestic errands paused to inquire what was going on and were led into investigating crumbs with great activity. Nut and Shell whisked up trees with pieces of cake and Soot took the entire half of a buttered crumpet into a corner and pecked at and examined and turned it over and made hoarse remarks about it until he decided to swallow it all joyfully in one gulp.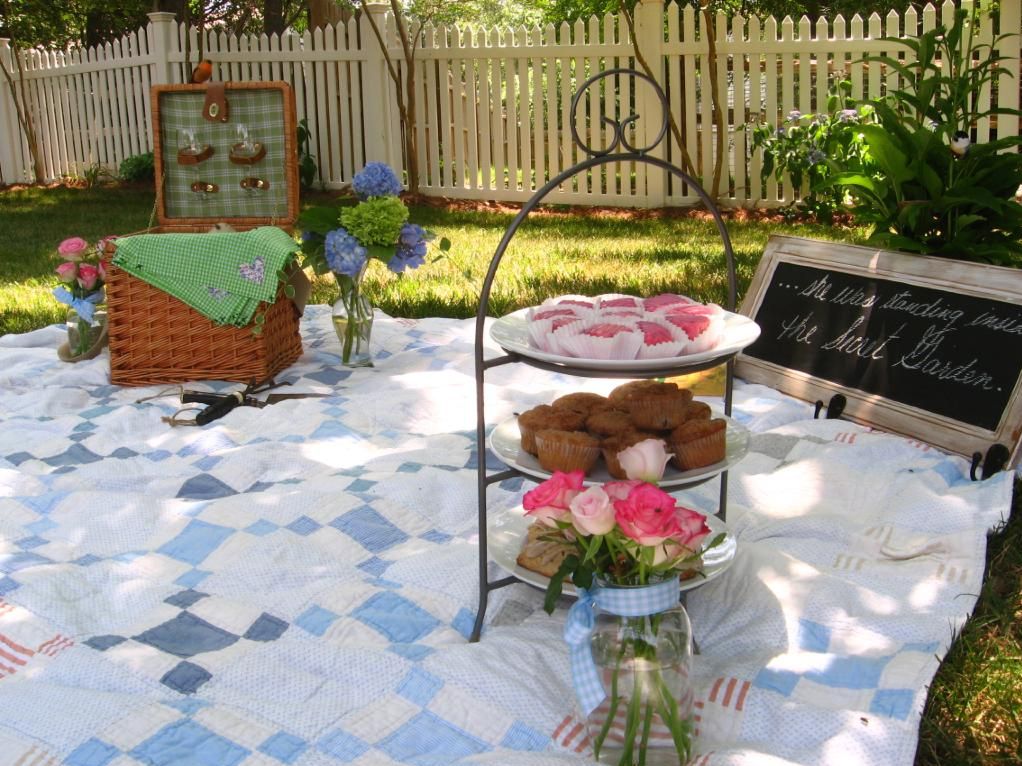 The picnic spread we created for Sarah's party was inspired by this casual countryside food from the novel: summery tea sandwiches; fresh glazed scones with jam, strawberry butter, and clotted cream; strawberry almond petit fours; homemade croissants with butter; sausage biscuits; berry muffins; and pitchers of plain and raspberry lemonades. The crowning triumph of the birthday feast was a honeyed pistachio birthday cake smothered in buttercream, constructed with love by my mom.
We needed more than piles of luscious food to construct the Secret Garden, though. Determined to create a picnic that seemed to come straight from the pages of the novel, I got crafty. I hand-stitched shabby chic gingham napkins, strung paper hearts from loosely draped hemp string, pasted together handmade invitations, and created mason jars full of fresh roses and accented with gingham ribbon. My mom hunted down faux birds, draped old floral quilts about, rustled up a lovely array of sweet dishes, and snipped heavy hydrangeas from her garden.
After half a year of dreaming and two weeks of intense planning, baking, shopping, and crafting, my mom and I set the entire picnic up in her lush backyard. We mounted ladders to string the handmade heart streamers from the branches of a huge tree, spread quilts, and arranged the feast onto tiered plates, rustic trays, and in baskets.
The photos you've been scrolling through thus far testify to how gorgeous the spread was, but Sarah never got to see that set-up. One of the biggest pieces of advice for picnic planning is have a plan B. A rainstorm, a heat wave, a fish storm — anything can happen to derail your plans. And derailed our plans were.

This chalkboard as well as many others can be found in my mom's Etsy shop, Posh Pilfer.
Our outdoor picnic was attacked by flies during our photo shoot. Not one or two flies. An army of flies. Thankfully, we had only set out part of the food to photograph, and the rest was still safe inside. We threw out the besieged food and moved to plan B — an indoor secret garden. Truthfully, it was just as lush and gorgeous, if not moreso, and we were thankful to be without attendees of the, ah, insect variety. Welcome to the Secret Garden #2:

I think this one is more beautiful, anyway, don't you?
This was the Secret Garden Sarah actually saw. On Saturday, I picked her up under the pretense of taking her to lunch for her birthday. I casually asked if we could stop by parents' house to retrieve my present for her, which had been shipped there. She agreed without much thought, and we proceeded to chat in the car about unrelated things. In my brain, I was throwing a celebratory party for myself, having worried for weeks that I would accidentally give away the surprise. She seemed totally unaware! But the self-congratulations came to an abrupt halt when we drove past the grocery store by my parents' house and she said, "Is that dad in the parking lot?!"
My dad had driven with Sarah's boyfriend, Alain, and Mike to drop their cars off at the grocery store so they wouldn't be visible at their house. So when Sarah thought she saw him in the parking lot, I almost had a heart attack! I drove quickly past, but I was privately panicking — what if dad hadn't gotten them back in time?! What would I say if we walked in to this party I'd been planning for half a year to find only my mom and little brother milling about?! "Um, surprise . . . three of us are here to celebrate your, uh, birthday"?! My heart sank, and it was with great anxiety that I opened the door to my parents' house when we arrived.
SURPRISE! Not only was everyone there (phew!), Sarah was completely shocked. I was shaking like a leaf as I pulled out her key necklace (shown in the first photo, above, and sold by grigio design) and fastened it around her neck, explaining that this was the key to the Secret Garden. I didn't want to leave you out, so we filmed her surprised entrance into the picnic. You'll see how incredibly long it takes me to fasten her necklace with trembling fingers, and hear Byrd's exciting canine rendition of "Happy Birthday" — okay, maybe she's just barking. Whichever.
[youtube=http://www.youtube.com/watch?v=rfXUORksbXA&hl=en_US&fs=1&]
With the joyful surprise behind us, we picnicked! Pastries were devoured, tea sandwiches were daintily nibbled, plain and Lorina French Berry lemonades flowed (we found our Lorina products at World Market). The crisp, buttery pastry; fluffy, cream-slathered Buttermilk Cranberry Lemon Scones; and spicy Smoked Salmon Tea Sandwiches transported us. Huge slices of hearty, triple-layer pistachio cake was the perfect finale to our meal. Mary Lennox would have been proud.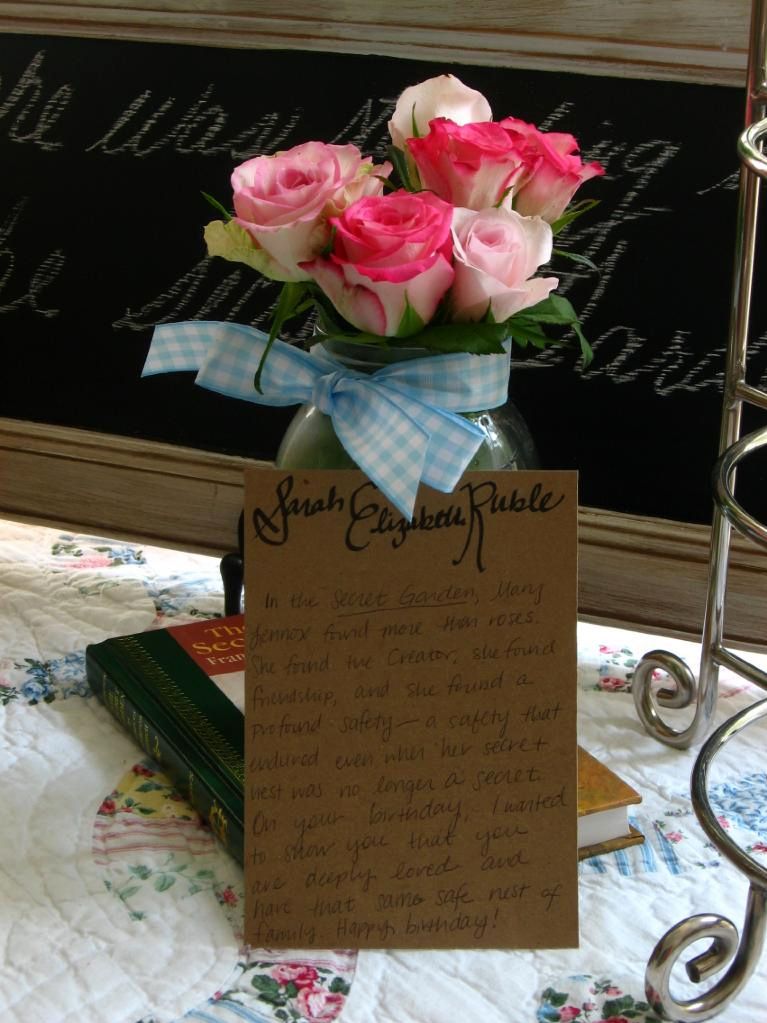 Better than all the food, though, and better even than the lush garden decor, was finding a way to let Sarah know she's important. The reason families everywhere take the time to construct big, wobbly birthday cakes (even when they're not bakers) and hang silly streamers (even when they're not crafty) and light a billion swirly wax candles (even when they're not, um, pyromaniacs?) is to celebrate a person. What better way to do so than to tailor the celebration to a theme particularly important to that person? When I hugged Sarah goodbye at the end of our Secret Secret Garden Party, she knew she was loved.
Late roses climbed and hung and clustered and the sunshine deepening the hue of the yellowing trees made one feel that one stood in an embowered temple of gold. The newcomer stood silent just as the children had done when they came into [the garden's] grayness. He looked round and round.

"I thought it would be dead," he said.

"Mary thought so at first," said Colin. "But it came alive."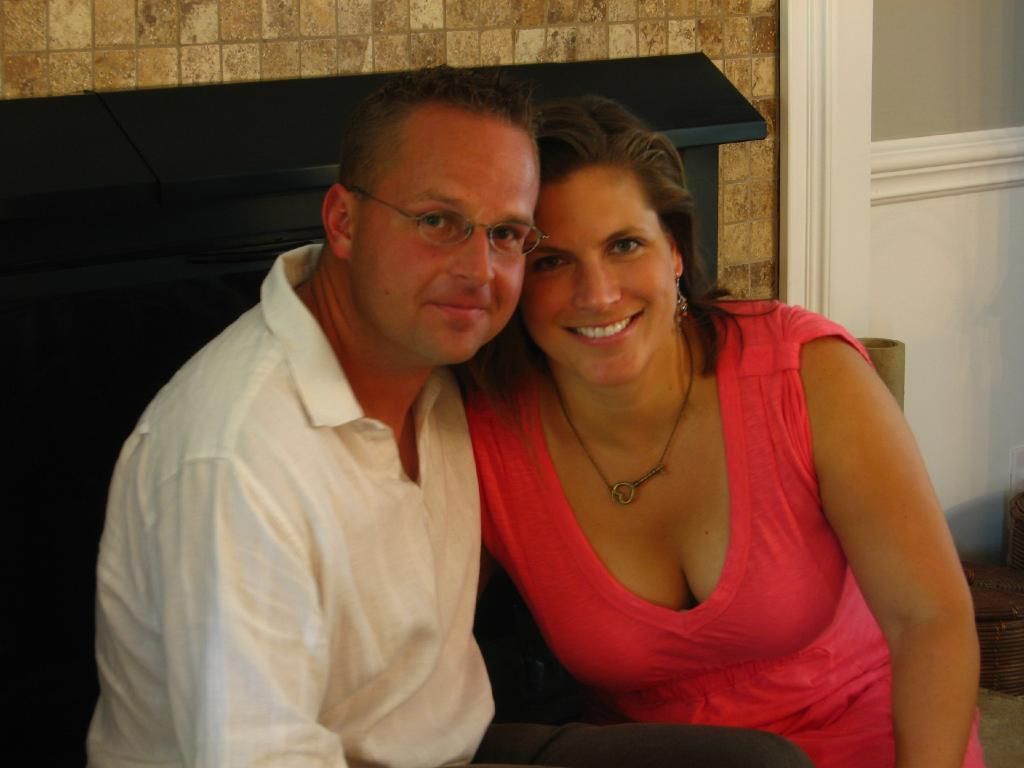 Sarah and her boyfriend, Alain.



Blowing out her candles.
In the coming weeks, I'll be sharing with you many of the recipes and crafting ideas that created this party, including the following. As they are posted, they'll be linked from this page, so bookmark this post to have them all handy. And stay tuned for some Secret Garden outtakes — elaborate party planning makes for some fun blooper photos, as it turns out.

Recipes

Craft Instructions

Best Blueberry Streusel Muffins
Buttermilk Brown Sugar Scones
Sparkling Raspberry Lemonade
Fresh Strawberry Butter
Pistachio Cake with Honeyed Buttercream

Paper Heart Streamers
Handmade Robin Invitations
Shabby Chic Flower Jars
I'd love your opinion: Which recipes and crafts from the Secret Secret Garden Party are you most excited to see?
If you liked this post, please:
–Subscribe to Willow Bird Baking
–Follow Willow Bird Baking on Twitter
–Follow Willow Bird Baking on Facebook
–Give this post a thumbs up on StumbleUpon
–Buzz this post up on Foodbuzz's 24×24 site!
Other ways to share this post with friends!