Warm Chickpea Salad with Shallots & Red Wine Vinaigrette
Dinner won. If you don't know what I'm talking about, get yourself over to Willow Bird Baking's Facebook page so you won't miss the fun discussions we have there. This week I let you all pick whether you wanted me to post dinner or dessert first, and to my surprise, dinner won! Don't worry, though. Dessert is soon to follow.
Tonight's dinner suggestion comes with a WEEKNIGHT DINNER CHALLENGE. We've been sharing tons of fun, easy dinner ideas over on Facebook in addition to sharing our angst about those nights when our awesome dinner plans turn into Pop-Tarts and delivery pizza. If you're anything like me, cooking dinner every single night is flippin' hard. We're all searching for quick new recipes to make the process easier. Enter the dinner challenge!
WEEKNIGHT DINNER CHALLENGE: Find at least 1 new recipe online to make for dinner some night this week. Snap a photo of your dinner and send an email to julie 'at' willowbirdbaking 'dot' com with:
The photo,
A "mini review" of the recipe — how'd you like it?
A link to the recipe
All week, I'll be featuring your recipes on WBB's Facebook wall. By the end of the week, we'll all have a ton of new recipe ideas in our weeknight dinner repertoires!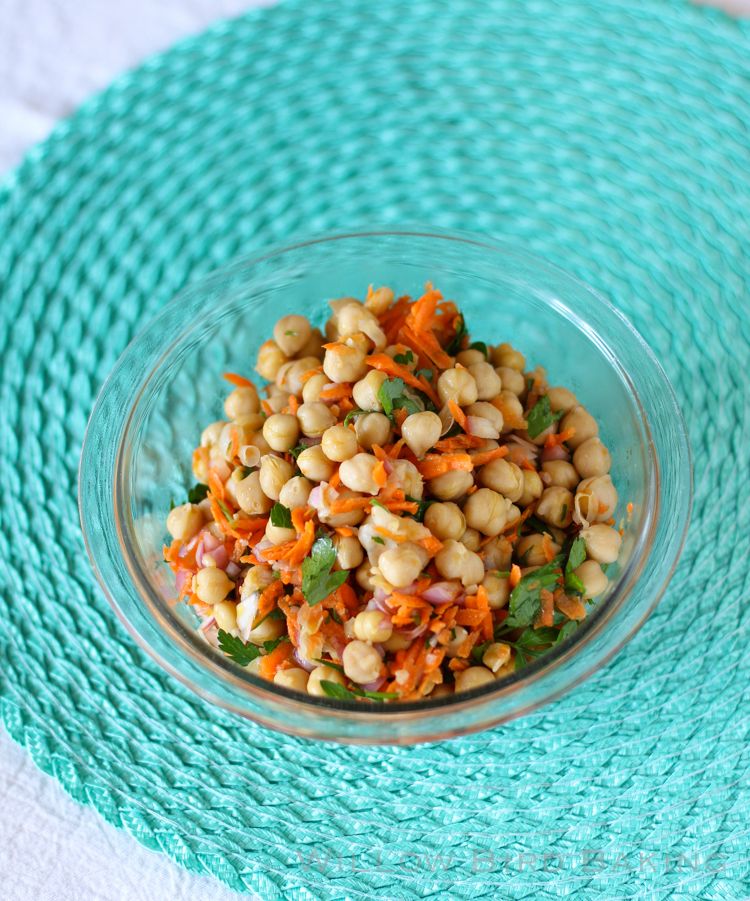 If you're looking for somewhere to start, start with this Warm Chickpea Salad with Shallots & Red Wine Vinaigrette. I found this simple salad years ago on Orangette and it's been my favorite salad since. It's quick and easy to prepare, but the warm shallot dressing makes it divine. Molly recommends eating it with crusty bread or braised winter vegetables, which sounds fantastic. Mike and I ate it with meaty stuffed mushrooms and it was a lovely light contrast.
Need more suggestions? Some of my favorite blogs for quick (mostly healthy) dinner ideas, in addition to Orangette, are Skinnytaste, Taste and Tell, Laa Loosh, and Not Without Salt. For more indulgent dinner recipes, I love Buns In My Oven. What dinner blogs do you frequent?
One year ago: Gooey "German" Pumpkin Skillet Cake
Two years ago: Easy Sopapilla Pumpkin Cheesecake Bars
Three years ago: Honeybun Cake with Caramel Sauce
Four years ago: Homemade Puff Pastry and Vol-au-vents
Warm Chickpea Salad with Shallots & Red Wine Vinaigrette

---


Recipe by: Adapted from Orangette, who adapted it from The Splendid Table Weeknight Kitchen, which in turn excerpted from Fresh Food Fast: Delicious, Seasonal Vegetarian Meals in Under an Hour
Yield: 4 servings

Molly from Orangette numbers this among her "simple and unsexy" winter staples, which makes me laugh. I guess chickpeas can't be sexy, but this warm salad is divine and satisfying in a way that's hard to describe — you just have to make it! It's my absolutely favorite salad in the world, sexy or not.

Ingredients:
1 large shallot, thinly sliced
3 tablespoon red wine vinegar
1 garlic clove, minced
1/4 teaspoon kosher salt, plus more to taste
2 (15-ounce) cans chickpeas, drained
1 large carrot, coarsely grated
1/2 cup flat-leaf (Italian) parsley leaves, chopped
1/3 cup extra-virgin olive oil
Freshly ground black pepper

Directions:
Combine shallot, vinegar, minced garlic, and salt in a large bowl and set it aside to mellow for around 10 minutes while you complete the rest of the recipe. Boil water in a medium saucepan over high heat and add chickpeas. Boil them for 2 minutes and drain. Add the carrot, parsley, olive oil, and chickpeas to the shallot mixture and toss well. Taste and season as needed. Serve immediately.