(Photo by Todd Sumlin)
I saw Mike's car turning onto Kings Street as I blew past in my little red Nissan. I hoped he hadn't caught a glimpse of me — I wanted to see his face when he had a real "first look." I jumped out of my car at Mama Ricotta's, an iconic and well-loved Italian restaurant in Charlotte. The best photographer in the universe (Charlotte Observer photojournalist and a great family friend Todd Sumlin) met me with a big hug and an even bigger camera. I told him Mike was just about to pull in and then, sure enough, his black car pulled into the parking lot. I hid (and did considerable hair-floofing, dress smoothing, and smile-adjusting) until Mike got out of the car, whereupon he turned and there it was — the moment I'd imagined a million times: our first sight of each other, complete with him (absolutely killing it in his blue suit) walking quickly over to me with a broad smile, saying, "Julie, you look beautiful."

The first look (Photo by Todd Sumlin)
Our wedding was picture perfect for me, from proposal to the last goodnight. One of my favorite details was the beautiful custom invitation that illustrator Lana Frankel created. I have to brag on Lana for a bit, because this girl worked tirelessly to make sure these were perfect: she included our special fountain, hand addressed our envelopes, and even lined them with metallic art deco inspired paper (to match my vintage ring)! She went above and beyond — and that's what I love about working with a small, passion-driven business like hers. We were so tickled with the invitations and they're now one of our most special wedding mementos.
Another perfect detail was our ceremony. I wanted to retain a few wedding traditions that were meaningful to us and ditch the many that weren't. Mike and I opted for a small exchange of vows at the restaurant itself followed by a big feast — the food was a very important detail for me, of course! No aisle, no long ceremony, no separate dancing reception. I love those things at others' weddings, but for us, it really fit to do a big family dinner instead. That's more who we are.
Mama Ricotta's seated us in the back of the restaurant with a heavy red/gold metallic curtain drawn behind us. My mom worked magic with $20 worth of hot pink baby roses I'd picked up at Trader Joe's the day before, making it look like we'd actually planned some décor. After fretting for a week or so about who would officiate our ceremony (we wanted someone special to us who knew a bit about us personally), Mike and I convinced my dad to get ordained and do the job! It was the most wonderful twist I could've imagined: I'll never forget that my dad not only "gave me away," but actually led us through our vows on my wedding day.
After our vows — which we giggled and sniffled our way through — the servers brought us tray after tray overflowing with amazing food (some of which is pictured in our wedding album, below). Here's the menu we enjoyed surrounded by our close family:
My lovely new in-laws (who have really felt like family for years) jokingly asked whether we'd also paid for the servers to roll us all out with handtrucks after the meal. Despite having just eaten a huge amount of food, Mike and I happily cut the cake: a huge sheet cake from Sam's Club with fluffy whipped icing. Perhaps that doesn't sound too fancy, but to me, there's nothing more decadent than a ton of fluffy icing that I didn't mix up myself! I had a hard decision to make, though, as I tried to determine which piece had the maximum amount of icing.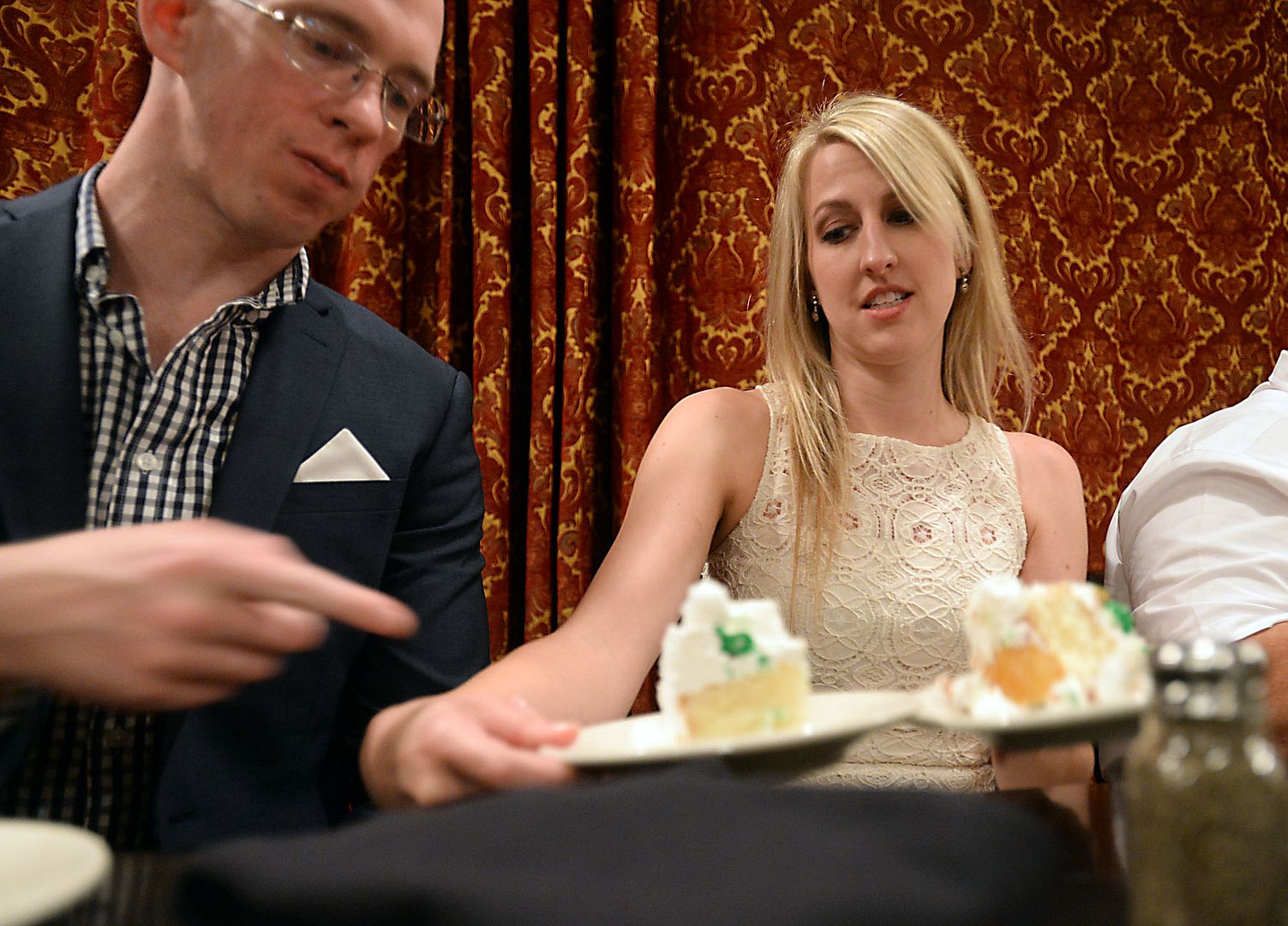 Mike helps me decide which piece of cake I want. Pretty sure this is important practice for being my husband. (Photo by Todd Sumlin)
At the end of the night, the marriage license was signed and hugs and kisses given all around. Mike and I found ourselves buckled into his car, husband and wife. I read him the cards we'd received from our family as he drove us through the streets of Charlotte. Three days later, we still turn to each other every now and then and laugh, realizing again how surreal it is that we're married. I don't know how long it'll take for that to wear off, but I'm in no hurry. It has been a truly lovely union so far.
I thought I'd share a few photos from our wedding album with you. Thank you so much, again, to our wonderful photographer and friend, Todd Sumlin, for taking these photos. If you're in Charlotte and need a photographer, I can't recommend him enough! (You can click the "full screen" button to make the slideshow larger.)
Just like that, on August 4, 2013, all my dreams came true. Thank you all for your love, congratulations, and support!
* * *
Disclosure: Lana and Todd both generously gifted portions or the entirety of their services to me for my wedding; however, I value my readers such that all opinions expressed on Willow Bird are always my own. I share these lovely folks and their businesses with you because they are absolute gems and I know you'll appreciate the quality of their work as much as I do.