I'm bustling around like Mother Hen this evening, clucking over the laundry, packing, and planning last minute details. Tomorrow I drop Byrd off at her grandma's house and pick Mike up to drive to Greensboro, NC. In G-boro, he'll take the test he's spent months preparing for: the math GRE.

The sunset Mike and I watched after the Christmas Show in 2008.
Being with him during his culminating assessment is such a blessing, having seen him working passionately to reach this moment. Mike actually withdrew from college over a decade ago after struggling with boredom and frustration in high school. School wasn't meeting his needs, and he wasn't sure what path to take.

Mike helps a not-so-enthusiastic Byrd stand next to our pitiful snowman for a picture.
Even if I take off my girlfriend glasses, I can honestly say he's a stunningly brilliant person. He's one of those people who can weave tapestries with collections of thoughts — whose shining, meticulously crafted gears are always whirring in sync (in contrast, every now and then I feel like one of my gears needs an oilcan . . .). Eventually, he realized he needed to cart this intelligence back to school and earn it a certificate of legitimacy. Thus, in just 3 short years, he has rocketed through his undergraduate degree in Mathematics. In December, I'm going to be absolutely beside myself with pride and tears as he walks the stage and receives the college degree — with honors and lots of laudes! — he so deserves.

Mike ate his first funnel cake during our trip to Gatlinburg, TN in December 2008.
Back to the point at hand: this weekend, and this test. This weekend probably doesn't feel like a celebration to him, but it is to me. First, it's a celebration of how hard he's worked to prepare himself for a test that's really a harbinger of a new life (graduate school) on the horizon. But it's also a celebration of us. As long as I've known Mike, I've known he was capable of great things. I'm so thankful that I've gotten to watch as he's taken each step of of his journey: from a retail job, to work in a dental lab, to college, and soon off to grad school. Tonight I'm sifting through those steps, thinking about the people we were, have become, and will become. I'm brimming with memories of our eleven years together — which perhaps finally explains why I'm scattering photographic artifacts of those years throughout this entry.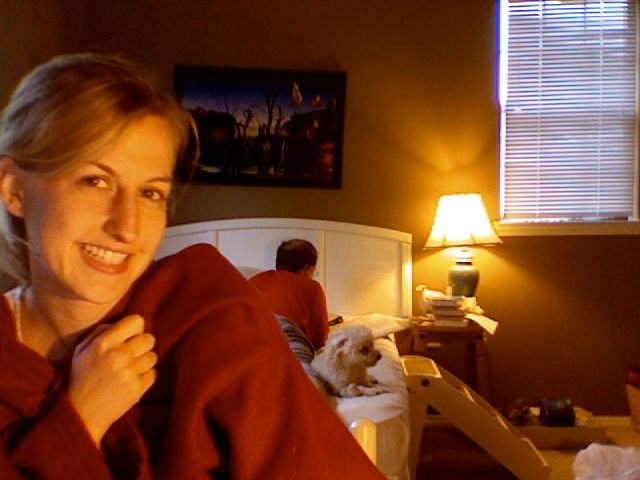 Blurry Photobooth Photo of us in our element: Mike and Byrd work on math while I grade papers in my snuggie.
It's in this splushy state of reminiscence that I'm baking a sweet, modest cake and wrapping it up for the trip. Last December we shared a special moment sitting by the fire and drinking hot chocolate. Tomorrow I hope to recreate that special feeling, but in the place of hot chocolate, I'll substitute hearty hunks of cake and a pluff of cinnamon whipped cream. And really, who knows? I might manage to smuggle some cocoa and a couple of mugs into my travel bag along with the mounds of papers I have to grade.

The lovely fireplace where Mike and I enjoyed hot chocolate on a frosty evening in the mountains.
To Mike, I wish you clear thinking, quick reasoning, and accurate arithmetic on your test. You've already impressed so many people, from family to scholars, and I emphatically believe that you're about to knock the academic socks off of some graduate admissions committees. I can't wait to celebrate this rite of passage with you, and I'm so glad to join you on your journey.
Share this post with friends!