The Best Easy Yeast Rolls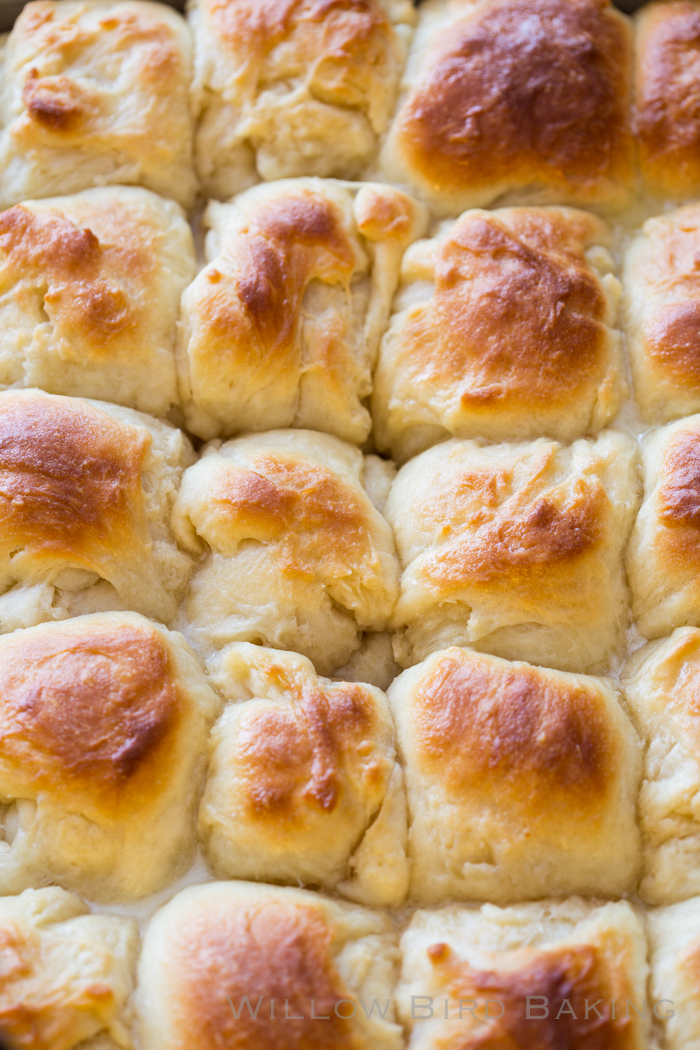 2 packages active dry yeast
2 1/2 cups lukewarm water (between 95 and 110 degrees F on a candy thermometer)
2 eggs
3/4 cup sugar
3/4 cup shortening, cut into cubes
2 1/2 teaspoons salt
8 cups all-purpose flour
1/2 cup butter, melted, for brushing over the tops
Soften yeast in water for 10-15 minutes to activate it and be sure it foams (if it doesn't, it might have died and you'll want to start over with fresh yeast). Add sugar, salt, eggs, shortening and 4 cups of flour and mix until smooth. Let sit 1 minute, then add rest of flour and mix well. Cover tightly with plastic wrap and refrigerate overnight.
The next day, preheat the oven to 400 degrees F and spray a 9 x 13-inch baking dish and a 9-inch round cake pan (or an 8-inch square baking dish) with cooking spray. I've had the best luck with light colored pans or glass dishes. Pinch off dough and form into rolls (smoothing the dough over the top and pinching toward the bottom creates smooth tops, unlike my rough ones above oops), placing them in the pan. Cover the pans with a towel. Let rise for 1 hour (or until doubled in size) in a warm place, such as on top of the preheating oven.
Bake at 400 degrees for 15-20 minutes. Let the tops get a little browner than you think they should to ensure the rolls aren't doughy in the middle. Brush the tops with melted butter when the rolls are done to soften them (yes, use all the butter). Serve warm with softened butter (or honey butter!) and jam for spreading.
Recipe by
Willow Bird Baking
at https://willowbirdbaking.com/2018/12/24/easy-yeast-rolls-you-must-try/