Tuna Melt Sliders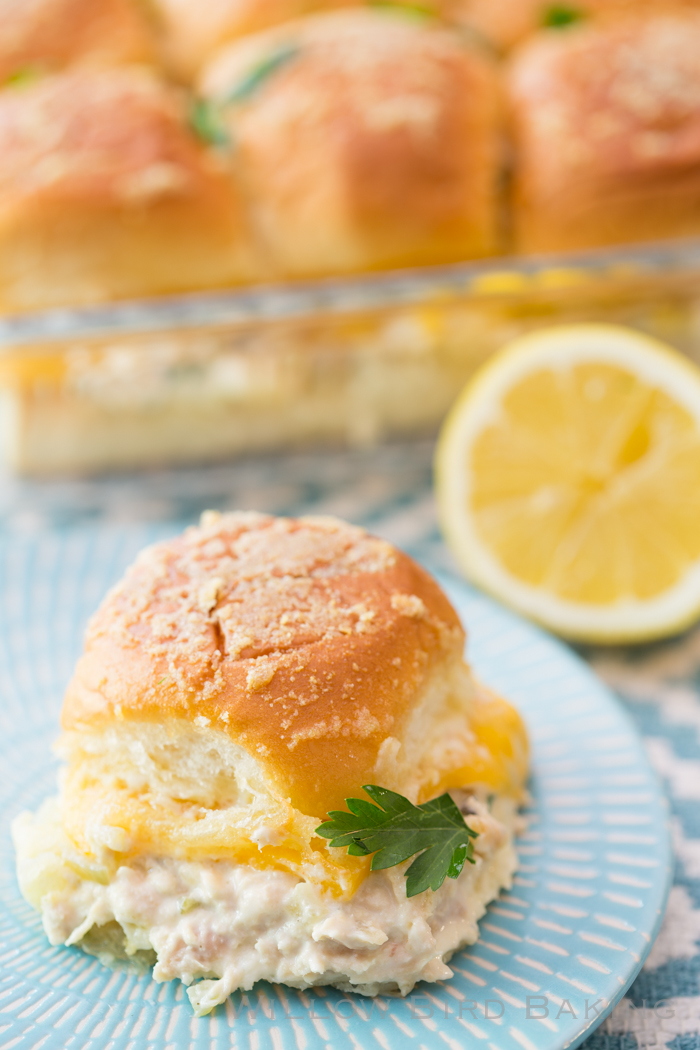 Author:
Willow Bird Baking
Two 6-ounce cans Albacore tuna, drained
2 tablespoons minced red onion, soaked in cold water for 5 minutes and drained
1 teaspoon minced flat-leaf parsley
1/3 cup mayonnaise (Duke's if you have it, Hellmann's or Best Foods if you don't), plus more for spreading
1 tablespoon Dijon mustard
3 tablespoons Wickle's Pickles relish
8 Ritz crackers, crushed
Black pepper, to taste
Juice from half a lemon
1 (12-count) package Hawaiian Rolls
9 slices sharp cheddar cheese
3/4 tablespoon Dijon mustard
1/4 cup butter melted
1 1/2 teaspoons onion powder
Preheat the oven to 350 degrees F and spray a 9 x 13-inch baking dish with cooking spray. In a medium bowl, break up the tuna. Add onion, parsley, mayonnaise, mustard, a squeeze of lemon juice, relish, and crushed crackers. Stir to combine and then taste. Add pepper or more lemon juice as needed. Stick this in the fridge to chill.
Cut the rolls in half and spread mayonnaise on both the top and bottom half. Place the bottom half of the rolls in the prepared baking dish and place a scoop of tuna salad onto each roll. Top this with a layer of cheese slices and then the top half of the rolls.
Whisk together the mustard, melted butter, and onion powder and pour the mixture over the rolls. Cover them with foil and let sit for 10 minutes. Bake for 10 minutes or until the cheese is melted. Uncover and continue baking for 2-3 minutes until the tops are slightly browned. Let cool slightly and serve warm.