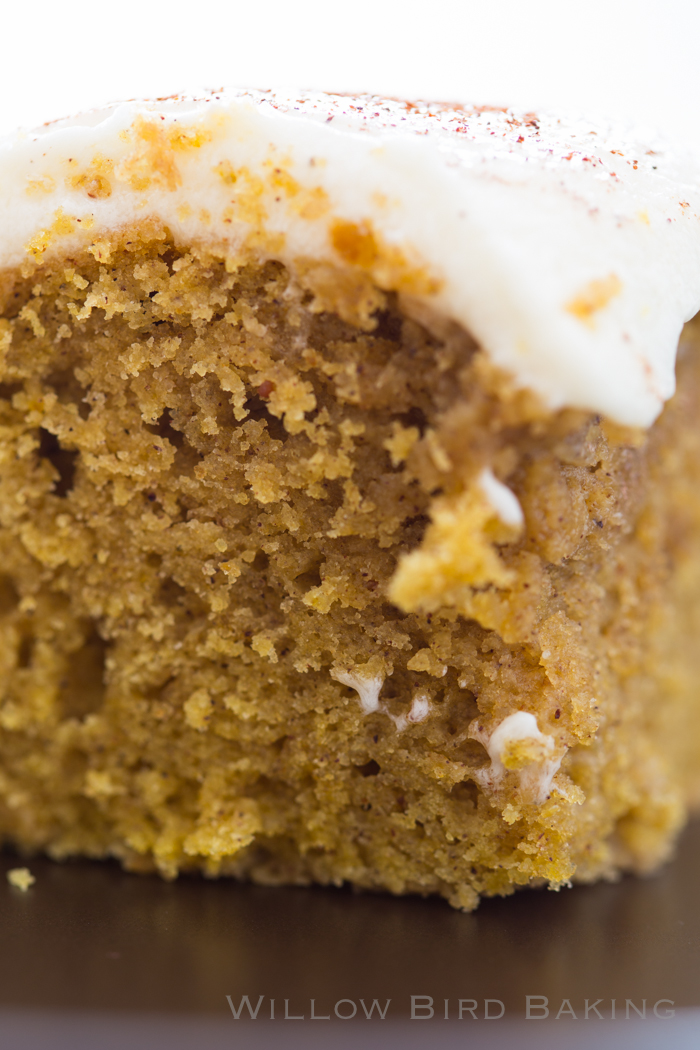 Brown Butter Pumpkin Cake with Whipped Icing
There have been a lot of big changes so far this month. A new school year. A new school, even! A different set of students to see each morning, a different set of teachers to get to know. A different schedule with a different commute. But there's one big change I wasn't totally expecting…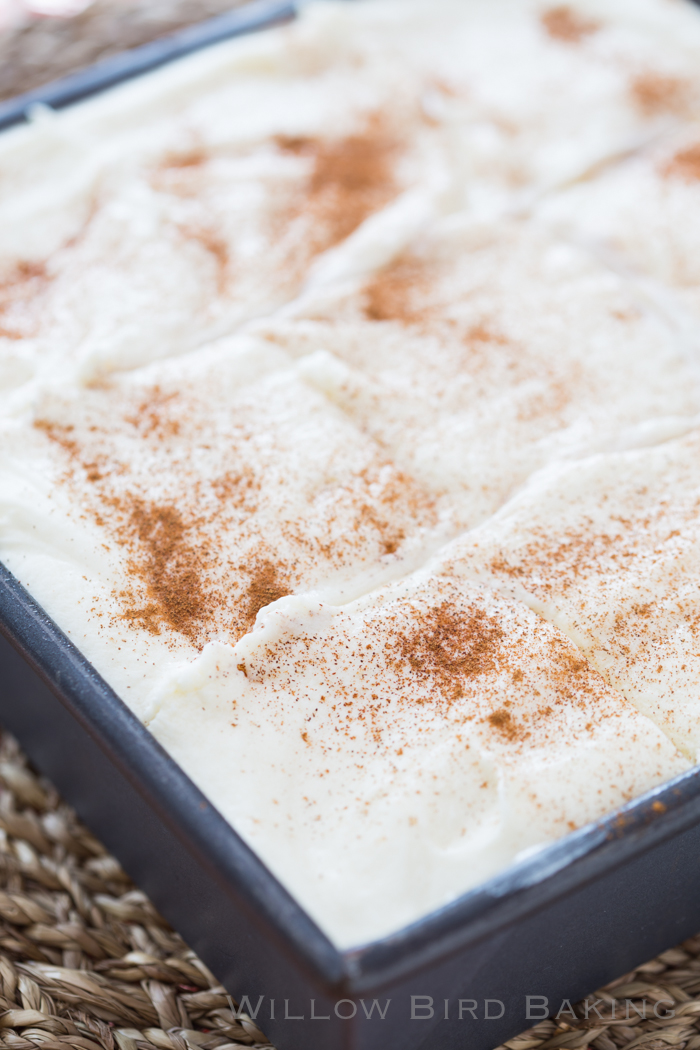 That is, Mike moved to San Francisco! That's right… just Mike. Don't worry; we're still married and everything. He got a fantastic opportunity with an artificial intelligence fellowship, so he moved up for three months.
After the three months, he'll most likely get a job up there. All in all, we're looking at living in different cities for at least a year — maybe more! That's the hard part. The good news is this is an opportunity he's always wanted, and that once he gets a job, we'll probably be able to see each other a couple of times a month.
It'll be kind of like dating again? Special trips with thoughtful dates because we can't just sit together every evening and take each other for granted anymore? At least that's what we're hoping. So far it's been difficult, but we're hanging in there!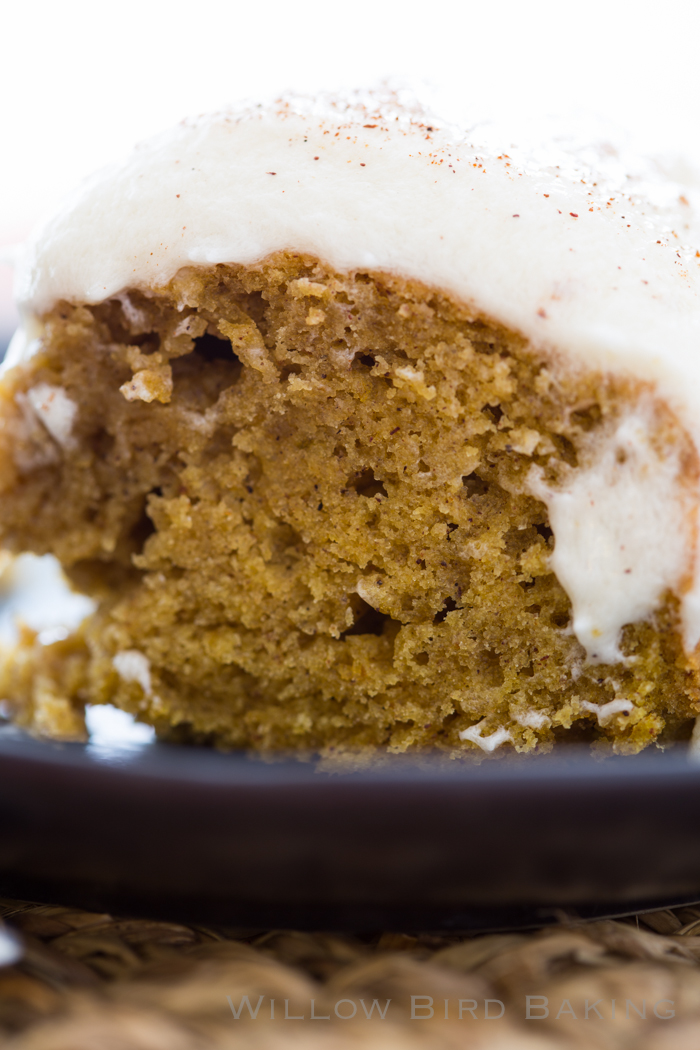 One good thing about his big move is that now I can bop around the kitchen and watch Teen Mom at full volume while I bake each Saturday morning. This pumpkin cake was the first fall recipe for this year (it's still 75 degrees in San Diego most days!) and it's definitely worthy of your fall table.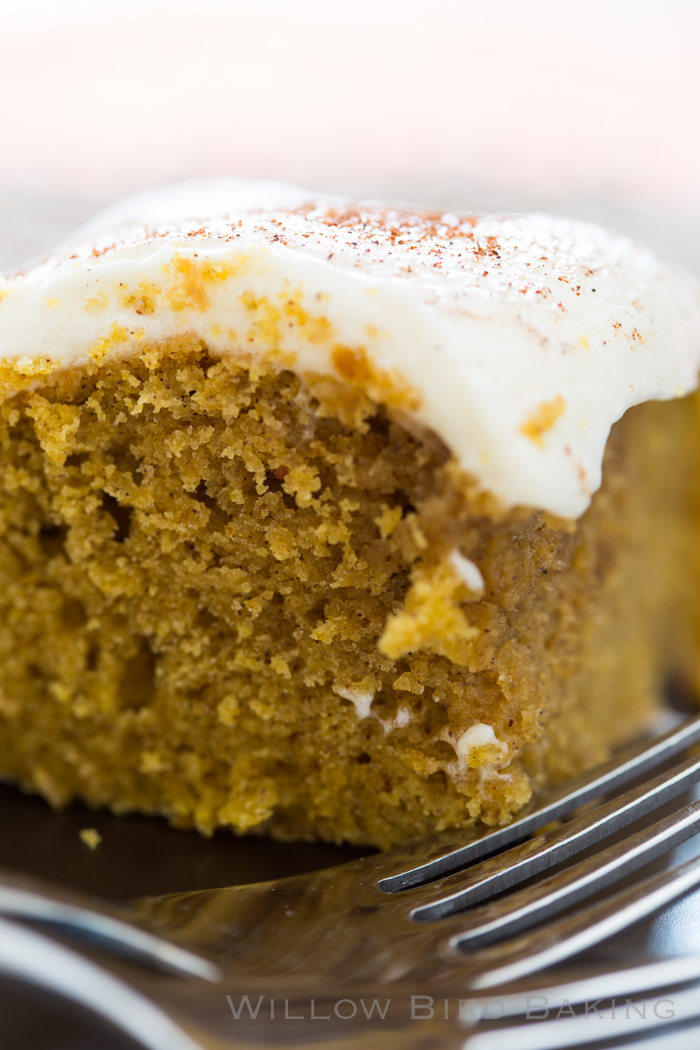 I was a little too eager and didn't let my frosting and cake cool all the way, so if you notice my frosting looking a little loose, that's why. Make sure to let yours cool all the way and it'll be nice and fluffy. Enjoy!
One year ago: Sticky Toffee Pumpkin Cake
Two years ago: Milk Toast Brownies
Three years ago: Pumpkin Pie Carmelitas
Four years ago: Easy Carrot Cake with Whipped Icing
Five years ago: Lemon Raspberry Gooey Butter Cake
Six years ago: Gooey "German" Pumpkin Skillet Cake
Seven years ago: Ina Garten's Lemon Loaf Cake
Eight years ago: Peach Crisp Pie

Brown Butter Pumpkin Cake with Whipped Icing
This cake blooms fall spices in brown butter for a delicious autumn dessert! I topped it with my favorite fluffy whipped icing. Just be sure the cake is totally cool before you ice it, and that the icing base is totally cool before you whip the icing -- or yours might end up a little melty (like mine did in these photos).
Author:
Willow Bird Baking
Ingredients
Cake Ingredients:
3/4 cup butter
2 teaspoons cinnamon
1/2 teaspoon nutmeg
1/2 teaspoon ginger
1/4 teaspoon allspice
1/4 cup vegetable oil
3/4 cup granulated sugar
1/4 cup firmly packed light brown sugar
1 teaspoon vanilla extract
2 eggs
1 cup pureed pumpkin
2 1/8 cups all-purpose flour (1/8 cup is 2 tablespoons)
1 teaspoon baking powder
1/2 teaspoon baking soda
1/2 teaspoon salt
Whipped Icing Ingredients:
1 cup milk
5 tablespoons flour
1 1/4 cups granulated sugar (not powdered sugar)
1 1/2 teaspoons vanilla extract
1/2 teaspoon almond extract
1 cup butter, at room temperature
Instructions
Preheat the oven to 350 degrees F and grease an 8-inch square baking pan (I also place a greased sheet of parchment in the bottom for extra assurance.)
Brown the butter and bloom the spices: Heat the butter in a saucepan over medium heat until melted, 1 to 2 minutes. Continue to cook, swirling pan constantly, until butter is light brown and has faint nutty aroma, 2 to 4 minutes. Add spices (cinnamon, nutmeg, ginger, allspice) and continue to cook, stirring constantly, 15 seconds. Pour the butter into a large bowl and allow it to cool.
Once the butter has cooled, whisk in the vegetable oil, sugars, vanilla extract, eggs, and the pumpkin. In a medium bowl, whisk together the flour, baking soda, baking powder, and salt. Whisk these into your wet ingredients to combine. Pour the batter into the prepared baking pan and smooth out the top. Bake for 28-35 minutes or until a toothpick inserted into the middle of the cake comes out with just a few moist crumbs. Allow the cake to cool completely.
While the cake bakes, heat the milk, flour, and granulated sugar together over medium heat, whisking constantly. Once it starts to boil, continue whisking and heating it for around 7 minutes or until it's very thick, like cake batter consistency. Remove the mixture from the heat and add the vanilla extract. Remove the mixture to a shallow pan and let the mixture cool completely (after a bit, I stuck mine in the fridge to hurry it along).
Once the mixture and the cake are both completely cool, beat the butter in the bowl of a stand mixer until soft and fluffy. Add the completely cooled mixture and beat on high until you have fluffy frosting the consistency of stiff whipped cream (this takes several minutes, so be patient). Frost your completely cooled cake with a thick layer. Serve immediately.