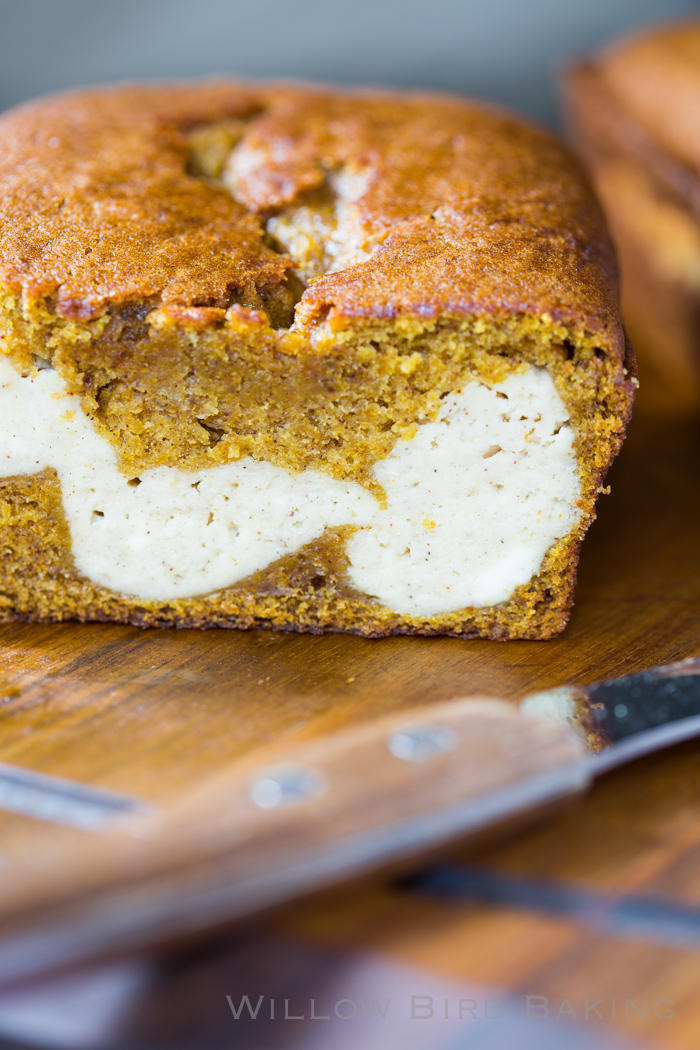 Pumpkin Bread Stuffed with Chai Cheesecake
It always feels like when I have the most stories to tell, I find myself silent under their weight. When Mike and I broke up years ago, I just lost all my words for awhile. My thoughts were traveling a million miles a minute, making all the connections, tying the hum of a rusty refrigerator in Missouri to a gauze of silence in Denver. I have those threads sewn up in my heart but the stories take too much work to form. Not too much, but more than I'm ready for each week.
Moving to California has been the same way.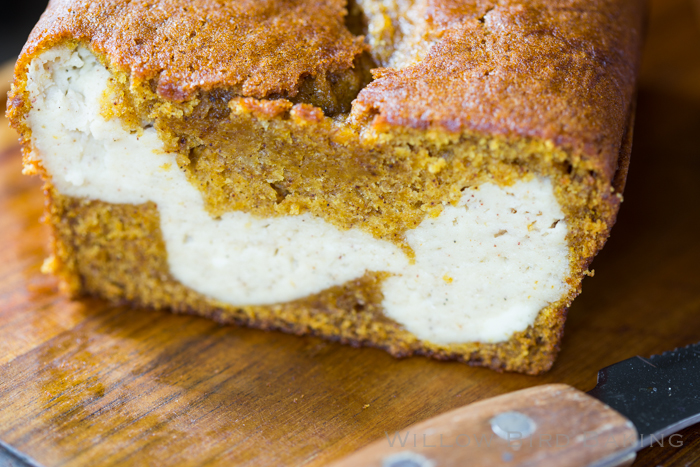 I expected I'd tell you all about it. But I feel like I can't start without telling you about the 5-day drive that felt like a 5-day free fall off a cliff, and I can't tell you that without telling you about trauma and safety. And I can't tell that story.
I want to launch in and tell you about V, a student I work with right now who for weeks could not have cared less that I existed — but who confided in me yesterday that she ran my relay race not for a popsicle, but for A, a younger student who looks up to her and absolutely beamed to be included. Y'all.
I want to tell you about how rain here is like snow in Carolina: all the kids jump up and run outside, twirling around like it's magic.
I want to tell you about the giant rug I scored on Craigslist that was too small in that sprawling house I snagged it from, but looks regal in our studio apartment.
I want to tell you about the poem I wrote: the whole script with annotations: methyl groups / that slipped through my mother's fingers…
I want to explain the canyons and the hills here, how a cross at the apex against the sunset hits me in a way I wasn't prepared for, how one of these crosses shares the name of my niece, how the earth is warped here in ways that sometimes feel Jurassic.
I want to tell you about my tiny poky garden of succulents that are all still alive so far (one looks iffy).
I want to tell you how for some reason this move dredged up things I wasn't expecting (and how wild it is that I wasn't expecting it). How learning about refugees made me sob before I was ready because I realized I had to leave my family years ago, that every now and then there would be pumpkin pancakes and I could pretend but there are walls and walls and walls and waves and waves.
This is why it hurt so much when my grandmother died, and I might have explained all that,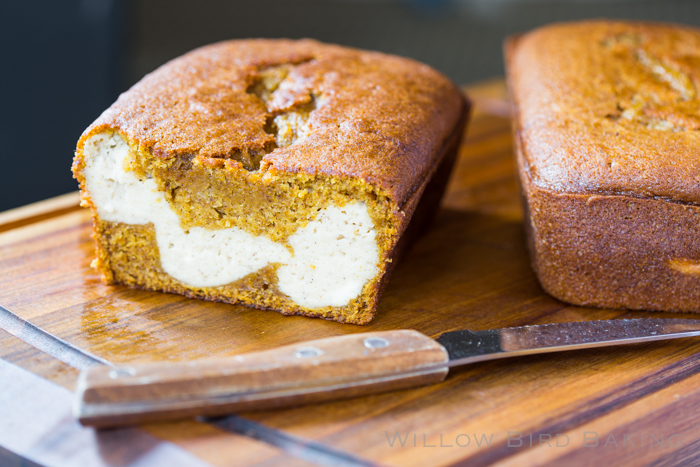 if I had the energy. But for now I can't. So suffice it to say this is the transformation I wanted, the new world — and I'm still baking nice things in it, figuring things out here and there.
One year ago: 4-Ingredient Slow Cooker Coconut Cake
Two years ago: Cheesecake-Stuffed Pumpkin Bread
Three years ago: Baked Caramel Apple Cheesecake Dumplings
Four years ago: "Magic" Chocolate, Coconut, and Pecan Pastry Braid
Five years ago: Pumpkin Pecan Streusel Breakfast Braid with Maple Brown Sugar Glaze
Six years ago: Homemade Croissant Phototutorial
Seven years ago: Jack-o'-Lantern Whoopie Pies


Pumpkin Bread Stuffed with Chai Cheesecake
This pumpkin bread is incredibly moist, delicious, and indulgent! Apart from being the BEST pumpkin bread recipe, it's stuffed full of incredible chai spiced cheesecake. This dessert will knock your socks off! It makes three loaves, enough to keep two and give one to a very good friend!
Author:
Willow Bird Baking
Ingredients
Pumpkin Bread Ingredients:
3 cups sugar
3 1/3 cups flour
2 teaspoons baking soda
1 1/2 teaspoon baking powder
1 1/2 teaspoon salt
2 teaspoons nutmeg
1 teaspoon ground cloves
2 teaspoons cinnamon
4 whole eggs
1 (15-ounce) can pureed pumpkin
1 cup oil
1 cup water
Chai Spice Mixture:
heaping 1/2 teaspoon ground cinnamon
heaping 1/2 teaspoon ground cardamom
1/4 teaspoon ground nutmeg
1/4 teaspoon ground ginger
1/4 teaspoon ground allspice
1/4 teaspoon ground pepper (white or black)
dash cayenne pepper
Filling Ingredients:
4 (8-ounce) packages cream cheese, room temperature
1 cup granulated white sugar
2 large eggs
1 teaspoon pure vanilla extract
Instructions
Preheat the oven to 350 degrees F and grease 3 (9 x 4-inch) loaf pans. I also place a greased square of parchment in each to encourage the bread to come out after baking.
In a small bowl, whisk together chai spices (cinnamon, cardamom, nutmeg, allspice, ginger, pepper, cayenne) in a small bowl. In a medium bowl, beat together cream cheese, sugar, egg, and vanilla extract. Beat in the spice mixture. Place the chai cream cheese filling into a zip-top bag with a big corner cut off for easy piping. Set aside.
In a large bowl, whisk together the sugar, flour, baking soda, baking powder, salt, nutmeg, cloves, and cinnamon. In a separate medium bowl, beat together the eggs, pumpkin, oil, and water. Add the wet ingredients to the dry ingredients and combine. Pour a very thin layer of pumpkin batter into each pan and pipe thick ribbons of the cream cheese mixture over top, separating it evenly between the three loaves (the cream cheese layer will rise as the bread bakes, so you want to start it out almost at the bottom of the pan). Be sure to use it all. Pour the rest of the pumpkin batter on top, distributing it evenly between the 3 pans. Bake the loaves for 45 minutes to an hour, or until a wooden skewer inserted into the center of the cake comes out with just a few moist crumbs. Don't overbake!
Set the bread out to cool for just 5 minutes before inverting each pan onto a long sheet of aluminum foil. Immediately fold the foil over the bread and secure very tightly to trap steam in. Let the loaves cool inside the foil. Serve just warm with a schmear of softened butter.