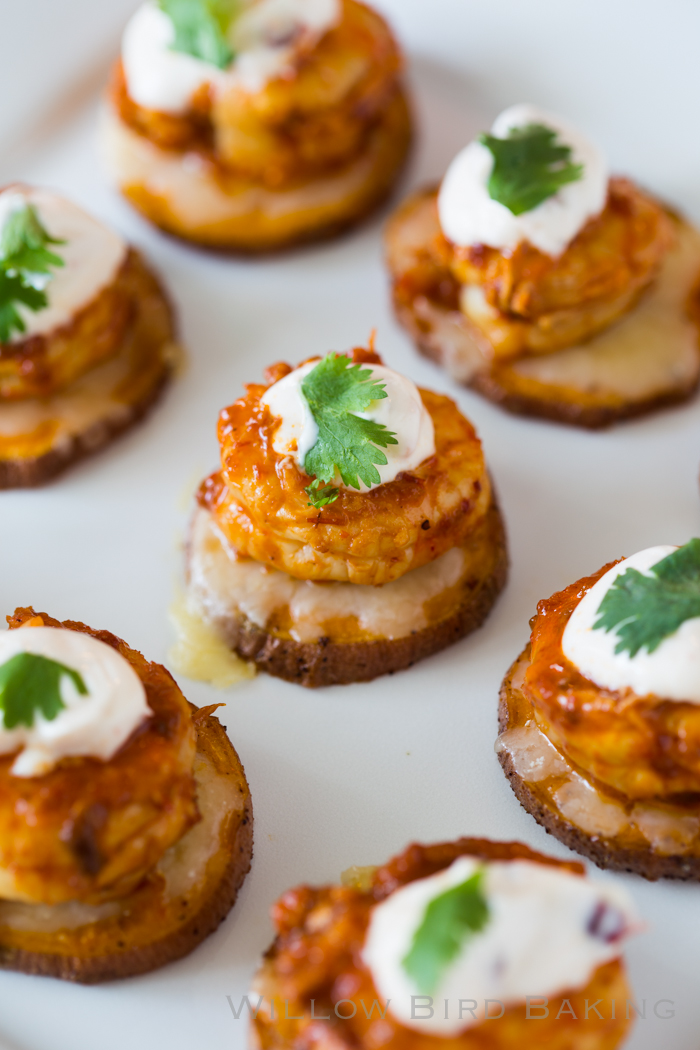 Cheesy Chipotle Shrimp Sweet Potato Coins
What do you do to self-soothe during times of distress?
As many of you know (and have been so supportive about, thank you!), I'm currently writing a series about my growth as a white person who wants to actively combat racism. There are a lot of thoughts swirling around as I write, but one thing that keeps springing up is how crucial it is for us to be able to manage our own emotions.
That probably sounds obvious, but a lot of times when I'm in a period of distress I find myself wanting to blame someone for my feelings (Brené Brown has an awesome little video about this), withdraw to prove a point ("I'm taking my ball and going home!"), or rely on someone to comfort me. But of course no one is responsible for managing my emotions but me. I'm stronger and safer if I know effective ways to do it on my own. So just like we created a list of reasons to stay alive, let's create a list of ideas to help each other tolerate distress.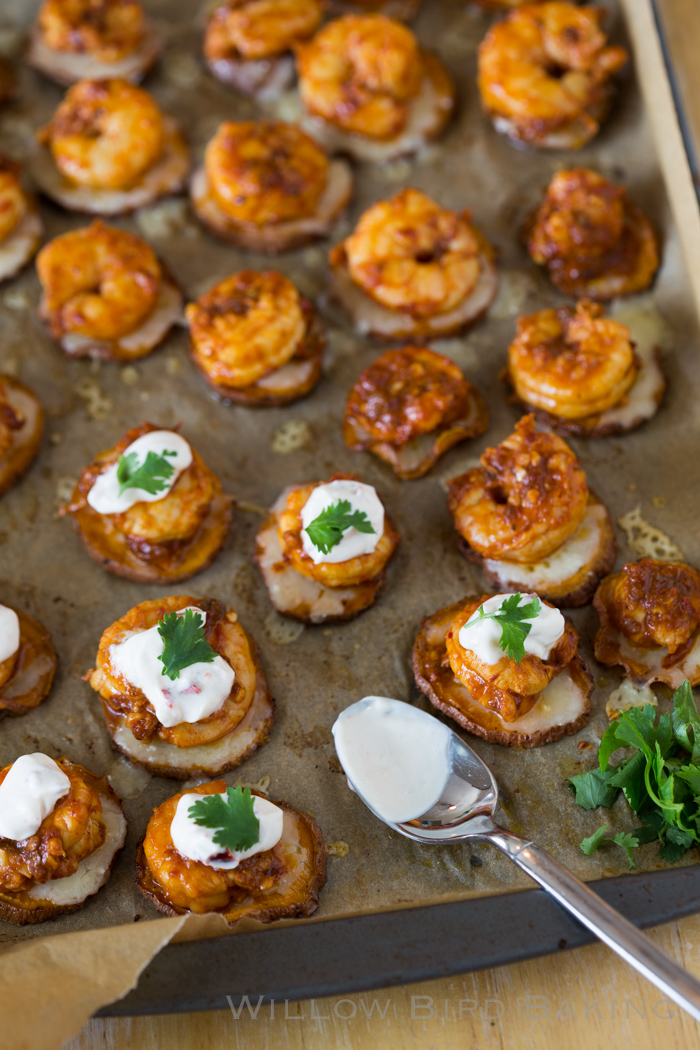 Before we start, a few notes. First, everyone's different. Be willing to try new things, but also trust your judgment and don't use any ideas that aren't right for you. For instance, if you know you have disordered eating or a tendency to overexercise, steer clear of ideas that include those activities. Second, these ideas don't solve problems. They are distractions. They put time between your negative experience and your reaction so that you can calm down, think more clearly, and decide on next steps. Third, you probably won't feel like doing any of these things when you are experiencing negative emotions. I've trained myself to do them anyway, because I know they help. Finally, I'm not a mental health professional and if you need one, please seek one!
Here are some things that help me self-soothe when I'm experiencing negative emotions:
Going to Pinterest's Humor category and scrolling until I find myself laughing. (For instance, look at these skeptical dogs.)
Heading to Netflix and finding a stand-up comedian to watch. (Try Jim Gaffigan!)
Taking a hot bath. If I really don't want to sit alone with my thoughts, I'll take a magazine or easy book in to read while I lounge.
Printing and mindfully coloring an adult coloring book page.
Doing hot yoga or Zumba — or any exercise that I can focus on instead of my thoughts.
Praying. When I'm having hard emotions, I keep my prayers vague. I don't need to rehash what's going on because God already knows. But it's calming to touch base with Him and remember He's there.
Completing hygiene rituals that I haven't taken care of yet like showering, brushing my teeth.
Cleaning something small and manageable.
Cuddling my dog.
Visualizing a peaceful place like the beach in great detail.
Taking a nap if I'm tired and can distract myself enough while falling asleep.
Talking to myself! I use positive self-talk to affirm myself as I do my best to handle my feelings.
If I'm hungry, eating a healthy meal.
If Mike's available and interested, hugging or cuddling.
Taking a walk and focusing on my five senses instead of my thoughts.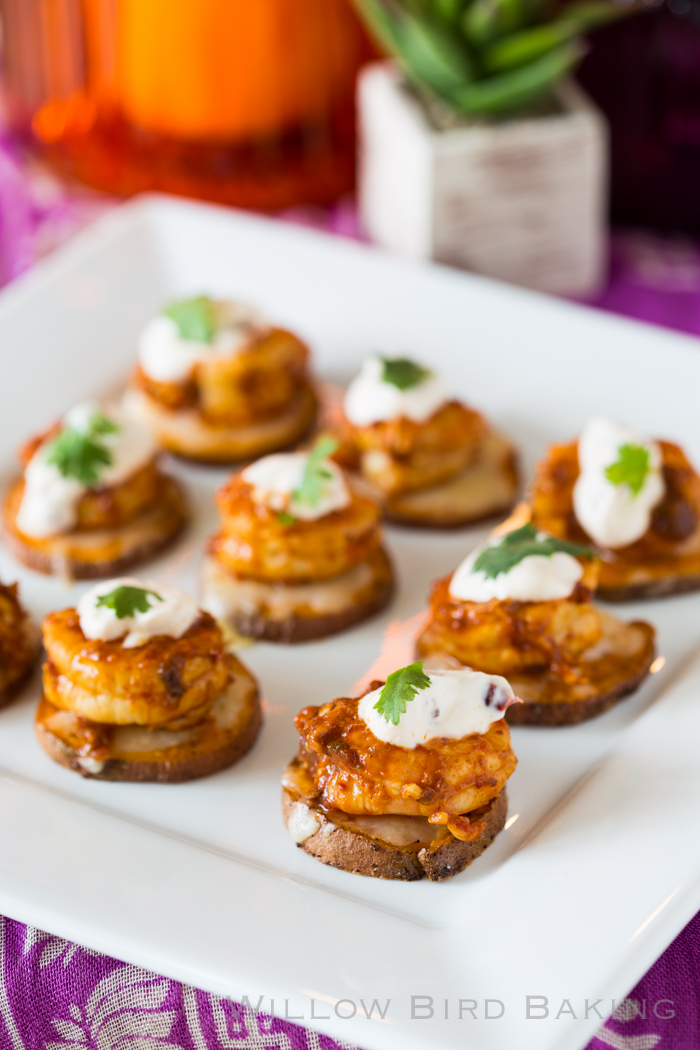 The recipe I'm sharing today isn't difficult at all, but it's fiddly in that it has several steps. If mindfully preparing food is one of your self-soothing techniques, this one is perfect for you! And even better: it's absolutely delicious. I was so pleased with these bold, savory, sweet, cheesy little bites!
Please comment with your own self-soothing techniques.
One year ago: Strawberry Cobbler with Lemon Cream
Two years ago: Lemon Granita with Fresh Berries
Three years ago: Thyme Orange Cranberry Shortbread Cookies
Four years ago: Straw-Raspberry Basil Fruit Leather
Five years ago: Homemade Butter Croissants or Pains au Chocolat
Six years ago: Chocolate Chickie Cake Balls

Cheesy Chipotle Shrimp Sweet Potato Coins
These are a little fiddly in that there are several steps to arrive at the finished product, but they are so incredibly worth it. They're absolutely delicious! When I made them, they were devoured in a flash!
Ingredients
Chipotle Crema Ingredients:
2/3 cup Greek yogurt
2 teaspoon minced chipotles in adobo
1/2 teaspoon adobo sauce from the can
1 teaspoon lime juice
fresh cilantro
Sweet Potato Coin Ingredients:
1/4 teaspoon ground cumin
1/4 teaspoon chili powder
1/4 teaspoon brown sugar
1/4 teaspoon salt
1 medium sweet potato (choose a long, tubular one), sliced into 1/4-inch "coins"
1 tablespoon olive oil
5 ounces sharp cheddar cheese, grated
Chipotle Shrimp Ingredients:
1 (7 ounce) can chipotle peppers in adobo sauce
1 pound medium shrimp, deveined with tails and shells removed
1 tablespoon minced garlic
3 tablespoons olive oil
salt
2 tablespoons fresh lime juice
2 tablespoons unsalted butter
Instructions
Make the chipotle crema by mixing the Greek yogurt, chipotle peppers, adobo sauce, and lime juice together in a small bowl. Cover and refrigerate to let the flavors meld. I like to make this a day in advance.
Preheat the oven to 450 degrees F and line a baking sheet with parchment paper. In a small bowl, whisk together the cumin, chili powder, brown sugar, and salt. In a large bowl, toss the potato coins, olive oil, and spice mixture together well until the potatoes are coated. Arrange the potato coins in a single layer on the prepared baking sheet. Roast them for 10 minutes before flipping them and roasting about 5 more minutes. Remove the tray from the oven and sprinkle each coin with the sharp cheddar cheese. Return the tray to the oven for just a couple more minutes to melt the cheese.
Make the chipotle shrimp: While the potatoes roast, process the chipotle peppers and sauce in a food processor until smooth. Place the puree, shrimp, and garlic together in a zip-top bag and gently work the bag around until the shrimp are well coated. Place the shrimp in the refrigerator for 20 minutes to marinate. Heat the olive oil in a large skillet over medium heat until it shimmers. Add the shrimp and sauce to the pan and sprinkle with salt and the lime juice. Cook for around 4 minutes, tossing the shrimp as needed, until the shrimp are cooked through. Remove from the heat and gently mix in the butter.
Assemble the coins: Place a chipotle shrimp on top of each sweet potato coin. Top with a dollop of crema and a bit of fresh cilantro. Serve immediately.