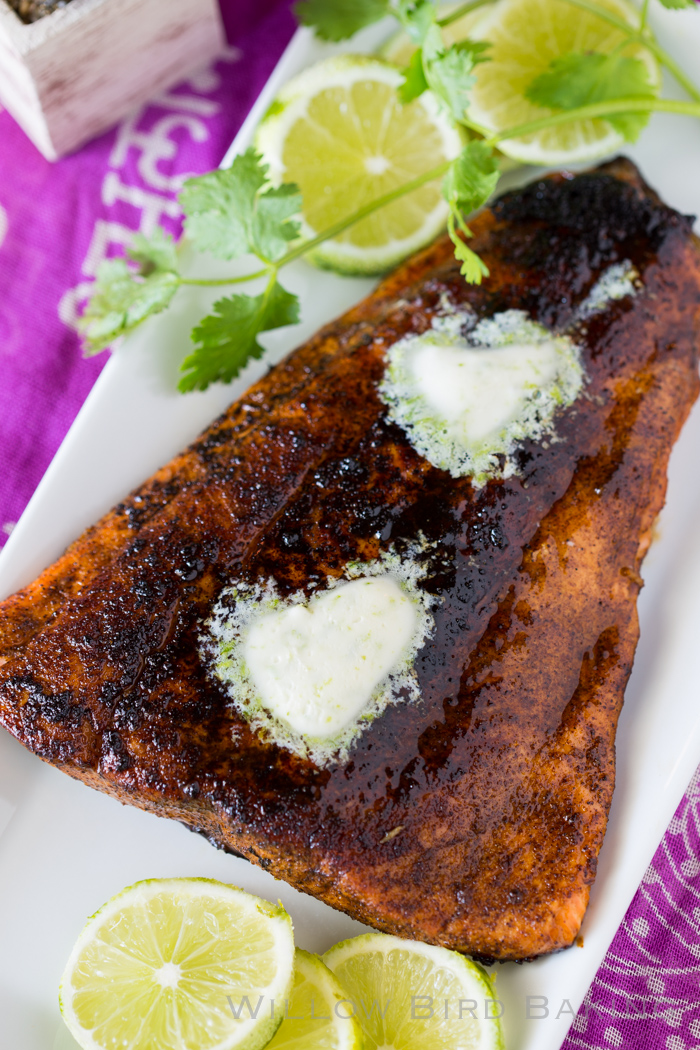 Chile Baked Salmon with Lime Butter
In case you've never experienced social anxiety, here's a handy snapshot of it:
While I place my order for a sandwich at my local coffee shop, I make eye contact with the cashier to be polite. The eye contact flusters me, though, so I immediately look down and pretend my wallet is very interesting. The counter next to me is also intriguing. The floor is simply fascinating.
While the cashier scans my card, I worry about whether or not my face looks weird and whether or not I'm doing the right thing with my hands. What's the right thing to do with your hands? I don't know, but probably not whatever I'm doing. I shuffle them every few seconds to try to increase the likelihood that they'll be doing the right thing whenever someone glances. Or, wait, does that decrease the likelihood? I stop shuffling. I start again.
Once my order is placed, I sit down in a booth with a sigh of relief and wait for them to call my name when my sandwich is ready. But something is bothering me. I'm a little deaf and it's kind of loud in here. What if I can't hear them call my name? My brain conveniently replays a full technicolor memory of a time I did miss my name being called at a restaurant and was snarked at, which made me want to melt into a storm drain and live out the rest of my life as the inconspicuous layer of sewer scum that I apparently was. So that was pleasant.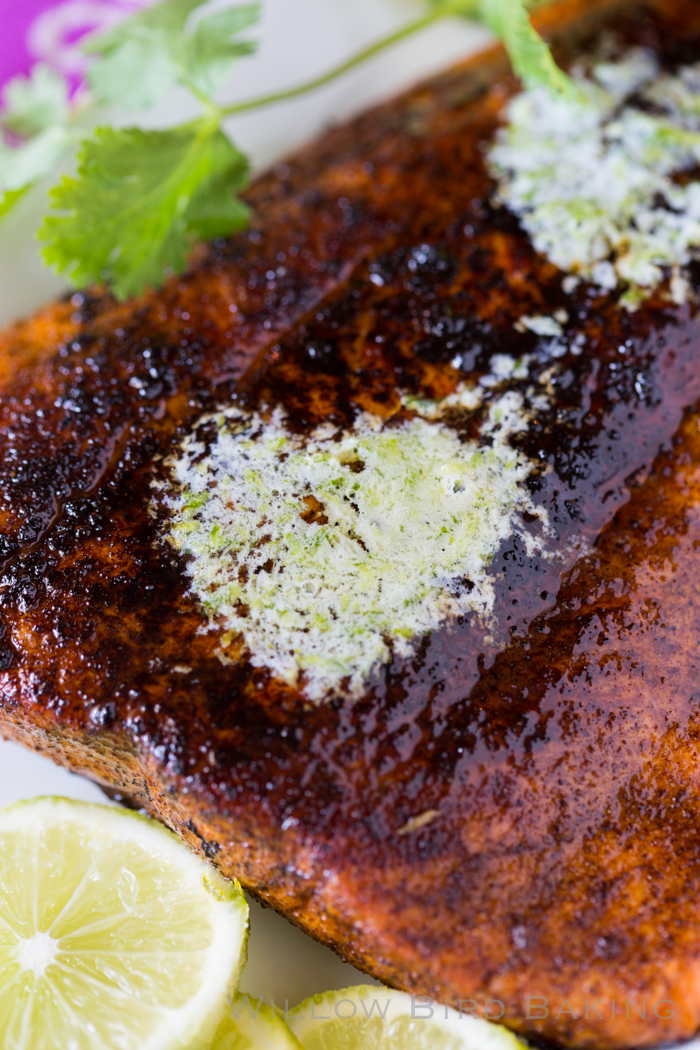 To avoid repeating history, I begin to look over towards the kitchen every few seconds. Now there's no way I'll miss my name! But what if people think I'm weird or impatient because I'm glancing at the kitchen so often? I stop looking. But what if I miss my name? I start looking. But what if I look weird?
Back and forth I go until enough time has passed that a new worry begins to creep in: WHAT IF THEY FORGOT MY ORDER? This isn't terrifying because I won't get my food, but because I'll have to GO UP AND SAY SOMETHING.
Of course I could just forget the sandwich and try to convince myself that I'm not hungry. An attractive option, but then I'd have to live with the fact that I sacrificed money and sustenance because of my anxiety. That's embarrassing. I can't do that! Besides, what if they look over at me in an hour and realize their mistake? They'll think I'm nuts because I never asked about it! So I have to say something. But what if they think I'm mad about it? What if they think I'm complaining? What if, while trying to sound not-mad and not-complaining, I end up sounding really awkward instead?
I finally screw up every last nerve and walk up to the front, worrying along the way about how to make my tone, facial expression, and body language communicate that I am TOTALLY 100% FINE and NOT MAD AT ALL and SO SORRY TO INTERRUPT and COULD YOU CHECK ON MY SANDWICH PLEASE and AHHHHH SOMEONE HIDE ME. I half-run back to my seat hoping that I look nonchalant, but knowing that I just cut the cashier's answer short and that he now believes I am an alien.
About ten minutes later my sandwich arrives in front of me. I breathe a sigh of relief/victory/indigestion before digging in and realizing . . . I need to go order something to drink.
Send help.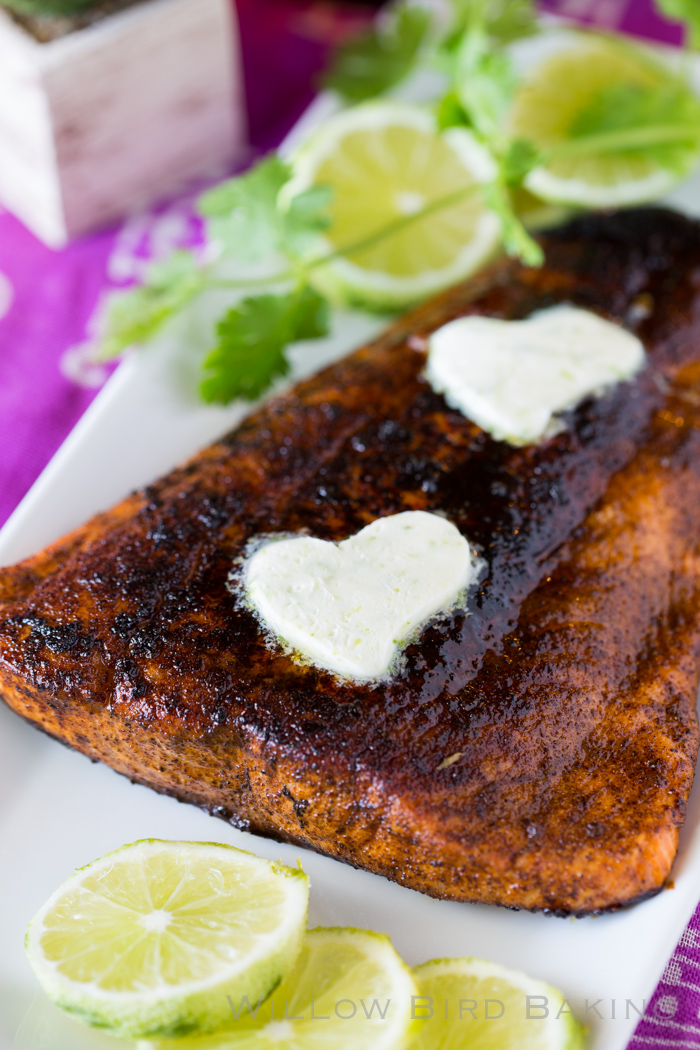 So who out there can identify with this experience? And who out there is so thankful they can't?
I'm used to it. It may sound bad, but I manage it fine — it's hardly the worst issue I've dealt with! But it's also no wonder that sometimes it's a relief to stay home and cook for myself. This Chile Baked Salmon with Lime Butter was the main course for my Plugrá Butter Summer Patio Party and I'm in love with it. It's absolutely delicious with the zingy lime butter on top, but it's also super quick and easy to prepare. I have a feeling this will be in our weeknight rotation often once school starts again. Enjoy!
One year ago: How to Put Together a Cheese Plate
Two years ago: Red, White, and Blue Desserts
Three years ago: Thyme Orange Cranberry Shortbread Cookies
Four years ago: Straw-Raspberry Basil Fruit Leather
Five years ago: Chocolate Pavlovas with Chocolate Mascarpone Mousse
Six years ago: Peach Cobbler Cupcakes

Chile Baked Salmon with Lime Butter
This is an absolutely delicious recipe that's pretty enough for company but simple enough to be a weeknight dinner! The lime butter is a game-changer; this recipe will make extra so that you can keep some in your freezer! I always use farm-raised salmon for this recipe because it's fattier and juicier.
Ingredients
Lime Butter Ingredients:
1/2 cup butter, softened
zest of 1 lime (about 4 heaping teaspoons)
Salmon Ingredients:
2 teaspoons cumin
2 teaspoons chili powder
2 teaspoons brown sugar
2 teaspoons salt
2 1-pound filets of salmon
4 tablespoons olive oil, divided
Instructions
Make the lime butter: Mix the ingredients together until the zest is evenly distributed throughout the butter. Scoop the butter out onto a sheet of wax paper. Cover with another sheet and lightly roll it out to a uniform thickness of about 1/2 inch. Place it in the fridge to firm up.
Make the salmon: Whisk together the cumin, chili powder, brown sugar, and salt. Rub the spice mix on the salmon filets (on both sides if it's skinless, but on just the exposed side if it's skin-on.) I then cook each filet separately so as not to crowd the pan. Heat 2 tablespoons of olive oil in a medium skillet over medium heat until shimmering. Place the fish in skin side down and cook without disturbing for 4-5 minutes before turning over and cooking for 4 minutes on the other side (thicker cuts might need 6-7 minutes per side -- mine was about 1 inch thick at its thickest point -- but keep in mind the fish will continue to cook when you tent it with foil). Remove the fish from the heat, tent it with foil, and allow it to rest for 10 minutes as you repeat the process with the other filet. The fish will flake apart easily when done. Remove the firmed up lime butter from the fridge and cut out shapes that are about 1- to 2-inches in diameter (if you want to be cutesy -- otherwise, regular pats are fine). Place a pat on each serving of fish. Serve hot with lime wedges for spritzing over the fish. Reserve excess lime butter in the freezer for other uses.