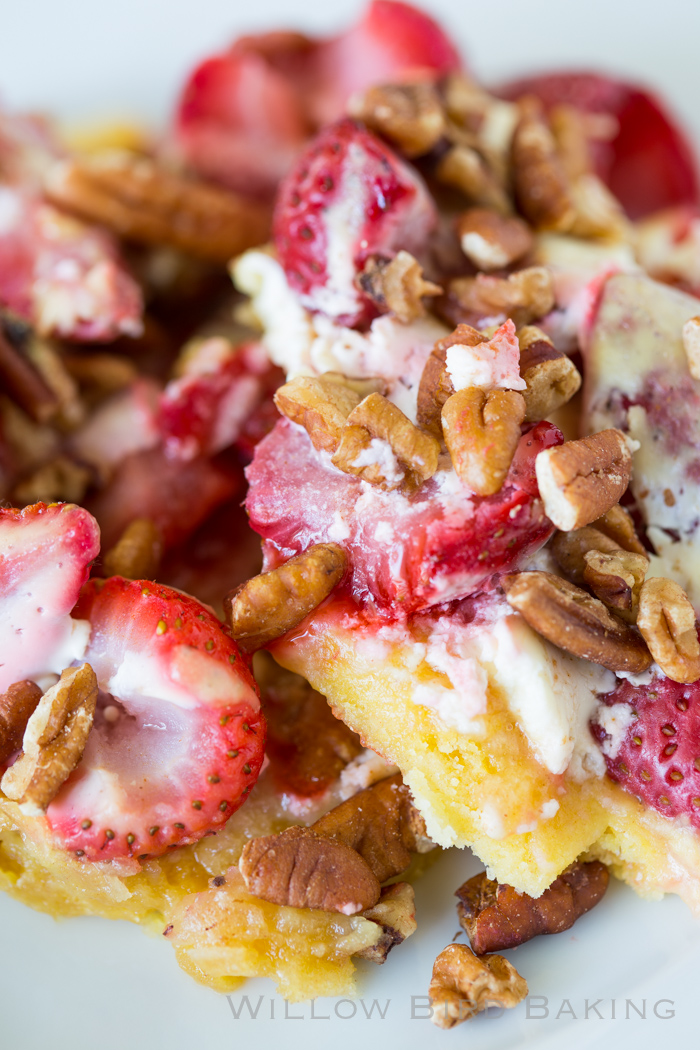 Strawberry Sour Cream Kuchen
Six years ago I sat down at my computer and wrote my first post on Willow Bird Baking. Since then, I've grown as a blogger in many ways, but perhaps most significantly in my photography. Great photographs seem simple and attainable — surely we can all position a dishtowel and plate of food on a table? — but are surprisingly elusive. The good news is that there are a few simple tricks that can dramatically improve your photos.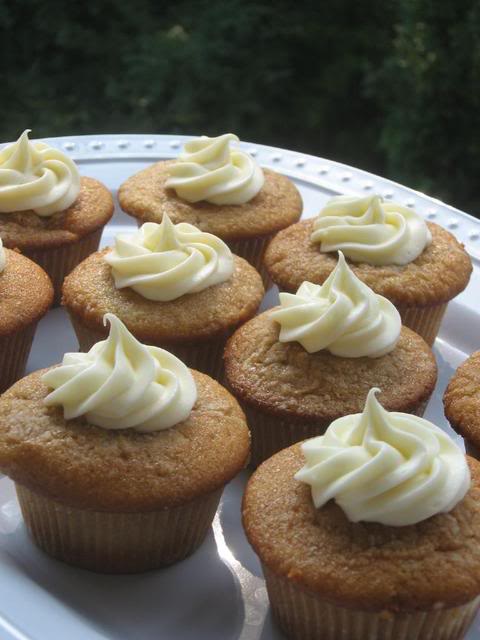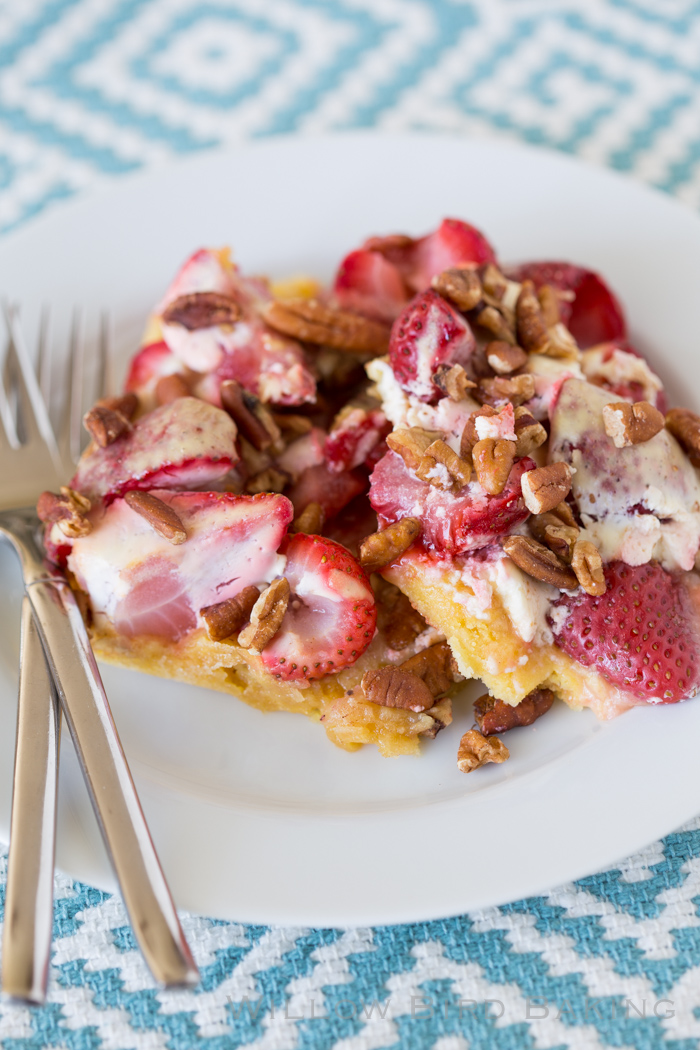 one of my first photos (left) versus today's photos
Here are 5 of the most important things you can do to improve your photography:
1. Always use soft natural light. This is the most important tip I can give you. If you're photographing food in your kitchen under artificial lights, the resulting image will look unnatural. Instead, photograph your food in natural light coming from a window. Look for soft light (like sunlight filtered through white translucent curtains) instead of harsh light (like the squares of direct sunlight your dog likes to nap in). Food looks lovely in the former, while the latter will create odd shadows. If you can't find a window that yields this soft light, go ahead and use something like a white curtain or sheet to diffuse the light yourself.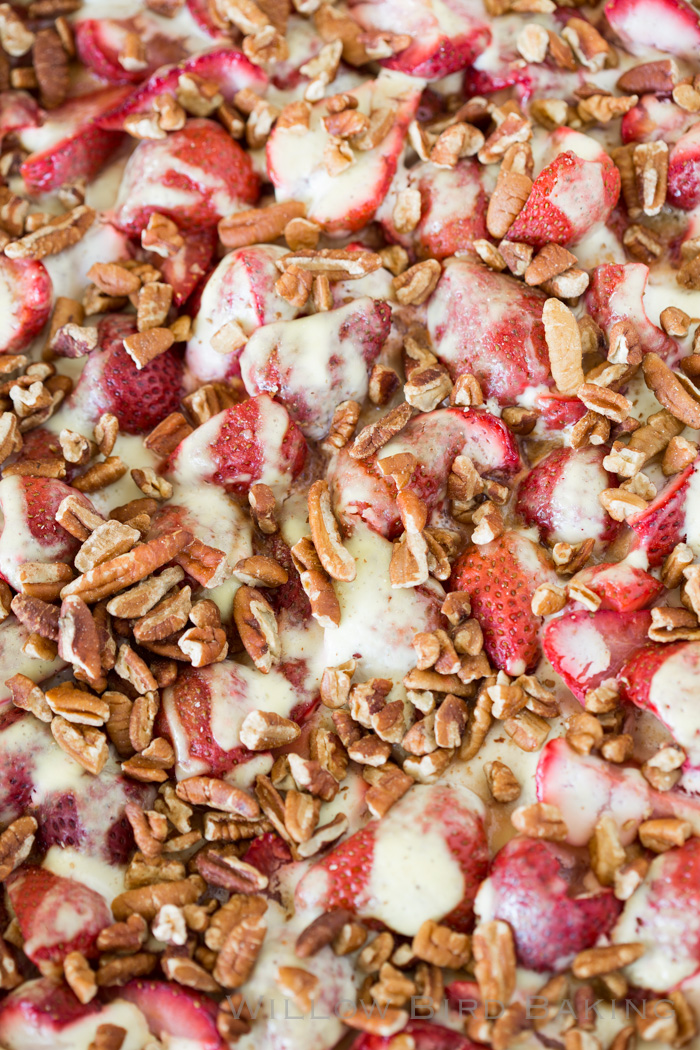 2. Bounce light with a piece of foam board. Your light will come from a given direction, and that means it will create shadows on the other side of your food. Hold a piece of white foam board up to "bounce" light back onto the darker side of your food. 
3. Use a tripod. One of the defining features of great food photos is sharp focus. Photos are focused when the camera doesn't move during the exposure, and a tripod is the easiest way to ensure that it doesn't. Mike bought me a tripod when I was using my old point-and-shoot camera and it dramatically improved my photos. I still use the same tripod with my snazzy camera now! Tripods also help you to take sharp photos even in lower light, since you can set a longer exposure time (meaning your camera can take light in for longer and produce a lighter photo) without shaking.
4. Think about the story and the moment that interrupts it. This is where technical considerations of food photography meet artistry. Some of the most compelling food photos invite readers to imagine making or eating the food. This invitation is issued by creating a visual narrative that they can place themselves in. Think about the story you're creating — and the moment (this photograph!) that interrupts it — when you choose and position props. Sure, it's okay to just show a cake. But the evocative photo is going to be the one where the reader can see their fork and the mess of the melting ice cream waiting for them — the one that invites them to dive right in. Think about the compelling narrative you see in this photo or these.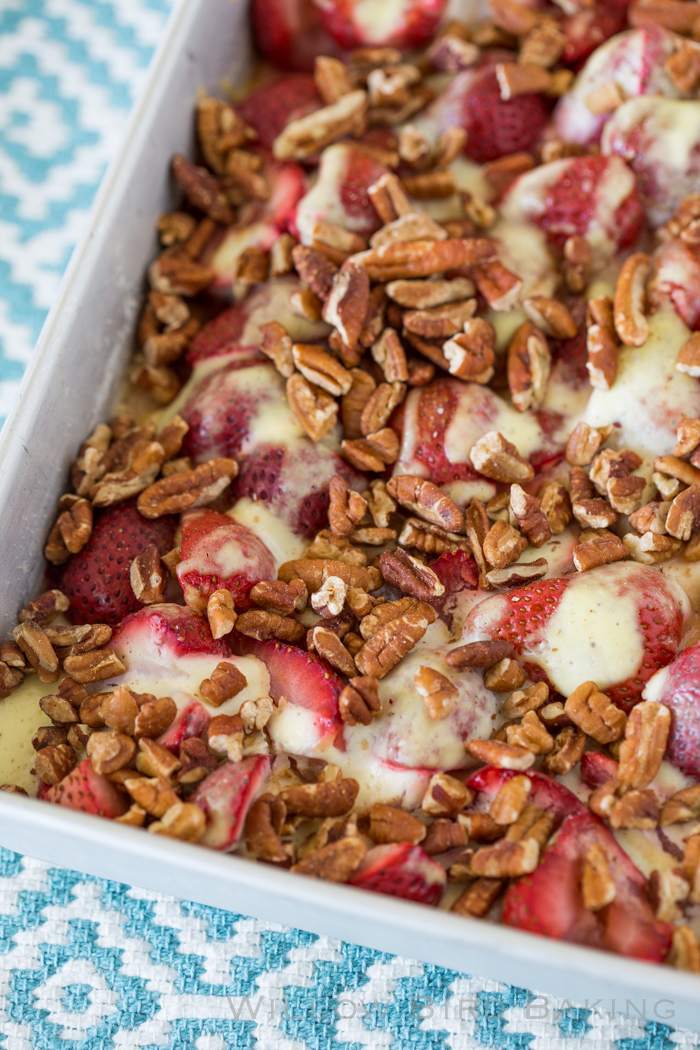 5. Know when to learn instead of purchase. My perpetually tight budget prevents me from purchasing equipment willy-nilly and I'm actually thankful for that! I think a lot of folks purchase when they should really learn. A rule of thumb that Taylor Mathis shared was, "You need new equipment when you can explain how/why that new equipment would improve your photographs." Spend time learning how to work with your current camera in manual mode — which isn't as mystifying as you might think — before making any major purchases. One fantastic place to learn a ton is with Taylor's Photographing FOOD PDF and video series. Taylor let me try them out for free and they are phenomenal, clear, and inexpensive. I wish I'd had them six years ago!
Let me know if you have other photography questions I can answer. And THANK YOU for six wonderful years! I hope you'll stick around for at LEAST six more! Here's a super easy strawberry dessert to encourage you. It's an adaptation of one of my favorite desserts from childhood, Sour Cream Apple Kuchen, and it uses a cake mix as a base. It turns out buttery, soft, gooey, and delicious. Enjoy!
One year ago: Chai Cake with Swiss Meringue Buttercream
Two years ago: Strawberry Coconut Cream Pie
Three years ago: Crispy Baked Sweet Potato Fries with Basil Salt and Lemon Garlic Dipping Sauce
Four years ago: Itsy Bitsy Berry Cream Pies
Five years ago: Santa Fe Breakfast Bake
Six years ago: Blueberry Lemon Cheesecake Cupcakes

Strawberry Sour Cream Kuchen
This is a version of one of my favorite childhood desserts, Sour Cream Apple Kuchen. It creates an amazing, buttery, gooey dessert that's perfect for serving warm with ice cream. As a bonus, it's super quick and simple to make!
Author:
Willow Bird Baking
Ingredients
1/2 cup cold butter, cut into 1/2-inch cubes
1 box yellow cake mix
1/4 cup sugar
1/2 teaspoon cinnamon
1 cup sour cream
1 egg
1 1/2 - 2 pounds fresh strawberries, hulled and halved
1 cups toasted chopped pecans
vanilla bean ice cream or whipped cream for serving
Instructions
Toast the pecans: Preheat oven to 350 degrees F. Spread the pecans out on a baking sheet lined with foil and bake at 350 degrees F for about 5-7 minutes or until fragrant, tossing several times. Set them aside, leaving the oven set to 350 degrees F.
Make the kuchen: Spray a 9 x 13-inch baking pan with cooking spray. In a medium bowl, use a pastry cutter or two knives to cut the butter cubes into the cake mix until the butter cubes are the size of small peas and are well distributed. Press this mixture into the prepared pan, building it up slightly on the edges. Bake this for 10 minutes. In the meantime, mix together the sugar and cinnamon in a small bowl. In a separate small bowl, whisk together the sour cream and egg until smooth.
Remove the base from the oven and arrange the strawberries on it (and by "arrange," I mean just make sure they're even — no need for fuss. Use as many strawberries as you need to cover the crust.) Sprinkle the cinnamon-sugar mixture over the berries. Drizzle the sour cream mixture over top (it won't completely cover the berries). Bake for 25 minutes or until the sour cream mixture is just barely developing some color. Don't overbake. Sprinkle on toasted pecans and serve warm with ice cream or whipped cream.