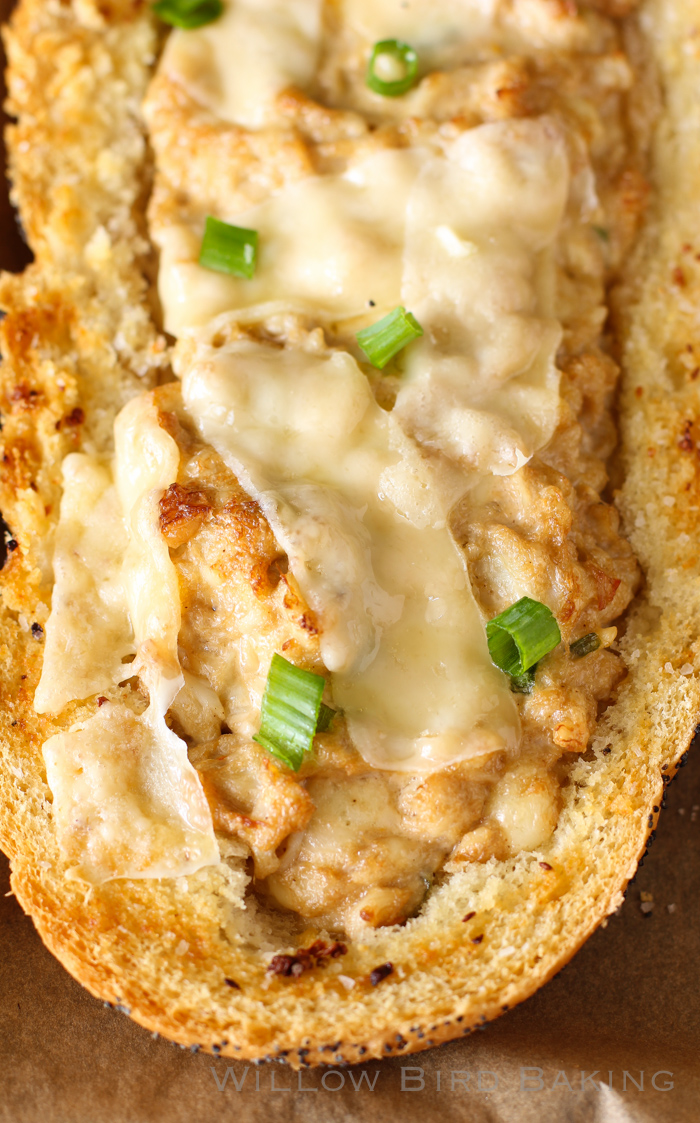 Hot Crab Dip in a Lemon-Garlic Baguette
You guys, HOT YOGA.
Remember how I told you I was trying out hot yoga? Well it's time for an update, because it turns out hot yoga is amazing. And listen, I know that usually when you hear someone say a workout is amazing, you just dismiss it 'cause that person also likes running and burpees and other horrible things, so what if they're trying to trick you?! But I ate queso for dinner and am stuck at the "couch" phase of the Couch-to-5K program, so you can trust me.*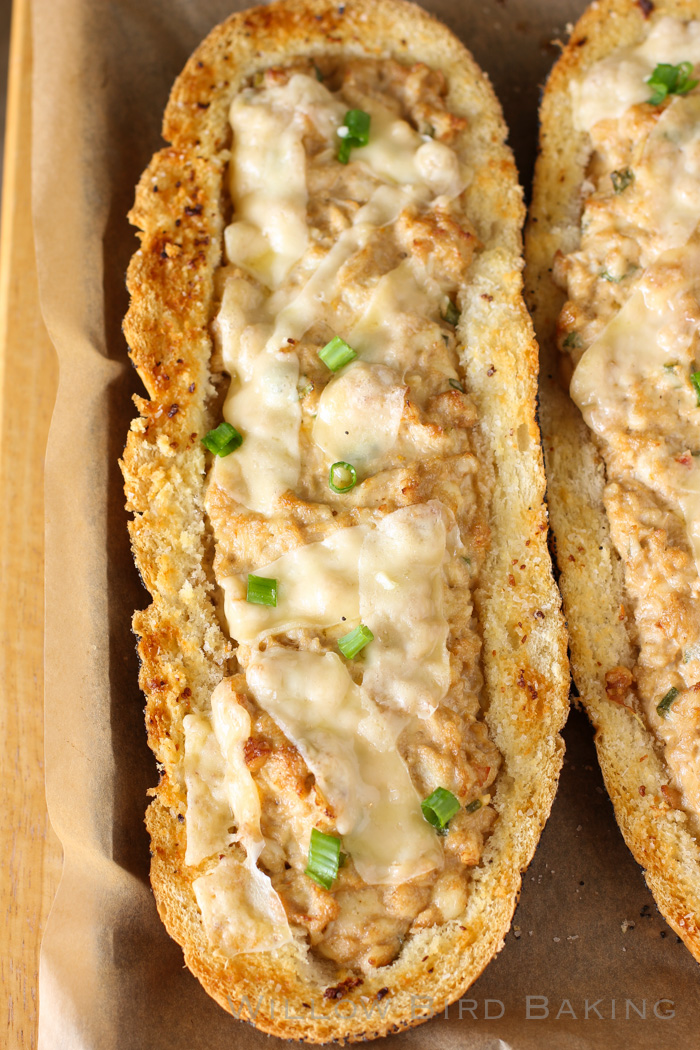 *Note: I have plenty of those fitness-fiend friends, so I promise my suspicion of them is in jest. Mostly. But I do start to wonder when they drink kale.
Anyhow, I think I made it clear in my last yoga post that I have no idea what I'm talking about, but I'll just tell you what I've experienced so far. First of all, I'm getting bendier and better at the poses with every passing class. Okay, there was that one time my yoga teacher almost lost it because after flailing around in an awkward interpretive dance trying to get my arms back into eagle or aardvark pose or whatever, I finally just slapped them together with a huff. But we'll ignore that time. My "bow" pose felt especially bowy today, so that's good enough for me.
I've also noticed that after class, my skin looks even-toned and super glowy. And not just glowy from the copious amounts of sweat, either, because it's noticeable even after I've showered. I also look more muscular and toned after just the 3-4 classes I've done so far, which is so quick to see results! Part of it may be that losing water weight and bloat makes it easier to see your muscle definition, but my muscles really do feel stronger and more pronounced. I try to drink water consistently for the whole day before and after class to ensure I'm not just getting dehydrated.
Another great thing I've noticed is that you feel so flippin' good after a hot yoga class. Class is intense (in a focused, strength way instead of a bouncy cardio way) and taxing, but after a shower and dinner I feel so comfortable and relaxed. It's a similar feeling to the one you get when you go for a power swim through a cold pool and then take a warm shower and put on dry clothes. You know what I mean? It's totally worth the work to earn that feeling.
Lastly, it's one of the only workouts I don't dread going to after work. I have an extremely rewarding but extremely taxing job — those of you who are teachers are givin' me an AMEN right now. And as a project-based teacher facilitating student-led projects, I'm always on. Just this week I've worked through every single prep period supporting my students on an integrated project and taking my 9th graders on the career site visits they planned, meaning I'v gotten no down time during the day. Getting an exercise routine in place after work has been so hard these past couple of years. But hot yoga feels like a reward and a balm after a hard day — like something I'm doing to restore myself.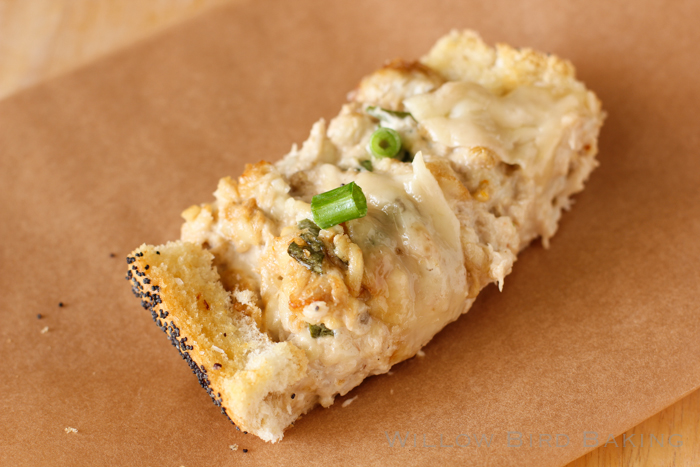 I just thought I'd share in case you're on the fence about trying it. I think you should! I think you should also eat some Hot Crab Dip stuffed into a big, buttery Lemon-Garlic Baguette — another sign that you can trust my judgment. (By the way, I accidentally typed "Hot Carb Dip" just now. Coincidence? I think not.)
This hot crab dip is gorgeous but so easy — you just mix it and bake. The only slightly fiddly twist is making lemon salt, since it adds an extra step, but don't skip it! It really takes this appetizer loaf to a whole new level. You just mix some citrus zest with salt and bake for a little over an hour on low heat to dry it out. It makes a perfect finishing salt for seafood dishes — and for this toasty garlic loaf stuffed to the brim with cheesy crab deliciousness. We ate this while watching the Super Bowl, but it'd be perfect for any party or gathering. Namaste!
One year ago: Insane Chili Cheese Dip
Two years ago: White Sheet Cake with Fluffy Whipped Icing
Three years ago: Cheeseburger Bāozi (Steamed Cheeseburger Stuffed Buns)
Four years ago: Carrot Cake Sandwich Cookies with Honey Cardamom Cream Cheese
Five years ago: Strawberry Walnut Ricotta Muffins
Hot Crab Dip in a Lemon-Garlic Baguette
Hot Crab Dip is already amazing, but stuffing it into a Lemon-Garlic butter toasted baguette takes it straight into the stratosphere. Salting the bread with lemon salt is a key element to this recipe, so don't skip that step! It takes minimal effort to whip up the lemon salt and you'll have it on hand for all sorts of other dishes as well. It's worth it.
Author:
Adapted from Paula Deen and 101 Cookbooks, who probably never thought they'd be cited in a recipe together.
Ingredients
Loaf Ingredients:
large loaf of Italian bread (I bought a poppyseeded one!)
3 tablespoons melted butter
1 teaspoon minced garlic
Hot Crab Dip Ingredients:
1 pound jumbo lump crabmeat, free of shells
1 cup grated pepper jack cheese (spring for the good stuff!)
3/4 cup mayonnaise
1/4 cup grated Parmesan (plus more shaved off for topping)
1/4 cup green onions, minced (plus more for topping)
2 teaspoons minced garlic
3 tablespoons Worcestershire sauce
2 tablespoons fresh lemon juice
1 teaspoon hot pepper sauce (I used Tabasco)
1/2 teaspoon dry mustard
Salt and pepper
Instructions
Preheat the oven to 350 degrees F and line a baking sheet with parchment or foil. Use a serrated knife to slice your loaf in half lengthwise and then pull out the innards, making a mostly hollow bread "boat" out of each side. Mix the melted butter and teaspoon of garlic and brush it over the loaves, concentrating on the sides that will be exposed while baking but not neglecting the center well. Sprinkle lemon salt over the bread (maybe 1/4 to 1/2 teaspoon over each), again focusing on the sides. Set this aside.
Gently mix all crab dip ingredients together in a large bowl. Remember when salting the mixture that your bread is salted, so go easy -- you can always add more lemon salt later as a finishing step if you find you need it. Spoon it into your prepared bread and bake for 40 minutes, rotating the pan halfway through and keeping an eye on your bread. Cover it with foil if it starts to burn (mine never did.) With around 10 minutes left, top the dip with Parmesan shavings. Pull it out of the oven, let it cool for around 10 minutes, top it with fresh green onions, and serve in slices.