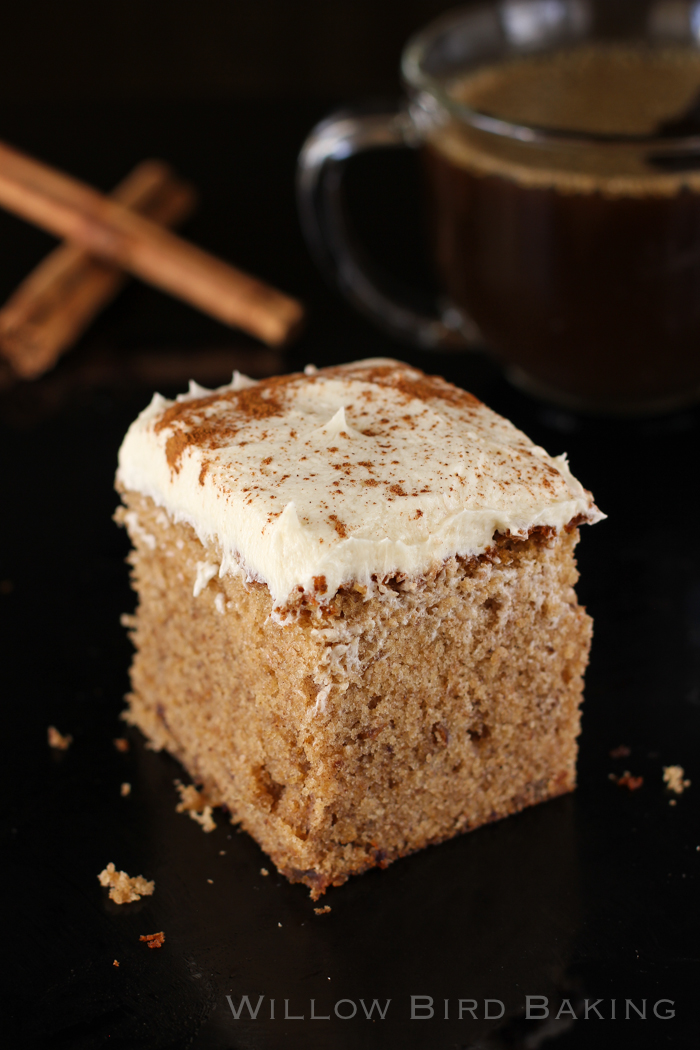 Brown Butter Spice Cake with Whipped Icing
I've partnered with ALDI to try out their grocery stores and develop holiday recipes for you! ALDI's has compensated me for my time and recipe development, but all my opinions are my own.
Mike's been trying to whittle down our spending since we're in a lean financial period. The cars and the dog keep falling apart at random intervals and requiring numerous visits to the mechanic and vet, respectively (we don't take our dog to the mechanic, although perhaps that's a thought. I wonder if they take Care Credit.)
He had been suggesting we eat out less, much to my dismay, but he finally analyzed our spending a few weeks ago and realized that that's not the problem. It's not even the dog, though we just found out she has allergies. Good grief.
IT'S GROCERIES.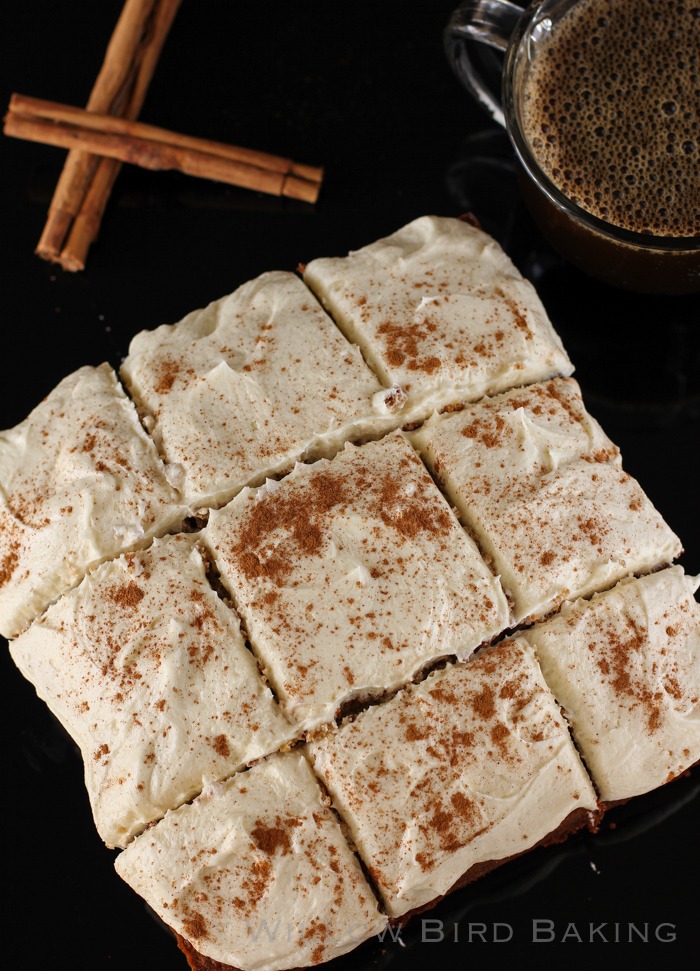 I could've told him this. First of all, I'm a sucker for impulse buys (PUMPKIN AIR FRESHENER? OKAY. I'LL TAKE IT.) Second, I've noticed that if I have to pick up one item at an expensive specialty store, I'll usually go ahead and buy all of my groceries there for convenience's sake. That adds up to major spending. Third — hello! — I run a food blog.
We decided we really needed to cut down on food spending, but weren't sure about how to realistically do it. It was perfect timing when ALDI got in touch and asked if I wanted to try out their stores for holiday shopping.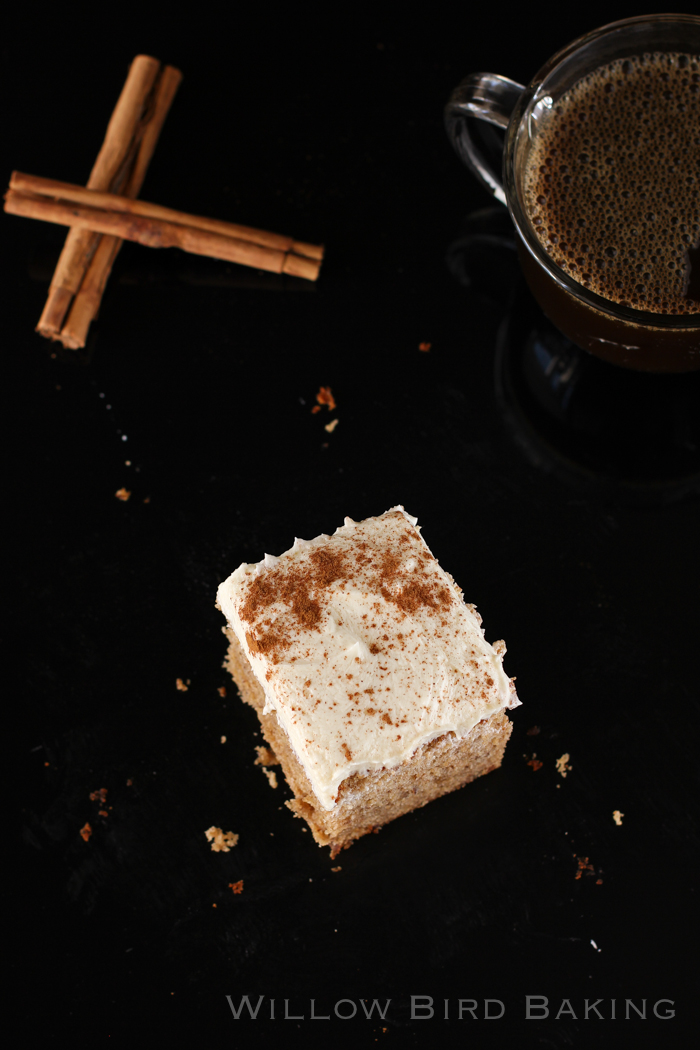 My former roommate, Barbara, has told me for years that I should shop at ALDI, and just the other day a coworker was telling me how good their generic brand products were. When I asked you all on Facebook about shopping there, dozens of you chimed in! I've obviously been missing out. Since I'd never tried ALDI before and there must be someone else living under a rock out there, I made you a quick video of my first couple of trips! Here's what I've affectionately dubbed THE ALDI EXPERIMENT:
By the way, can we please talk about how often normal people lock their keys in their car? I've locked my keys in my car TWICE in the past two weeks. Does this happen to anyone else? Just say yes.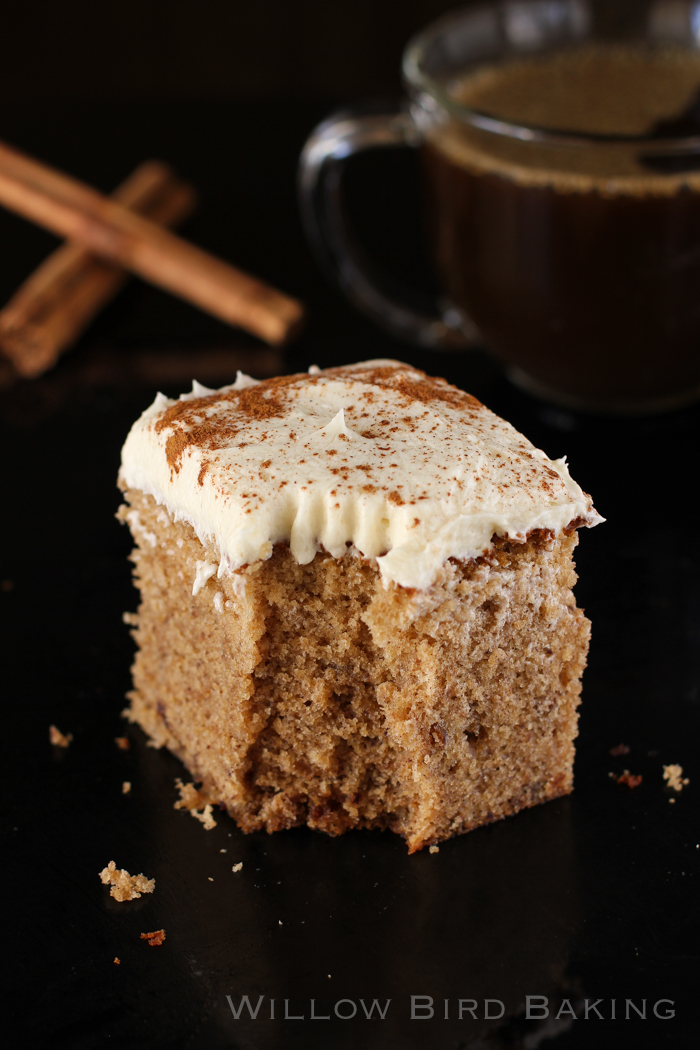 Some of the things I found that Mike and I can "switch & save" on include sugar, brown sugar, baking soda, vanilla extract, pumpkin, nut butters, nuts, and a slew of other baking staples.
This time around, I rounded up all the ingredients to create this Brown Butter Spice Cake with Whipped Icing. This cake has nutty brown butter, warming autumn spices, and the perfect texture! It's light and moist at the same time. I topped it with my favorite whipped icing that has all the richness of a cream cheese icing with more fluff. There's no better smell than this cake while it's baking, folks.
Don't forget to tell me your favorite things to buy at ALDI!

One year ago: Shrimp and Grits (with Creamy White Cheddar Grits)
Two years ago: Dessert Smörgåsbord with Ghirardelli Intense Dark Chocolates
Three years ago: Pumpkin Pecan Streusel Breakfast Braid
Four years ago: Pizzas Benedict and Deep Dish Pizza Cupfakes
Five years ago: Two Terrific Tarts: Chocolate and Raspberry Cream Cheese
Brown Butter Spice Cake with Whipped Icing

---


Recipe by: Willow Bird Baking, adapted from Food and Wine and Tasty Kitchen
Yield: 9-12 servings

The flavor of this brown butter spice cake is perfect for autumn, but the texture really steals the show. The cake is so light, fluffy, and moist! This cake is perfect for your holiday table, but is easy enough to be a quick weeknight dessert. Enjoy!

Cake Ingredients:
1 1/2 teaspoons ground cinnamon
1/2 teaspoon ground nutmeg
1/4 teaspoon ground cloves
1/4 teaspoon ground allspice
1/3 cup butter
1 2/3 cups cake flour
1/2 plus 1/8 teaspoon baking soda
1/2 plus 1/8 teaspoon baking powder
pinch salt
1 1/4 cups packed brown sugar
1/3 cup vegetable oil
3 large eggs
2/3 cup buttermilk

Whipped Icing Ingredients:
3/4 cup milk
3 tablespoons plus 2 1/4 teaspoons flour
1 scant cup granulated sugar (not powdered sugar)
1 1/2 teaspoons vanilla extract
3/4 cup butter, at room temperature

Directions:
Brown the butter and bloom the spices: Measure the cinnamon, nutmeg, cloves, and allspice out into one small prep bowl so they're ready. Melt the butter over medium heat in a small, heavy saucepan. Turn the heat up to medium-high, swirling the butter as it browns. When it's brown (but before it burns — don't take your eyes off of it!), remove it from the heat and add in the spices, swirling to mix. Pour the spiced butter out into a shallow dish and stick it in the freezer to cool and re-solidify. When it's solid again in about 20-30 minutes, set it out to come to room temperature.

Make the cake: Preheat the oven to 350 degrees F and prepare an 8-inch square baking pan (I brush the pan with Wilton's Cake Release and place a square of greased parchment in the bottom to ensure the cake will come out clean.)

In a large bowl, whisk the flour, baking soda, baking powder, and salt together. In a separate large bowl, cream the softened spiced butter and brown sugar together for 2-3 minutes until light and fluffy. While mixing, add the vegetable oil in a steady stream. Add the 3 eggs one at a time, beating after each addition. Alternate adding the flour mixture and the buttermilk to the cake, mixing after each addition and scraping down the bowl as needed.

Pour the batter into the prepared baking pan and bake about 35-38 minutes or until the top springs back when touched. Set the cake on a wire rack to cool in the pan for 10 minutes before inverting it onto a square platter to finish cooling. As soon as you set your cake aside to cool, start the frosting.

Make the frosting: Heat the milk, flour, and granulated sugar together over medium heat, whisking constantly. Once the mixture starts to boil, continue whisking and heating it for around 4-5 minutes or until it's very thick, like cake batter consistency. Remove the mixture from the heat and whisk in the vanilla extract. Scrape the mixture out into a shallow pan and let it cool completely (it's very important that it's completely cool, or your frosting will be runny. I let the frosting mixture and the cake both cool for at least 2 hours.)

Once the mixture is cool, beat the softened butter in the bowl of a stand mixer until fluffy. Add the cooled flour mixture and beat on high until you have fluffy frosting (this takes several minutes, so be patient). Frost your completely cooled cake and top with a pretty sprinkling of cinnamon.