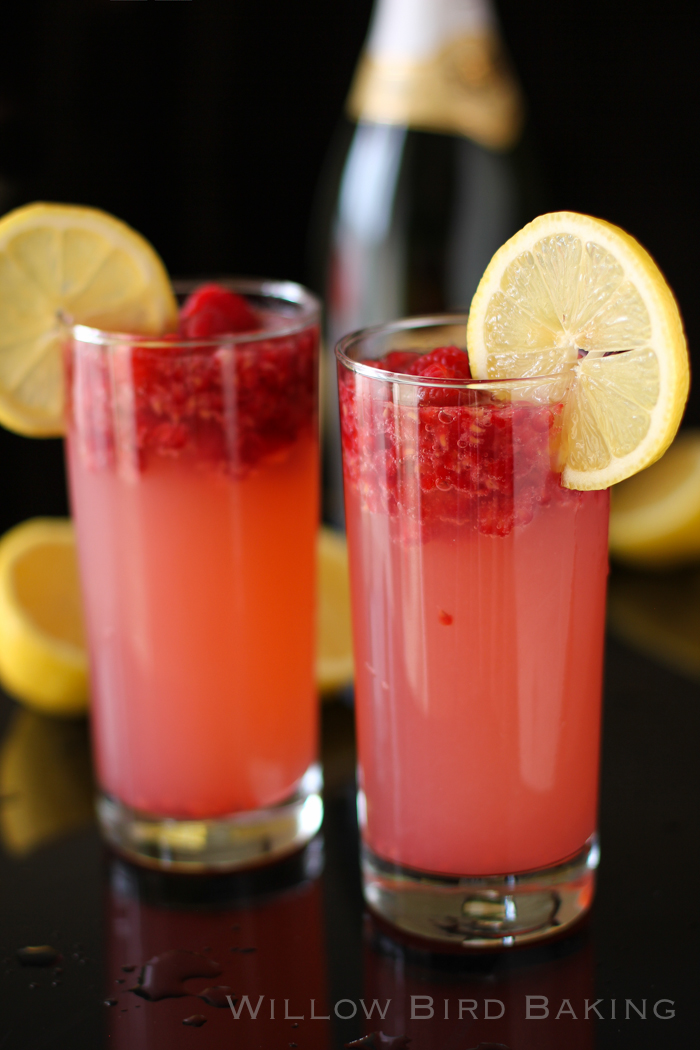 Raspberry Lemonade Champagne Smash
I have a new respect for bartenders. It seemed like a simple job: put delicious stuff into other delicious stuff, add some alcohol for a little edge, shake it up, get paid. I could totally do that, I thought, as I smugly slid my first bottle of champagne into a grocery cart a few days ago.
That's right. The first bottle I'd ever bought. So clearly I'm an expert mixologist.
And then I made my first iteration of this Raspberry Lemonade Champagne Smash. It was pretty slammin'! Not bad at all! A little bitter, but whatever, that's alcohol for ya, right? I drank a few sips while snapping photos. Only to sit down a few moments later as the room turned a wee bit sideways. Wait, how much alcohol is in the cocktail I just made?!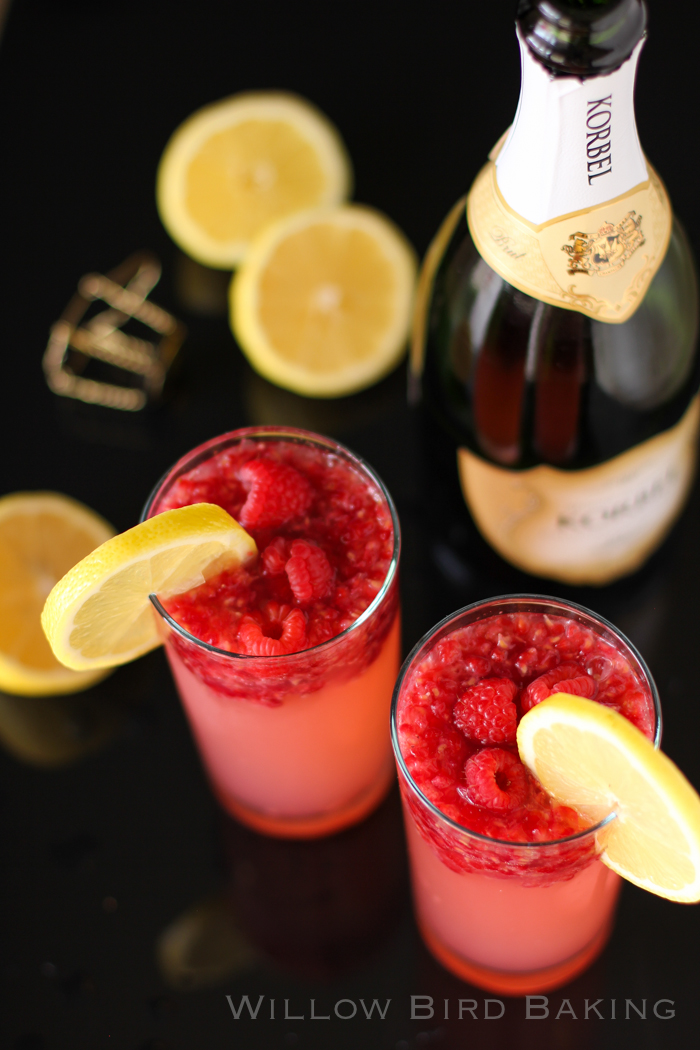 Turns out a lot. I'm a lightweight who only ever has ONE cocktail, and always with food, and I usually still can't finish it. What I'm saying is that my few sips sent me right to bed. Back to the drawing board, and this time with a little more respect for bartenders everywhere.
The next day I did my homework, worked out proportions, read the interwebz. After some reading and a trip to the grocery store to purchase my second bottle of champagne (I now realized I'd probably need plenty more for recipe testing), my kitchen became a mad scientist's laboratory. Counters were covered in champagne, lemon juice, raspberries, and plenty of sticky syrup.
All the mess paid off, though. I think I finally got it, y'all! This Raspberry Lemonade Champagne Smash is just what I wanted: a sweet cocktail that tastes like a buzzy version of raspberry lemonade. Perfect for your New Year's Eve bash (and while it still packs a punch, hopefully it won't send you to bed before midnight).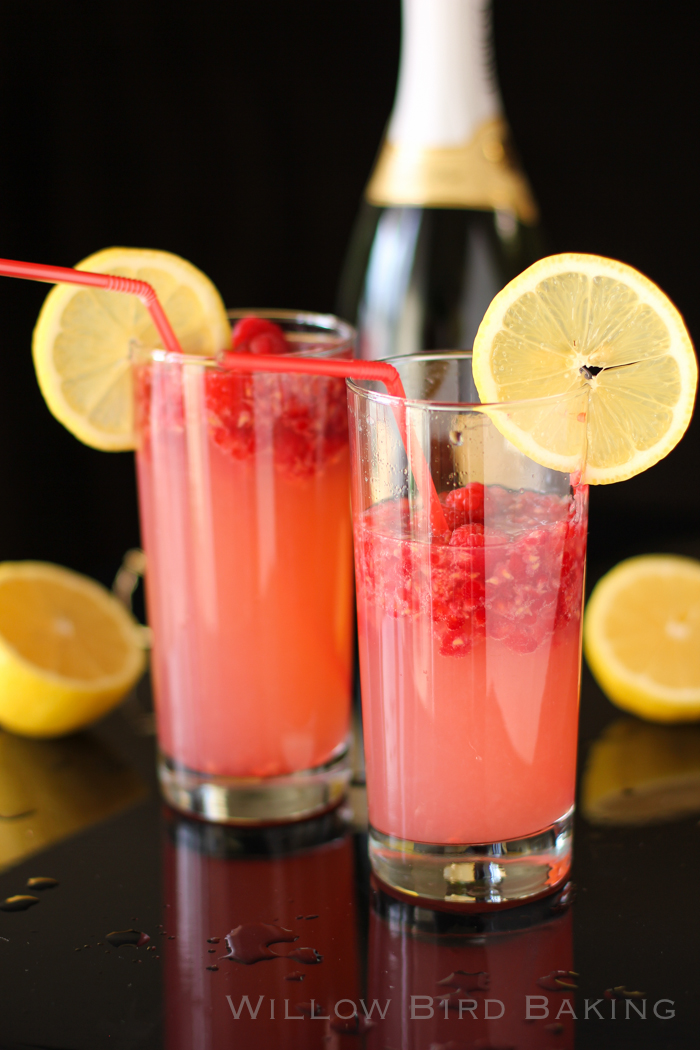 What are your New Year's Eve plans?

One year ago: Spiced Crispies (Chivda, or Indian Snack Mix)
Two years ago: Brown Butter Cookie Dough Pretzel Bars
Three years ago: Magic Bars
Four years ago: Taco Stuffed Crescent Rolls
Raspberry Lemonade Champagne Smash

---


Recipe by: Willow Bird Baking, inspired by A Beautiful Mess
Yield: 2 cocktails

This punchy cocktail is tangy and sweet, with a shot of Limoncello and plenty of peppy champagne! I love the fruity bits of raspberry throughout the cocktail.

Ingredients:
6 ounces raspberries, plus more for garnish
3 tablespoons sugar, divided
1 tablespoon water
2 tablespoons chilled Limoncello
1/4 cup lemon juice
1 1/2 cups chilled champagne
1 cup chilled sparkling water
ice*
lemon slices for garnish (optional)

Directions:
*Note: You can omit the ice if all your ingredients are well chilled and you don't have an ice strainer.

Make a simple syrup: In a small saucepan, mix 1 tablespoon water and 2 tablespoons sugar over high heat until the sugar is completely dissolved and the syrup is simmering. Transfer this to another bowl and stick it in the fridge to chill.

Muddle raspberries: Put most of the raspberries (reserving just a few for garnishing your drinks) into a medium bowl with 1 tablespoon sugar. Muddle them together with a muddler or the back of a spoon until the raspberries are all broken down and combined with the sugar. Divide this mixture into the bottom of 2 tall glasses.

Finish and assemble: In a cocktail shaker, mix Limoncello, lemon juice, champagne, sparkling water, 2 tablespoons of your chilled simple syrup, and ice (if your shaker is a smaller capacity, consider mixing just one drink at a time: 1 tablespoon Limoncello, 2 tablespoons lemon juice, 3/4 cup champagne, 1/2 cup sparkling water, 1 tablespoon simple syrup, and ice for each drink). Shake well for several minutes and pour into the two glasses, straining out the ice. Garnish with lemon slices and raspberries and serve immediately.