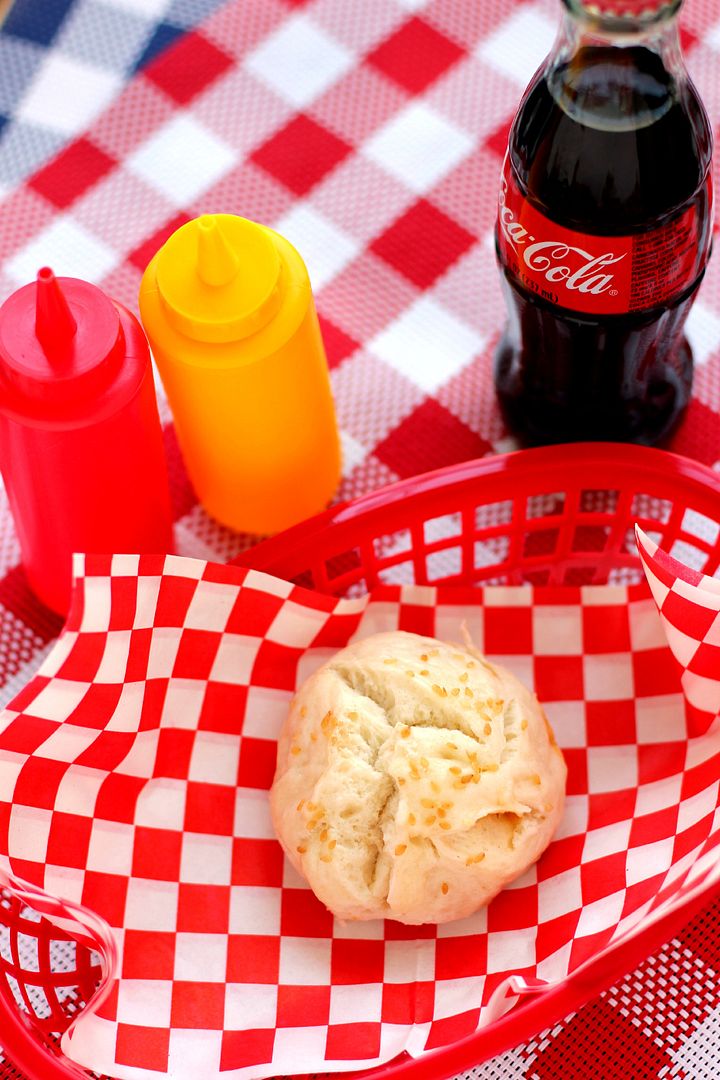 Right or straight? Go straight, go straight, go straight — Ahhh, man. Right.
My frantic inner dialogue seemed to have very little to do with the car's trajectory as my dad drove us away from church each week. If we turned right, we were on our way home to make a reasonable lunch in our small galley kitchen. If we went straight, though, we were on our way to those beautiful golden arches, where I would order a #4 off the combo menu and immediately begin stuffing hot fries into my face. Later, at home, I would crunch into the crispy chicken sandwich slathered with mayonnaise and topped with crisp lettuce — the crisper the better!
(Funny side story: I first ordered a #4 because of my obsessive compulsive love of the number 4 — stop looking at me like that — and it just so happened I also really enjoyed the meal.)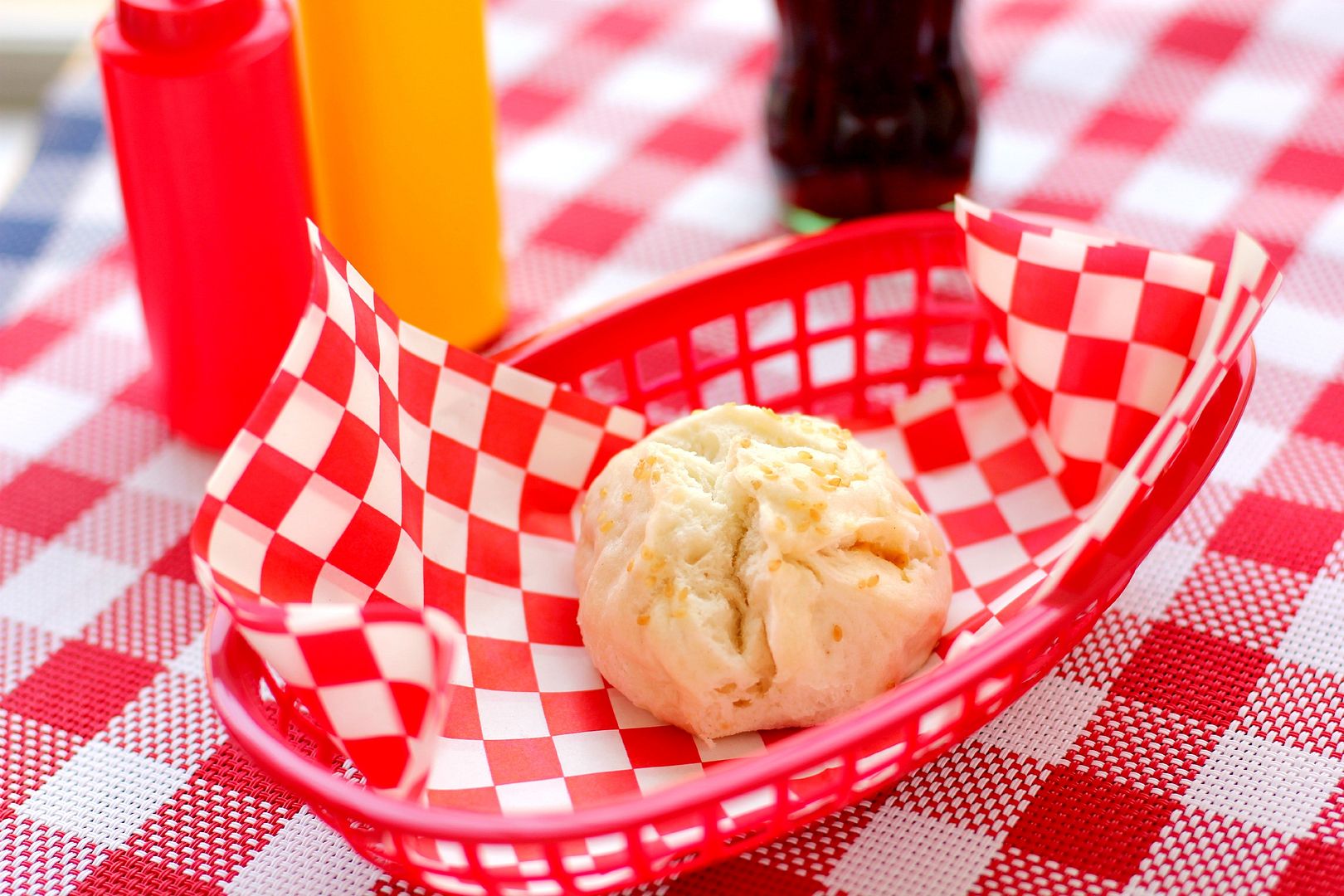 Those after-church trips to the drive-thru window are one of my earliest memories of fast food, but I've always enjoyed it. I can't imagine ever being one of those people who crinkles their nose in disgust at the mention of fast food. Okay, it's fatty and chemically. But let's be honest: that stuff is good.
Beef & cheddars! Curly fries! Chicken biscuits! Those weird little hand pies! McCrunchy Deluxes! Okay, I made that one up. Anyway, the point is, yum.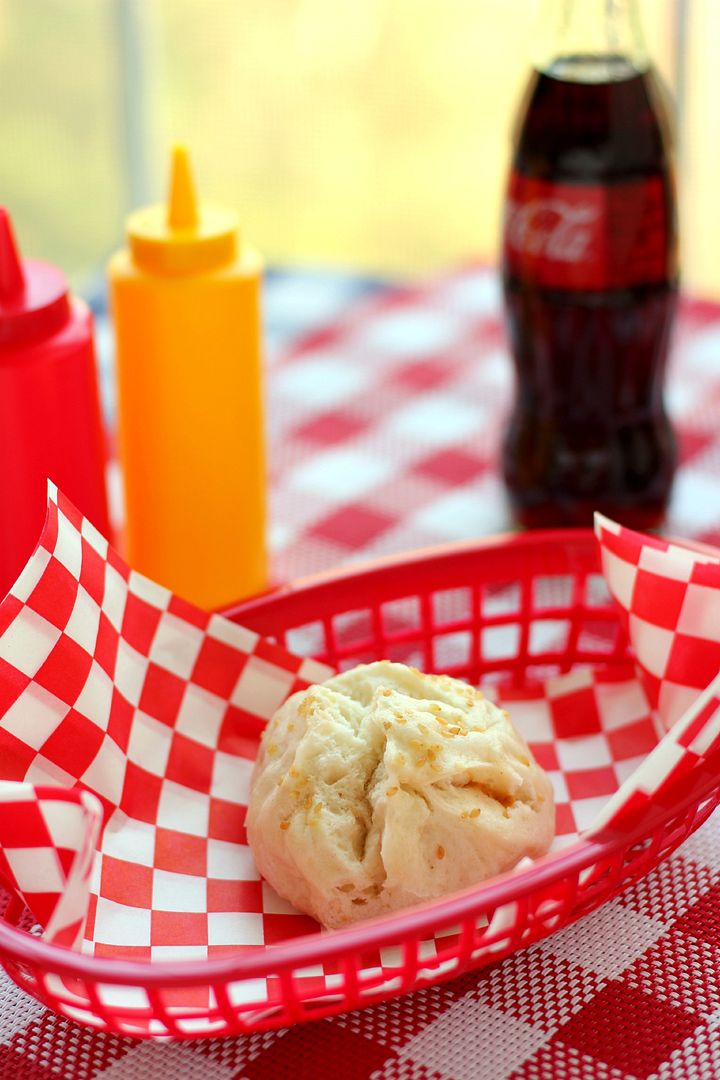 Don't get me wrong; I hardly ever eat it anymore. Despite how it may seem, I make careful food choices and only indulge in "bad for you" food in moderation. I eat healthy soups and veggies and oatmeal during the week. I drive determinedly past every single Arby's. I order only a fountain drink at Chick-Fil-A, turning pointedly away from the menu full of nuggety goodness. You're probably the same way. So I have a present for you:
Faux Fast Food.
Instead of grabbing a burger at the drive-thru, why not make a drive-thru worthy meal where you control the ingredients and nutrition stats? How about some cute little cheeseburger steamed buns, complete with burger dipping sauce? I've been dreaming of this recipe since I saw Julia's vegan Big Mac Steamed Buns over at her fantastic blog, No Face Plate. Granted, this meal will take a little longer than zipping by for a couple of bacon cheeseburgers, but it's also a lot of fun to make. If you have the luxury of some time, a few ingredients, and a sense of humor, I think you'll really enjoy it.

Comparing two different bao doughs — look how much fluffier the one on the right is! That's the one in the recipe below.
I did some legwork and experimenting and found you the fluffiest bao dough (look at the difference in the above comparison!) Grab your favorite burger recipe and adapt it to yield 12 mini patties. Make sure they're well-seasoned, stick 'em in your bao dough, and steam 'em up! I can imagine kids would be over the moon for these little "burger pouches." Enjoy!
How do you feel about fast food?
Cheeseburger Bāozi (Steamed Cheeseburger Stuffed Buns)

---


Recipe by: Willow Bird Baking with bun recipe adapted from Rasa Malaysia and burger sauce adapted from America's Test Kitchen. This recipe inspired by Julia's vegan Big Mac Steamed Buns at No Face Plate.
Yield: 12 buns

Sure, you could make burgers and put 'em on a regular bun. But why would you do that when you could stick them in these slightly sweet, cloudlike steamed buns? I love steamed buns more than is probably reasonable, so I'm in the process of stuffing anything and everything into them. This recipe takes a well-seasoned burger patty and some toppings and makes them portable, delicious, and fun. Make sure to start with a great burger recipe, because it'll be the main flavor in your dish.

Bun Ingredients:
8 grams active dry yeast
160 milliliters lukewarm water
½ teaspoon white vinegar
280 grams low-protein flour (Hong Kong Flour or Cake Flour)
100 grams wheat or potato starch (I used potato)
100 grams icing sugar
30 grams shortening
10 grams baking powder
10 milliliters cold water
sesame seeds

your favorite cheeseburger recipe, made into mini patties (may I suggest this one?)
cheese slices
Roma tomato slices

Optional Burger Sauce Ingredients:
2 tablespoons mayonnaise
1 tablespoon ketchup
1/2 teaspoon sweet pickle relish
1/2 teaspoons sugar
1/2 teaspoon white vinegar
1/4 teaspoon ground black pepper

Directions:
NOTES: I measured the bun ingredients by weight for accuracy. You can convert them to imperial measures using an online calculator, but I'd use weights if you can.

Make burgers: Prepare your favorite burger recipe (adapted to yield about 12 mini patties), making each mini patty about 1-2 inches in diameter. Make sure your burgers are tasty and well-seasoned, because they'll be the main flavor in this dish! Go ahead and cook your patties according to your burger recipe, placing cheese on near the end.

Make bāozi: Sift together the flour, wheat or potato starch, and powdered sugar into a mixing bowl. Make a well in the center and gently combine the yeast, vinegar, and warm water in the well. Let this sit and proof for around 10 minutes before slowly mixing in the surrounding flour mixture bit by bit, forming a dough. Add in the shortening and then knead (on a KitchenAid mixer at about speed 4-6, knead for about 4 minutes; by hand, knead for about 10 minutes) until the dough is smooth and elastic. It shouldn't be sticky to the touch.

Transfer the dough to a bowl lightly coated with vegetable oil. Cover it with a damp cloth and place it somewhere warm to rise (I always put mine into an oven that has been warmed for a few minutes and then left open to drop to just above room temperature) for 30 minutes. I never noticed too much rise, so don't worry if it doesn't seem like a huge difference.

After 30 minutes, dissolve the baking powder completely in the water and sprinkle this mixture over the bao dough. Knead it in to fully combine it (I used the dough to mop up any of the mixture that was still on the bowl and kneaded it in well — an uneven distribution of baking powder can cause discoloration of your buns). Recover the dough and let it rest for 10 more minutes.

Fill and shape your buns: Turn the dough out onto wax paper and pat it into an even width. Use a dough cutter or sharp knife to divide it into 12 roughly equal sections. Take one section and gently roll it out to about 1/4 inch thick with a rolling pin (I keep the sections I'm not working with covered with a damp cloth so they don't dry out.) Holding the dough in your non-dominant hand, place a mini burger patty, a slice of cheese, and a slice of tomato in the center and carefully pleat the edges of the dough together at the top, turning the bun as you work, until it is fully closed (see this video for a demonstration of to shape the buns). Place each bun on a square of wax or parchment paper. Brush the top lightly with water and sprinkle on sesame seeds.

Steam your buns: Preheat your steamer by boiling water and a teaspoon of vinegar over medium-high heat in a saucepan with your steamer on top (here's a photo of how your steamer setup should look). Preheating the steamer ensures your buns will fully rise. Once it's steaming, place buns in each tier (being careful not to crowd them), spray them with a bit of water (this help ensure a smooth surface), and close the steamer. Cook for 12 minutes without opening the lid. Remove the buns to a cooling rack to let them cool slightly.

Make burger sauce: Mix all sauce ingredients together. Serve buns warm with burger sauce, or ketchup and mustard.
If you liked this post, please:
–Subscribe to Willow Bird Baking
–Follow Willow Bird Baking on Twitter
–Follow Willow Bird Baking on Facebook
–Give this post a thumbs up on StumbleUpon
–Pin It
other ways to share this post with friends