Over a decade ago, my dad sat down to write out his memories. The resulting document sits in an pale green folder on my bookshelf now as one of my most treasured possessions. In it, he describes the cocoa paste sandwiches his mom packed for lunch each day, the novelty of the canned biscuits his Grandma made, and how his dad got laid off most winters from his construction job and resorted to hauling wood for meager pay.
Under a section called, simply, Vivi, he describes at the hot summer night at Gooch's, a little soda shop in the tiny town of Piedmont, Missouri, where he drove up and saw my mother for the first time.
I saw a beautiful blond, tanned girl that I had not seen before. She was very pretty, and I caught her eye as soon as I drove in. After asking around, I found out she was Vivian Roberts and was in town visiting her cousins. I quickly asked her out . . . I knew I was in love, the moment I saw her.

Mom and Dad
It sounds like the beginning of a fairy tale, but my parents' youth was harder than it should have been — especially for my mom. Daddy was poor, but mom was living a nightmare. Her dad was an abusive alcoholic. It wasn't long after my parents' first date that he took my mom and their family back to Kansas City. Dad describes the difficult time that followed:
We wrote letters to each other every day. I called her when it was possible. Kansas City was a good 6 hour drive from Piedmont. Viv was living in a rough situation and her dad treated her like dirt. It seemed like we would never be together. We both prayed for a solution.
The solution came in an unexpected way. My mom's dad came home after drinking one night and beat her badly, tearing out fistfuls of hair. After getting a sobbing phone call from her, Daddy got in his Torino and made the 6 hour drive in 4 hours to pick her up and bring her back to Piedmont to live with her grandmother. Finally in the same city, Dad says, "I was in heaven. I could date Viv, and see her every night. I fell quickly and deeply in love with the girl I wanted to marry." They were married shortly thereafter at the First Church of the Nazarene in Piedmont, my mother only 16 years old.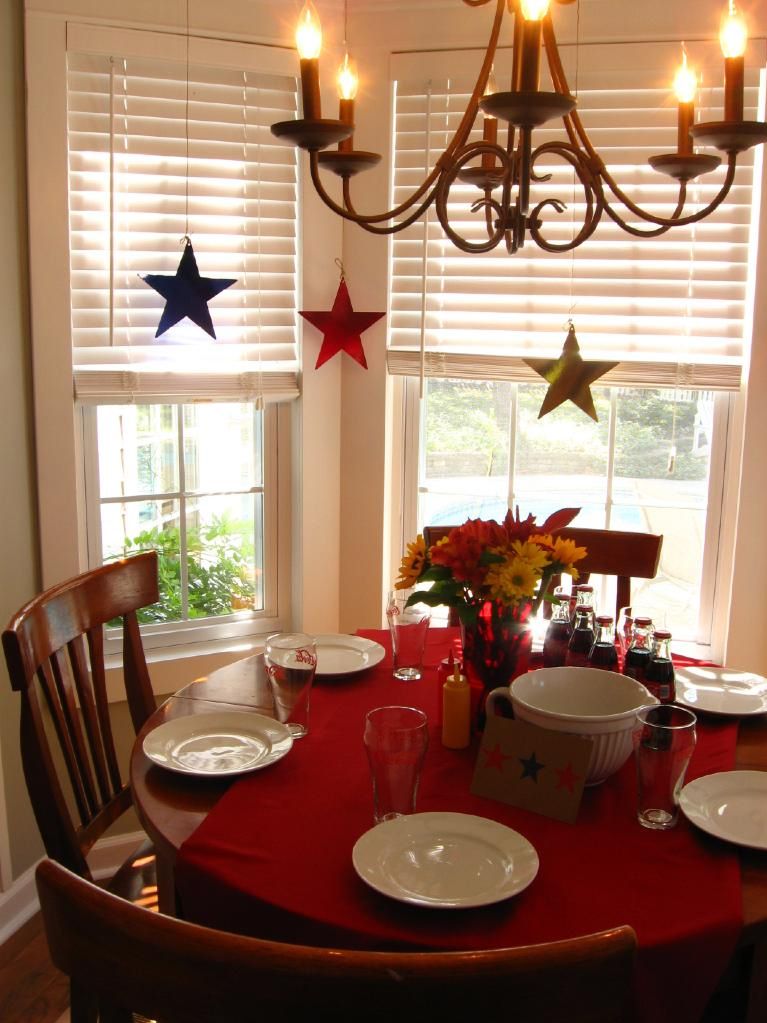 The third challenge in Project Food Blog, a competition to find the next food blog star, was to create a luxury dinner party. It just so happens that this challenge fell on my parents' 39 year wedding anniversary. Thank you so much for voting in the first two challenges to get me to this point, where I had the privilege of creating a special meal to honor my parents' marriage.
I wanted to take that night at Gooch's soda shop and my parents' memories from growing up in the 1960s and elevate them by creating luxury versions of several classic American dishes. My four course menu featured all-American favorites such as pizza, popcorn, nachos, burgers and fries, and of course, apple pie — fancied up, but still retaining their classic charm.
The amuse bouche truly amused my bouche — each component sung in the bite to produce a harmony that tasted exactly like a fresh Margherita pizza. The appetizers, though, were disappointing. Food blogs represent genuine, real people who are dancing through kitchen highs and lows along with their readers — so I'm not afraid to tell you when things don't work out. My Saffron Buttered Popcorn only carried the lovely saffron flavor in certain bites and my nachos were dry. Nevertheless, we trekked on to the main course and were rewarded for our diligence!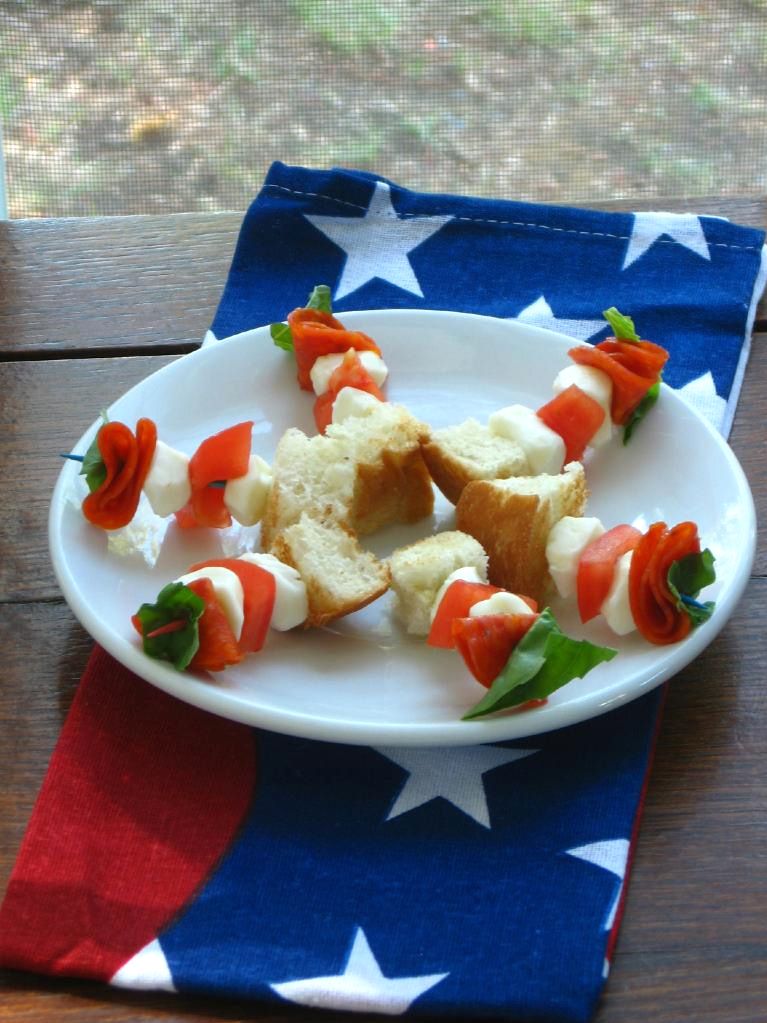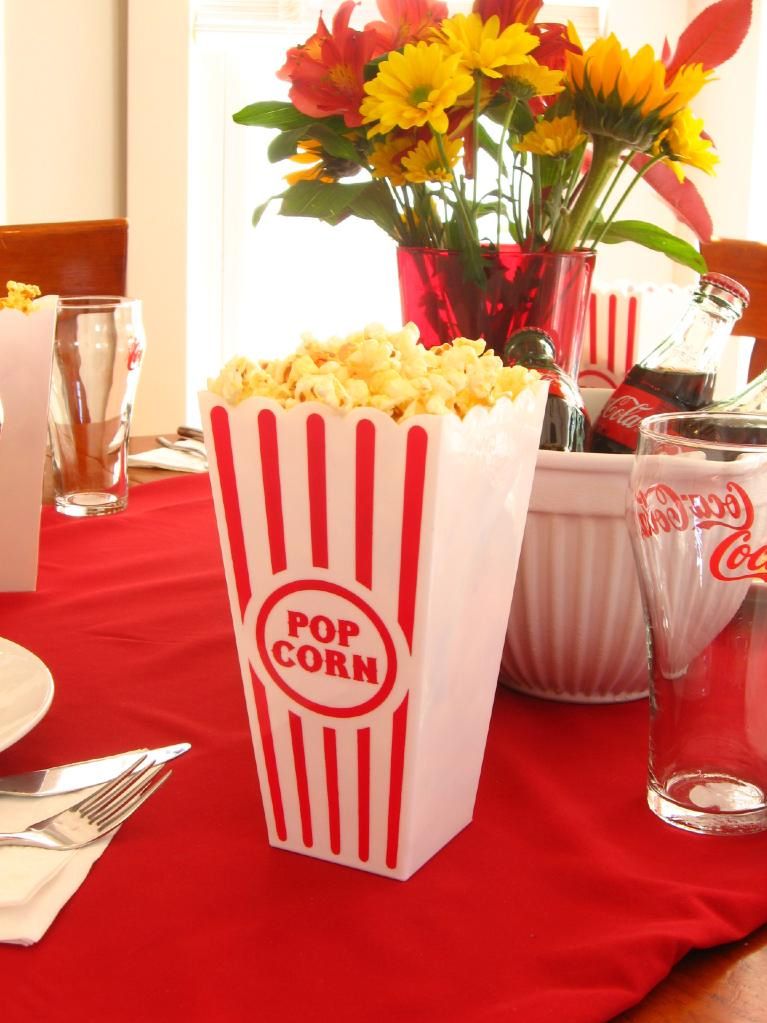 Served in sweet diner trays (download the template here, print them on cardstock, cut, fold, and glue together. Adapted from Bakerella's smaller version), the "burgers and fries" were leagues above your standard diner fare.
The roast was perfectly cooked, juicy, and flavorful, and every accompaniment pulled its weight to make the sliders a true indulgence. I actually forgot the caramelized onions on my dinner party version (they were sitting in a container right behind me, too!), but remade the sliders that evening with them included just to taste. They were dynamite with and without the onions! The herb-salt roasted fingerling potatoes carried a hint of fresh lemon with every bite — delicious.
After a break for conversation, guests sat down to a fresh, light apple puff pastry tart. While everyone loved the tart, the consensus was that the star of dessert was the freshly whipped almond cream on top.
The food was good, the company was fabulous — but my favorite part of dinner was watching my parents read the quotes I had framed for them. A few days before the party, I'd asked each of them to tell me their favorite memory together, but to keep it a secret from each other. Imagine my surprise and delight (I'll admit, there were a few happy tears) when they both emailed me the exact same memory.

Memories sent by mom and dad and framed for the party.
It was of a time when, according to Daddy, they were "so poor but so happy." Mom was pregnant with my oldest sibling, Jason, and they lived above a hardware store next to some law offices. At night, after the lawyers had gone home, they would slide through the hallways in their stocking feet, laughing together. It's a memory that, along with a love as strong as my Grandpa's lumber-hauling hands and as sweet as my mom's teenage smile, still unites them after 39 years.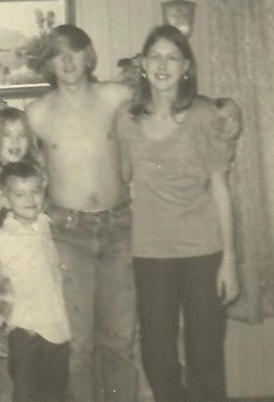 Then and now.
Note: Voting for Round 3 is now open! Please log into your Foodbuzz.com account (or register if you don't yet have one), go here, and click "Vote for this Entry." Thank you!
Fancy Beef Sliders


---


Recipe by: Willow Bird Baking, with roast beef adapted from Simply Recipes and slider technique by Annie's Eats
Yields: ~30 sliders

Roast Beef Ingredients:
3 to 3 1/2 lbs of Boneless Rump Roast (pick an end cut with a lot of fat marbling)
Olive oil
8 slivers of garlic
Salt and pepper


Slider Ingredients:
potato slider buns (or dinner rolls of your choice)
baby arugula
Swiss cheese, sliced
Gorgonzola cheese
2 sweet onions
2 tablespoons balsamic vinegar
3 tablespoons olive oil for caramelizing onions
melted butter

Directions:
Prepare the roast beef: Preheat oven to 375 degrees F. Let roast sit out for an hour before cooking so that it begins at room temperature. When ready to begin, rinse the roast and use a sharp knife to cut 8 small incisions over the surface, inserting a sliver of garlic into each. Rub the roast with olive oil and season both sides with salt and pepper. Place roast in baking dish with lid (or you can use Elise's on-the-rack method) and bake for 30 minutes at 375 degrees.

After 30 minutes, turn heat down to 225 degrees F and continue cooking uncovered until a meat thermometer reads 140 degrees (Elise says this takes 2-3 hours, but for me, it was more like 1.5 hours. I was nervous that I might need to slow it down, but it came out perfect. So just keep an eye on it). Remove roast from the oven and tent with foil. Let rest at least 15 minutes before slicing into very thin slices. Increase oven temperature to 400 degrees F at this point, in preparation for the sliders.

While the roast cooks, caramelize your onions. Heat a large skillet over medium-high heat and add the oil. When it's hot, add the onions and stir so that they all come into contact with the bottom of the pan. As they start to brown, stir them every 15-30 seconds. Add balsamic vinegar and stir. Continue to brown for 10-20 minutes until they're well caramelized.

In the meantime, prepare slider assembly line. Set out baby arugula, Gorgonzola cheese, Swiss cheese, and mayonnaise. Set slider buns onto a baking sheet. On each bun, place roast beef and all the toppings, including caramelized onions. Brush tops of sliders with melted butter and bake at 400 degrees F for about 10 minutes, or until melty. Serve warm.

Sliders with caramelized onions added!
Tips for Creating a Special, Affordable Dinner Party:
Pick a personal theme. Think of a special memory, book, or food — something that resonates with your guests of honor. Plan your party around that theme. In this case, Gooch's soda shop was the foundation of my party plan.
Get creative with your resources. I decorated my table with a curtain panel that was $3 cheaper than an actual tablecloth. A local dollar store provided fun popcorn containers and drinking glasses. I picked recipes with simple ingredients and used a few luxury items (saffron, Gorgonzola) to elevate them. I also created many party decorations out of paper.
Plan ahead. A week before the party, I made a list of all groceries and planned out prep work for each day. I also wrote a detailed plan of party day, including what times to prep, bake, and photograph each dish.
When possible, choose dishes that can be prepared ahead of time. I didn't follow my own advice this time, but the beauty of many desserts and appetizers is that they can be prepared in advance and refrigerated until served. You'll have more fun if there are only a few things to prepare at the last minute.
If you liked this post, please:
–Subscribe to Willow Bird Baking
–Follow Willow Bird Baking on Twitter
–Follow Willow Bird Baking on Facebook
–Give this post a thumbs up on StumbleUpon
Other ways to share this post with friends!