I wish I were gymnastically inclined. If I could do a cartwheel or two or three hundred, maybe I could express how excited I am about sharing this recipe with you. Instead, I am the girl who, in middle school, somehow body-slammed herself onto the hard gym floor mid-cartwheel-attempt. They make gymnastics mats for a reason, gym teachers.
I will not be trying that again. You'll have to trust me when I say I'm flipping around the room in spirit. Because these. burgers. are. amazing.
They are not gourmet burgers. They're not sporting Gruyere, truffle oil, shallots, or mushrooms — not that those ingredients wouldn't be tasty on some burger, somewhere. Just not this one.
They are not Texas-sized steakburgers. You do not need to dislocate your jaw to take a bite, they do not include exotic spices or a pile of complementary toppings — though you know I love a burger like that on occasion. It's just not this burger's style.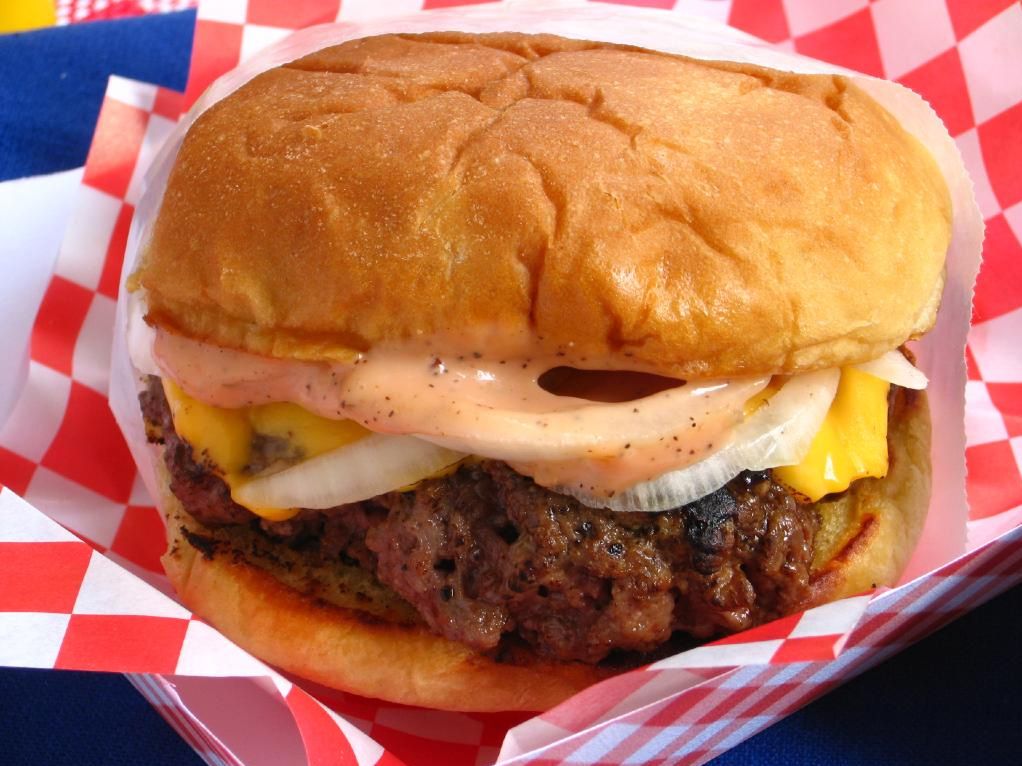 These are the burgers your fast food burger could taste like (you guys know the Old Spice commercial, right?). The burgers they're trying their hardest to replicate in every establishment that owns a drive-thru.
These are thin, fall-apart tender, juicy, salty burgers with a slight crisp crust, smothered in melty cheese, onions, and tangy burger sauce before being smooshed into a pillowy, sweet, toasted potato roll. Swoon.
Imagine the best 1950s burger stand — one that carefully wraps its burgers in wax paper and sends them out dripping in burger sauce with a side of crispy fries. Maybe via a roller skating waitress. These are those burgers. Christopher Kimball called them something like the "ultimate indulgence burgers" — exactly!
In case you're nervous about the fact that you grind your own meat for this burger, I need to tell you that they're also easy. I would stick these babies on the menu any weekend without a second thought. You can also make the patties and freeze them sandwiched between sheets of waxed paper, making this recipe perfect for weeknights as well (thaw for 30 minutes at room temperature before using).
The basic method is as follows: cut chunks of meat, freeze it for a bit, grind it in a food processor, gather your patties loosely, season, cook in hot skillet, melt cheesy goodness on top, and place on sauced, toasted bun. I made my sauce and sliced my onions the night before, and so the whole process was quick as a whip.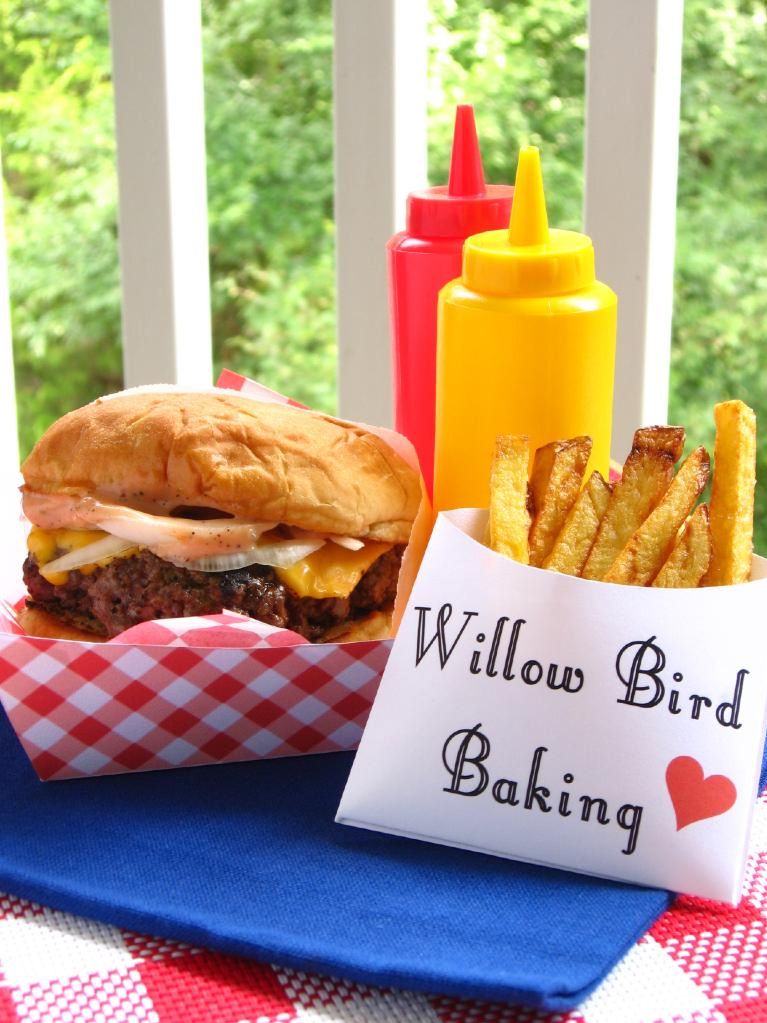 The burgers stay super tender because you don't pack them into patties with your hands the way you might form other burgers. After grinding the meat, you try not to touch it much at all, gathering it into piles with your spatula and only then gently pressing it against a sheet pan or tray into a loose patty with plenty of crevices. You want it where it's only just sticking together.
Heavy salting and a smoking hot pan make for a nice crisp crust on the patty. You don't need to worry about cooking it to medium rare or medium or any of that — as Kenji from America's Test Kitchen said, because of the way you form the patties, there's no way to overcook this burger into toughness. No matter what, it's tender and perfect.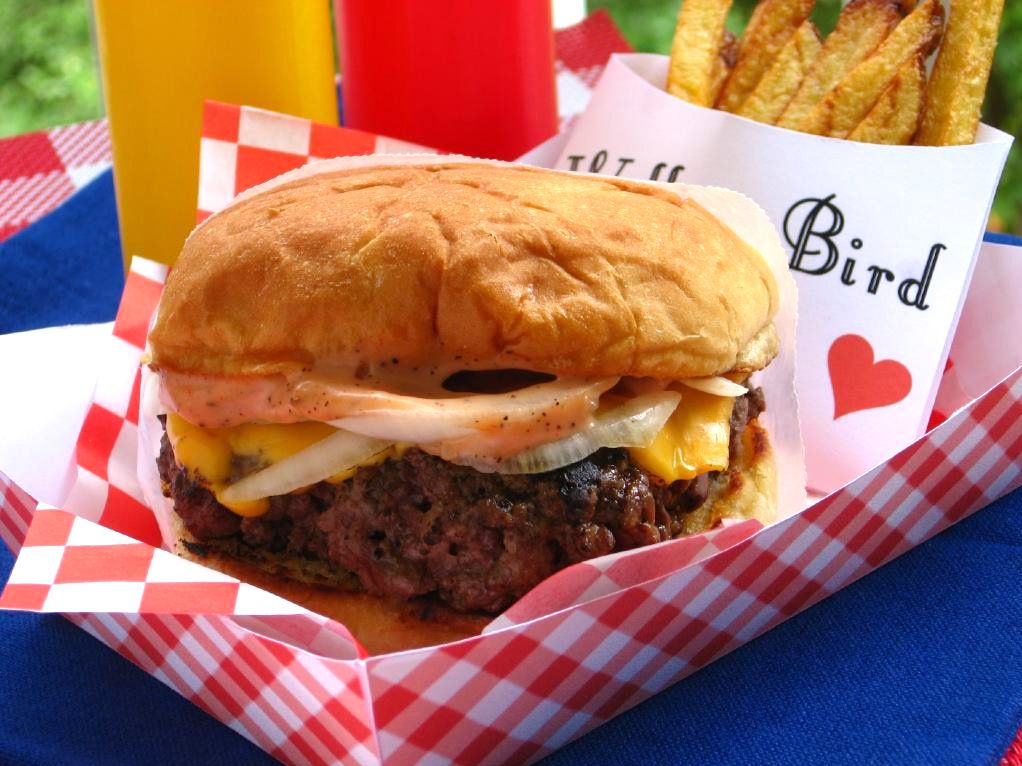 Grab your glass bottles o' coke and some roller skates, and let's make some burger magic!
Old-Fashioned Burger Stand Burgers


---


Recipe by: Cooks Illustrated
Yields: 4 burgers

Ingredients:
10 ounces sirloin steak tips, cut into 1-inch chunks (look for meat that has a striated texture to be sure you have the right cut. Flank steak may be substituted)
6 ounces boneless beef short ribs, cut into 1-inch chunks
Kosher salt and ground black pepper
1 tablespoon unsalted butter
4 soft hamburger buns (potato rolls)
1/2 teaspoon vegetable oil
4 slices American cheese (don't substitute! American cheese has the perfect texture for this recipe)
Thinly sliced onion

Classic Burger Sauce Ingredients:
2 tablespoons mayonnaise
1 tablespoon ketchup
1/2 teaspoon sweet pickle relish
1/2 teaspoons sugar
1/2 teaspoon white vinegar
1/4 teaspoon ground black pepper

Directions:
1. Mix ingredients for burger sauce and refrigerate it until you're ready for it.
2. Place chunks of meat onto baking sheet about 1/2 inch apart. Freeze until very firm, hard around the edges, but still pliable (15-25 minutes).
3. Grind meat in a food processor in two batches, using 10 to 15 one-second pulses and redistributing meat in the processor as necessary. Transfer the meat to a tray or baking sheet without touching it — just overturn the processor bowl onto the tray. You want to touch the meat as little as possible from here on out. Discard gristle or hunks of fat.
4. Gently separate ground meat into 4 equal mounds using a spatula. Shape each mound gently (without picking it up) into a patty about 4 inches in diameter and thin (about 1/4 inch thick), leaving edges ragged and crevices in the burger. Season top of each patty liberally with salt and pepper. Use a spatula to flip patties and season the other side. Stick them in the refrigerator while you toast the buns.
5. Melt 1/2 tablespoon butter in a 12-inch skillet over medium heat until it foams. Toast 4 buns, tops and bottoms, in batches until golden brown. Set aside and wipe out the skillet.
6. Put skillet on high heat. Add oil and heat until just smoking. Using a spatula, put all 4 patties into the skillet and cook without moving for 3 minutes. Flip burgers over gently and cook for 1 minute. Top each with a slice of American cheese and cook for another minute.
7. Place patties onto bun bottoms and place sliced onions on top. Spread burger sauce on each bun top, cover burgers, and serve immediately.
Oh yeah, and those fries! They're crisp and lovely, and just as easy as the burgers, if not easier. You're talking to someone who inevitably burns the first batch of anything she's trying to fry, and often doesn't get a single usable piece of food out of the entire experience. Nevertheless, these were simple even for me. You don't even need to measure the temperature of the oil!
To make fries super simple, Cooks Illustrated starts them in cold oil. Surprisingly, they don't get soggy or absorb oil. You're then supposed to bring them to a boil, leave them for 15 minutes without touching them, make sure none are stuck to the bottom, and cook for a few minutes more until golden brown. The times were a little off for me and I feared 15 minutes left alone would be too long, so I started scraping them off the bottom a tad earlier and they didn't break apart. I'd just recommend keeping your eye on them. If you can watch a pot, you can make these fries.
You may have noticed that I went a little crazy with my food stylin' for this photo shoot. I couldn't help it! I love these little burgers so much, I wanted to give them the star treatment. It added so much fun to the meal.
I bought some coke in glass bottles, sweet little mustard and ketchup dispensers, and food-grade checked wax paper. A lot of these great materials were on sale after Independence Day. I then downloaded and adapted the template for the burger tray and little fry pouch from Bakerella, who used it for her adorable faux-burgers.
Want to present a meal to your family in these sweet little checkered trays and fry pouches? Download the template here, print it on cardstock, cut around the outside borders, fold the tabs over and glue them. If you'd like to change what the fry pouch says, just crop out my logo and paste in your own.
Easy French Fries


---


Recipe by: Cooks Illustrated
Yields: about 2-3 servings

Ingredients:
2 1/2 lbs Yukon Gold Potatoes (about 6 medium), scrubbed, dried, sides squared off, and cut length-wise in 1/4 inch by 1/4 inch batons (strips)
6 cups peanut oil
1/4 cup bacon fat, strained, optional
Kosher salt

Belgian-Style Dipping Sauce Ingredients:
5 tablespoons mayonnaise
3 tablespoons ketchup
1 medium garlic clove, minced
1/2 teaspoon hot sauce
1/4 teaspoon table salt

Directions:
1. Mix all ingredients for Belgian-Style Dipping Sauce together and refrigerate until needed.
2. Put potatoes, oil, and bacon fat (if using) into a large Dutch oven or stock pot. Cook over high heat about 5 minutes or until the oil reaches a good rolling boil. Cook without stirring until potatoes are limp but their exteriors are firm enough to scrape stuck ones off the bottom without breaking. The original recipe says 15 minutes, but keep an eye on them and try a little early (gently).
3. Using tongs, stir potatoes, gently loosening any that are sticking to the bottom, and continue to cook, stirring occasionally, until golden the fries are golden brown and crisp, about 5 to 10 minutes longer. Use a slotted spoon to transfer fries onto a bed of paper towels over a baking sheet. Salt and serve immediately, while hot, which Belgian-Style Dipping Sauce.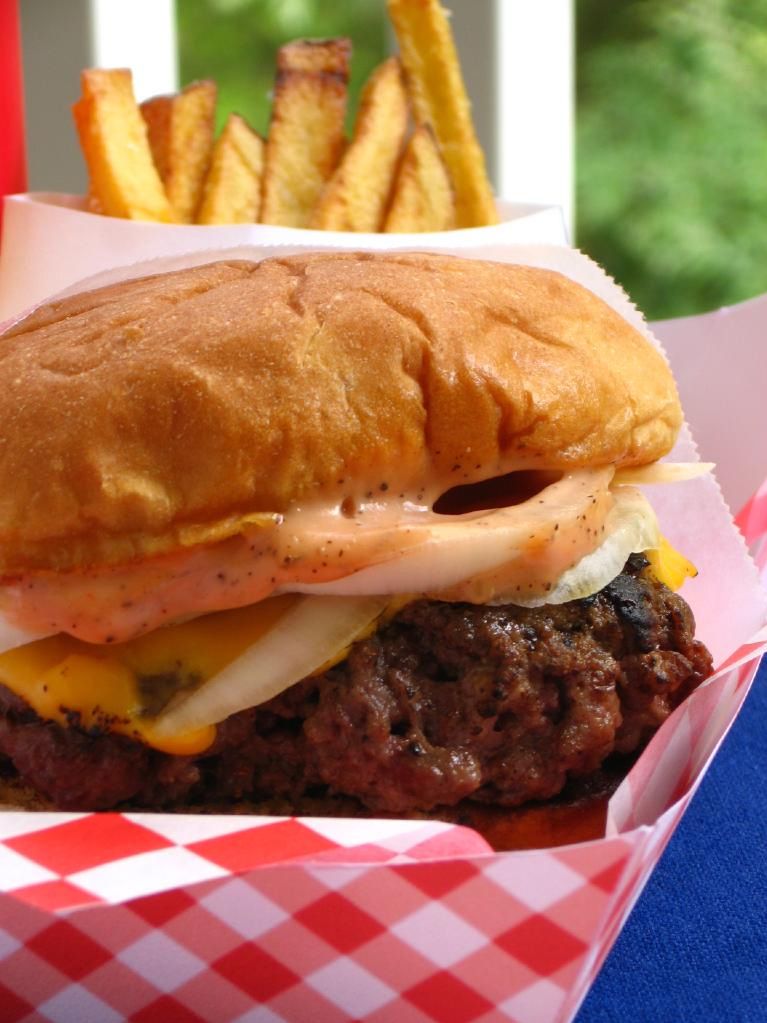 If you liked this post, please:
–Subscribe to Willow Bird Baking
–Follow Willow Bird Baking on Twitter
–Follow Willow Bird Baking on Facebook
–Give this post a thumbs up on StumbleUpon
Other ways to share this post with friends!