Cheesecake Chocolate Chip Cookie Bars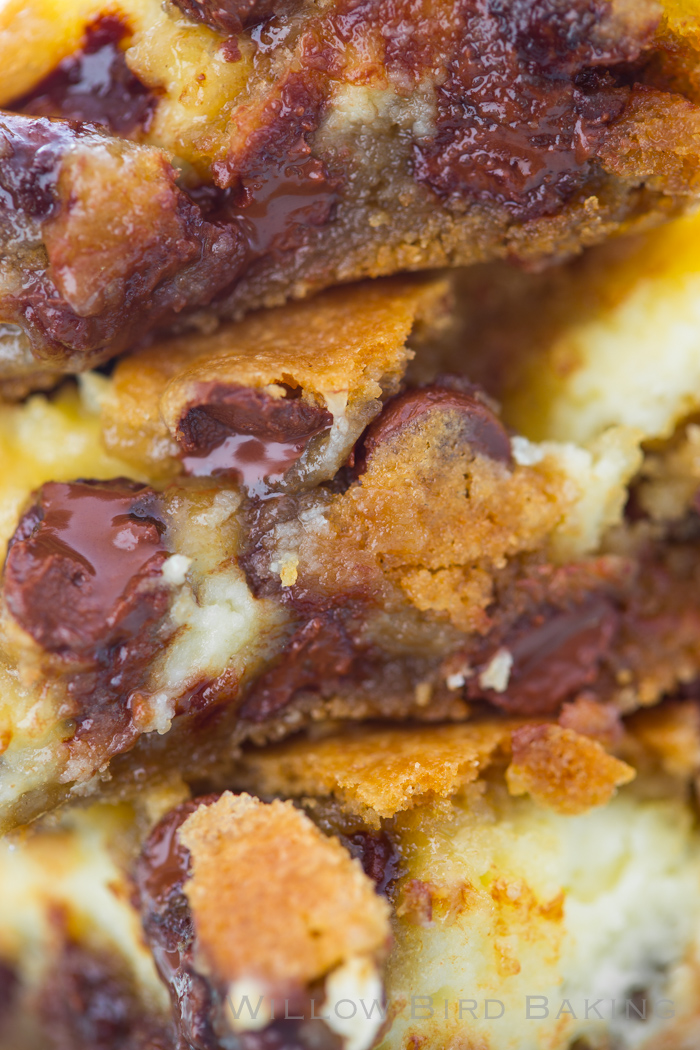 Author:
Willow Bird Baking
1/2 cup butter, softened
1/2 cup brown sugar
1/2 cup sugar
1 egg
2 teaspoons vanilla
1 cup flour
1/2 teaspoon baking soda
1/4 teaspoon salt
1 cup semi-sweet chocolate chips (use fair-trade chocolate only)
1 (8-ounce) package cream cheese, softened
1 egg
1/4 cup sugar
Preheat oven to 350°F. Line an 8 x 8" pan with a foil sling: tear off 4, 16-inch long pieces of aluminum foil and fold them in half. Situate two side-by-side in the pan, covering the bottom of the pan to the edge (they will overlap). Situate the other two strips in the same manner, but perpendicular to the first. The overhanging foil of the sling will make it easy to remove the brownies from the pan after baking and cooling. Spray foil with cooking spray.
In a large bowl, cream butter and sugars together for 3-4 minutes or until creamy, light, and fluffy. Mix in the egg and vanilla. In a medium bowl, whisk together the flour, baking soda, and salt. Add to the butter mixture and mix until just combined. Stir in chocolate chips. Pat about half of this mixture into the bottom of the prepared pan. Set the other half in the refrigerator to firm up while you prepare the cheesecake mixture.
In the same medium bowl you used for dry ingredients (why waste another dish?), beat the cream cheese until smooth. Add the egg and sugar and beat until smooth and combined. Pour the cheesecake mixture evenly over the cookie dough, spreading it smooth.
Remove the reserved cookie dough from the fridge. Grab a scoop of it and pat it into a flattened rectangle of dough to place over the cheesecake mixture. Continue doing so until the cheesecake mixture is mostly covered with these "tiles" of dough. Bake for 34-38 minutes or until golden brown and set in the middle (cover with foil if the top is getting too dark but the bars aren't set yet). Allow to cool completely before cutting into squares to serve. Store in an airtight container in the fridge.
Recipe by
Willow Bird Baking
at http://willowbirdbaking.com/2019/06/27/cheesecake-chocolate-chip-cookie-bars/