Creamsicle Sheet Cake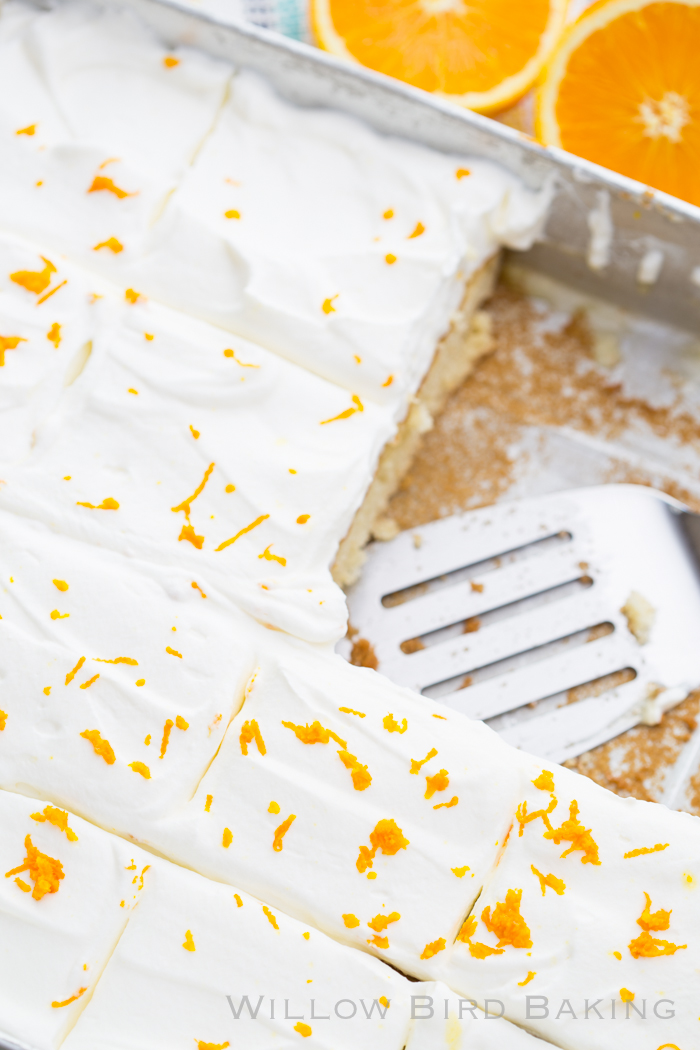 1 cup butter
1 cup water
2 1/4 cups cake flour
2 cups white sugar
1 teaspoon baking soda
1 teaspoon salt
2 eggs, lightly beaten
1/2 cup sour cream
1/2 teaspoon almond extract
1/2 teaspoon vanilla extract
1 cup sugar
1/2 cup water
3/4 cup freshly squeezed orange juice
1 tablespoon cornstarch
2 tablespoons unsalted butter
3 cups whipped cream
5 tablespoons powdered sugar
Make the cake: Preheat the oven to 375 degrees and spray a 11 x 15" baking pan with cooking spray. In a medium saucepan over medium heat, bring the butter and water to a boil. In the meantime, in a separate large bowl, whisk together the cake flour and sugar before adding the eggs, sour cream, almond extract, vanilla extract, baking soda, and salt. Mix to combine. While mixing, slowly pour in the boiling butter and water mixture. Mix to combine completely. Your batter will be very runny. Pour the batter into the prepared baking sheet.
Bake at 375 degrees for 17-22 minutes or until a toothpick inserted in several places comes out with a few moist crumbs (don't wait for the top to get golden brown, necessarily — mine stayed pale). Poke holes across the top of the cake with a fork.
While the cake bakes, whisk the sugar and water for the orange syrup together in a saucepan and bring them to a boil. Whisk orange juice and cornstarch together in a small bowl before whisking them into the sugar and water mixture. Simmer until thickened, about 8-10 minutes, before whisking in butter until it's melted. Pour orange syrup mixture over top of the hot cake. Let cool completely.
Beat heavy whipping cream and powdered sugar together to stiff peaks. Spread over top of completely cooled cake. Top with orange zest if desired. Cut into squares and serve.