Hot Butterscotch Pudding Poke Cake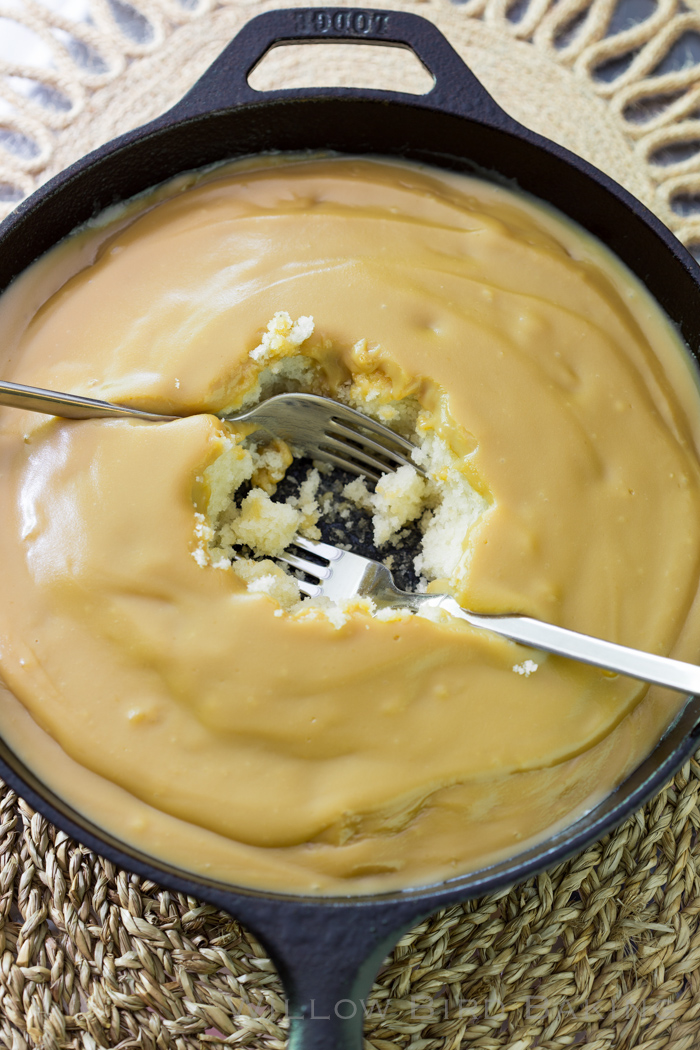 1/2 cup butter
1/2 cup water
1 1/8 cups cake flour
1 cup white sugar
1/2 teaspoon baking soda
1/2 teaspoon salt
1 egg, lightly beaten
1/4 cup sour cream
1/4 teaspoon almond extract
1/4 teaspoon vanilla extract
3 egg yolks
1 1/2 tablespoons cornstarch
1/2 cup packed dark brown sugar
6 Tablespoons unsalted butter
3/8 teaspoon kosher salt
2 cups whole milk
1 teaspoon vanilla extract
To make the cake: Preheat the oven to 375 degrees and prepare a 10-inch oven-safe skillet sprayed with cooking spray. In a medium saucepan over medium heat, bring the butter and water to a boil. In the meantime, in a separate large bowl, whisk together the cake flour, sugar, baking soda, and salt before whisking in the egg, sour cream, almond extract, vanilla extract. Mix to combine. While mixing, slowly pour in the boiling butter and water mixture. Mix to combine completely. Your batter will be very runny. Pour the batter into the prepared baking pan. Bake at 375 degrees for 17-22 minutes or until a toothpick inserted in several places comes out with a few moist crumbs. Use the back of a spoon to poke holes throughout the entire surface of the cake, cleaning off the spoon between pokes so it won't tear up the tender cake. While the cake bakes, make your butterscotch pudding.
To make the pudding, whisk the eggs and cornstarch together in a small bowl and set it aside with the whisk still in it. Put the vanilla extract in a separate medium bowl and set a fine mesh sieve over top of it to prepare it for use later.
Melt the butter over medium-high heat in a heavy-bottomed saucepan before adding the dark brown sugar. Cook these together, stirring with a wooden spoon. The mixture will look creamy and bubbly before it separates for a bit. Keep cooking and stirring and it will come back together in a couple of minutes and continue cooking. Stir constantly through all of this.
When it comes back together, remove the pan from heat and very carefully add the milk. It will bubble up and the mixture will turn hard on the bottom of the pan. Carefully pry the mixture off the bottom of the pan and return the pan to medium-low heat. Stir and cook until the mixture melts back into the milk, around 4-5 minutes. Continue to heat until the milk is steaming.
Temper the egg mixture by carefully pouring a small amount of the hot mixture into the eggs while whisking constantly. After that, continue to pour about half of the hot mixture into the eggs, whisking constantly. Then pour the egg mixture back into the saucepan now that the eggs are tempered. Bring the mixture to a boil, whisking constantly. Allow the mixture to boil at least two minutes or until it's getting thicker (for me, this took more like 10 minutes).
Pour the pudding through the fine mesh strainer into the bowl with the vanilla, pressing it through with a spatula. Stir until the vanilla is mixed in. Pour over hot cake and let cool for just a bit before serving warm.
Recipe by
Willow Bird Baking
at http://willowbirdbaking.com/2019/02/18/hot-butterscotch-pudding-poke-cake/