Coconut Cheesecake Biscuit Bombs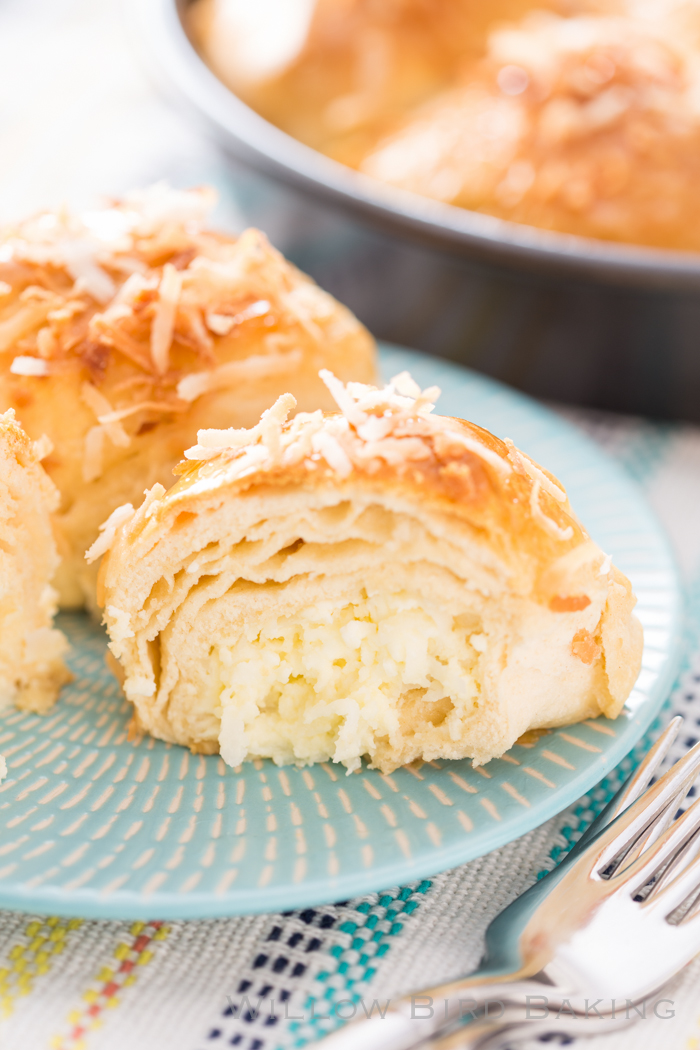 Author:
Willow Bird Baking
1 can (8-count/16.3 ounces) Pillsbury Grands! Biscuits or similar product
1 (8-ounce) packages cream cheese, softened
scant 1/4 cup sugar
1/2 cup sweetened shredded coconut, plus extra for toasting for topping (optional)
1 egg
3/4 teaspoon coconut extract, divided
1/2 cup powdered sugar
1-3 tablespoons coconut milk
Preheat oven to 350°F. Spray a 9-inch round cake pan or pie plate with nonstick cooking spray.
In a large bowl, mix cream cheese, sugar, shredded coconut, 1/4 teaspoon coconut extract, and egg together until combined.
Unroll biscuits. Flatten each biscuit, place about 1 1/2 tablespoons of coconut mixture in the center, and pinch together the edges of the biscuit to conceal. Place in prepared pan with the seam down.
Bake 20-22 minutes, or until deeply golden brown (let them get pretty dark on top to ensure they're cooked all the way through). Cool at least 10 minutes before icing and/or serving.
To make icing: whisk powdered sugar, 1/2 teaspoon coconut extract, and enough coconut milk to make it a pourable consistency. Top with toasted coconut. Serve warm.
Store covered for up to 2 days in the fridge.
Recipe by
Willow Bird Baking
at http://willowbirdbaking.com/2018/05/29/coconut-cheesecake-biscuit-bombs/