Sweet Onion Crostini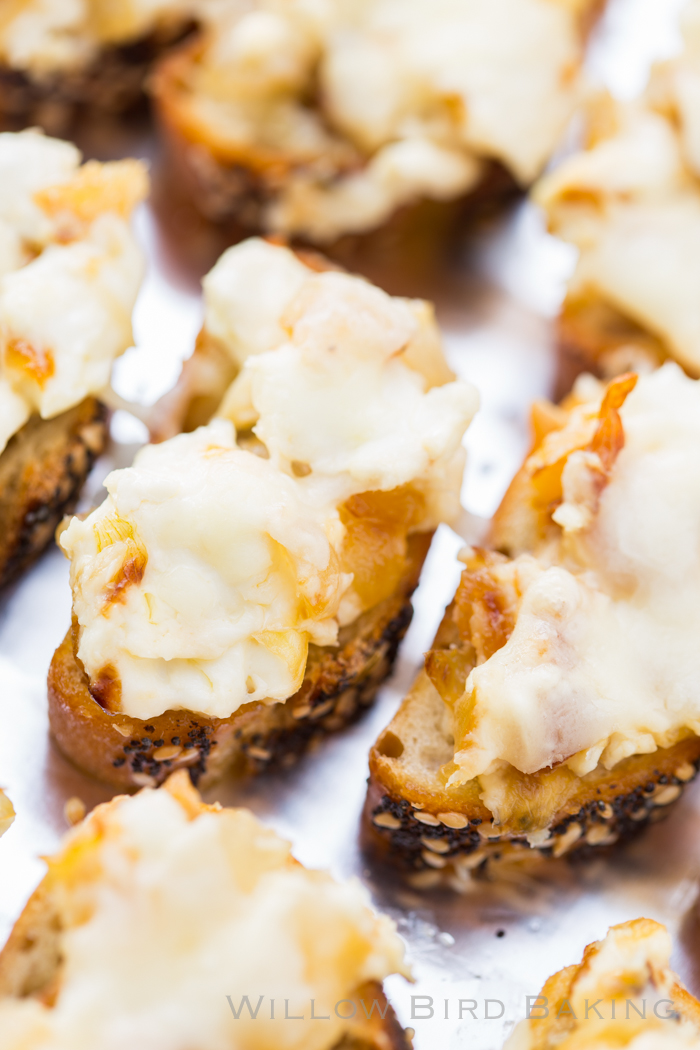 Author:
Willow Bird Baking
2 tablespoons butter
1 tablespoon olive oil, plus more for brushing crostini
2 large vidalia onions, chopped
1/4 teaspoon salt
1/2 teaspoon sugar
1 (8-ounce) package cream cheese, softened
2 tablespoons shaved parmesan cheese, plus extra for topping
1 tablespoon shredded romano pecorino cheese
1 (10-ounce) sourdough baguette, sliced into 1/2-inch slices
Heat the olive oil and butter in a large skillet over medium-low heat and swirl to coat the bottom of the pan. Add the onions, salt, and sugar. Cook, stirring occasionally, for up to around 45 minutes or until the onions take on a deep caramel color.
If at any time the bottom of the pan starts to burn, feel free to add a little water. You may need to adjust the heat to ensure the onions aren't sautéing, but caramelizing slowly over low heat.
Place the cream cheese in a large bowl and add romano pecorino cheese. Pour the hot caramelized onions with all their juices over top of this and stir gently to combine all of the ingredients. Brush each slice of baguette with olive oil before spooning the onion mixture on top of each slice. Top each slice with more parmesan cheese and broil about 5 inches from the heating unit, watching closely, for about 5-7 minutes or until cheese is melted and bubbly. Cool for 5-10 minutes and serve warm.