Tuna Melts in Avocado Boats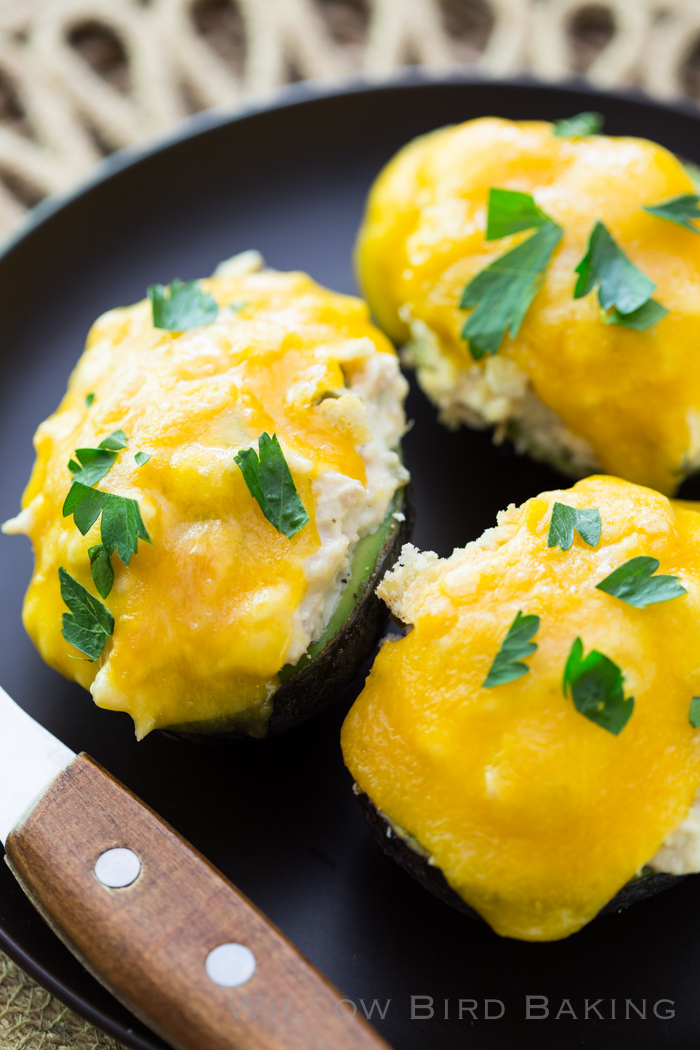 Author:
Willow Bird Baking
4 avocados, halved and pitted (peeled is easiest to eat, but you can also keep the peel on)
Two 6-ounce cans Albacore tuna, drained
1 teaspoon minced flat-leaf parsley
1/3 cup mayonnaise (Duke's if you have it, Hellmann's or Best Foods if you don't), plus more for spreading
1 tablespoon Dijon mustard
3 tablespoons Wickle's Pickles relish
8 Ritz crackers, crushed, plus extra for topping
1/4 teaspoon onion powder
Black pepper, to taste
Lemon juice (up to half a lemon's worth)
sharp cheddar cheese slices
Cover a muffin tin with aluminum foil for easy clean up. In a medium bowl, break up the tuna. Add parsley, mayonnaise, mustard, a bit of the lemon juice, relish, onion powder, and crushed crackers. Stir to combine and then taste. Add pepper or more lemon juice as needed.
Preheat the broiler. Situate the avocado halves on the wells of the prepared muffin tin (the wells just balance them to keep them level while you fill them). Fill them with a generous scoop of tuna salad and then top each one with more crushed crackers and half a slice of sharp cheddar. Broil until the cheese is melty and bubbly, and then serve.
Recipe by
Willow Bird Baking
at http://willowbirdbaking.com/2018/04/03/tuna-melts-in-avocado-boats/