Sheet Cake with the BEST Cookies and Cream Whipped Icing Recipe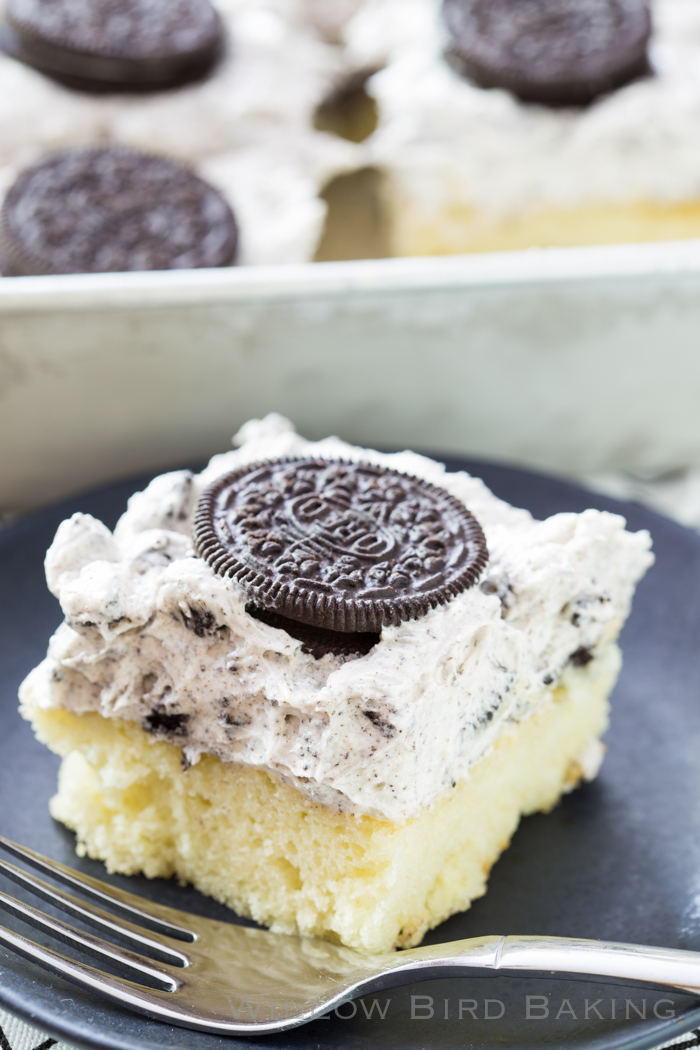 Cake Ingredients:
1 cup butter
1 cup water
2 1/4 cups cake flour
2 cups white sugar
2 eggs, lightly beaten
1/2 cup sour cream
1/2 teaspoon almond extract
1/2 teaspoon vanilla extract
1 teaspoon baking soda
1 teaspoon salt
2 cups milk
1/2 cup plus 2 tablespoons flour
2 1/2 cups granulated sugar (not powdered sugar)
1 tablespoon vanilla extract
2 cup butter, softened
1 package crushed Oreos, plus extra Oreos for topping if desired
Make the cake: Preheat the oven to 375 degrees and grease a 15 x 10 x 1″ baking sheet. In a medium saucepan over medium heat, bring the butter and water to a boil. In the meantime, in a separate large bowl, whisk together the cake flour and sugar before adding the eggs, sour cream, almond extract, vanilla extract, baking soda, and salt. Mix to combine.
While mixing, slowly pour in the boiling butter and water mixture. Mix to combine completely. Your batter will be very runny. Pour the batter into the prepared baking sheet.
Bake at 375 degrees for 17-22 minutes or until a toothpick inserted in several places comes out with a few moist crumbs (don't wait for the top to get golden brown, necessarily — mine stayed pale). Cool completely.
Make the frosting: Heat the milk, flour, and granulated sugar together over medium heat, whisking constantly. Once it starts to boil, continue whisking and heating it for around 7 minutes or until it's very thick, like cake batter consistency. Remove the mixture from the heat and add the vanilla extract.
Remove the mixture to a shallow pan and let the mixture cool completely (I stick mine in the fridge to hurry it along, and stir it now and then). Once the mixture is completely cool (no really, it's got to be COMPLETELY cool), beat the butter in the bowl of a stand mixer until soft and fluffy. Add the completely cooled mixture and beat on high until you have fluffy frosting the consistency of stiff whipped cream (this takes several minutes, so be patient). Beat in crushed oreos. Frost your completely cooled cake with a thick layer. Top with oreos if desired.
Recipe by
Willow Bird Baking
at http://willowbirdbaking.com/2018/03/11/sheet-cake-best-cookies-cream-whipped-icing-recipe/