Bailey's Irish Cream Chocolate Tart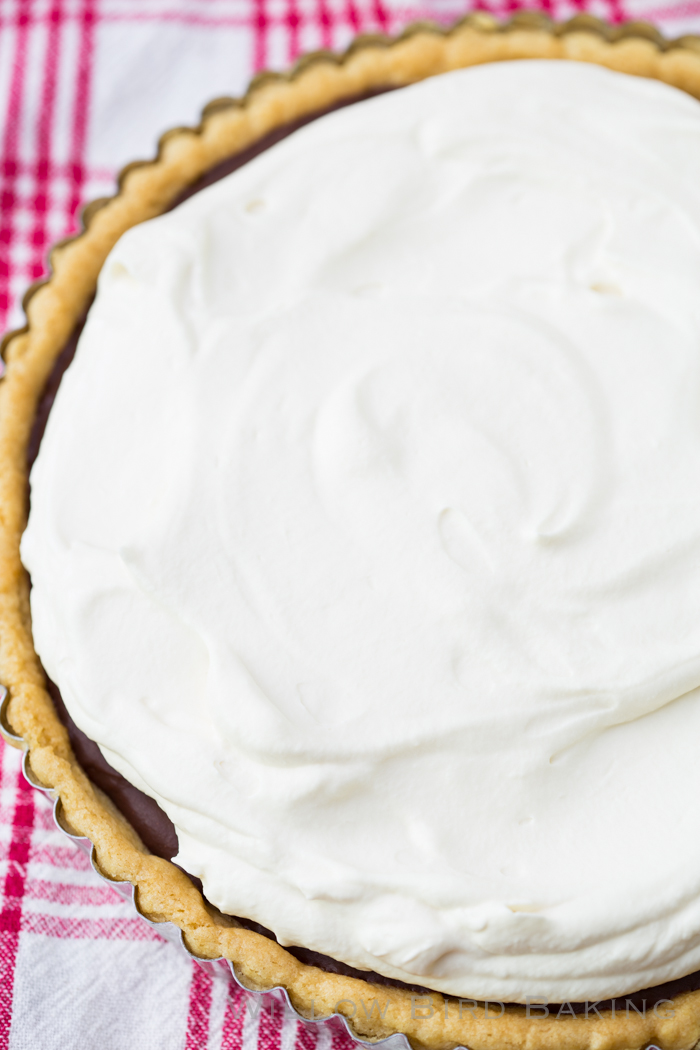 Author:
Willow Bird Baking
1 roll (16.5 oz) refrigerated sugar cookie dough
2 cups chocolate chips
6 tablespoons heavy cream
1/4 cup plus 2 tablespoons Bailey's Irish Cream, divided
1 1/2 cups heavy cream
1/2 cup powdered sugar
1/4 cup Bailey's Irish Cream
Preheat the oven to 350 degrees and lightly grease a round tart pan. Slice the cookie dough into even slices and lay them out in the pan. Press the dough into the pan and up the sides. Dock the middle of the dough well with a fork. Bake the shell for 15-20 minutes or until lightly browned. Remove to a cooling rack to cool completely.
Make the ganache: Bring the cream to a simmer in a medium saucepan (or heat in the microwave for about a minute, watching to ensure it doesn't boil). Place the chocolate in a medium bowl. Once the cream reaches a simmer, stir in 2 tablespoons Bailey's Irish Cream. Pour the cream mixture over the chocolate and let stand 1-2 minutes. Whisk in small circles until a smooth ganache has formed. Pour the ganache over the bottom of the sugar cookie crust.
Make the whipped cream: Beat the heavy cream, powdered sugar, and 1/4 cup Bailey's Irish Cream to stiff peaks. Spread over the ganache. Chill the tart until firm, slice, and serve.
Recipe by
Willow Bird Baking
at http://willowbirdbaking.com/2017/05/07/baileys-irish-cream-chocolate-tart/