Baked Eggs in Avocado Boats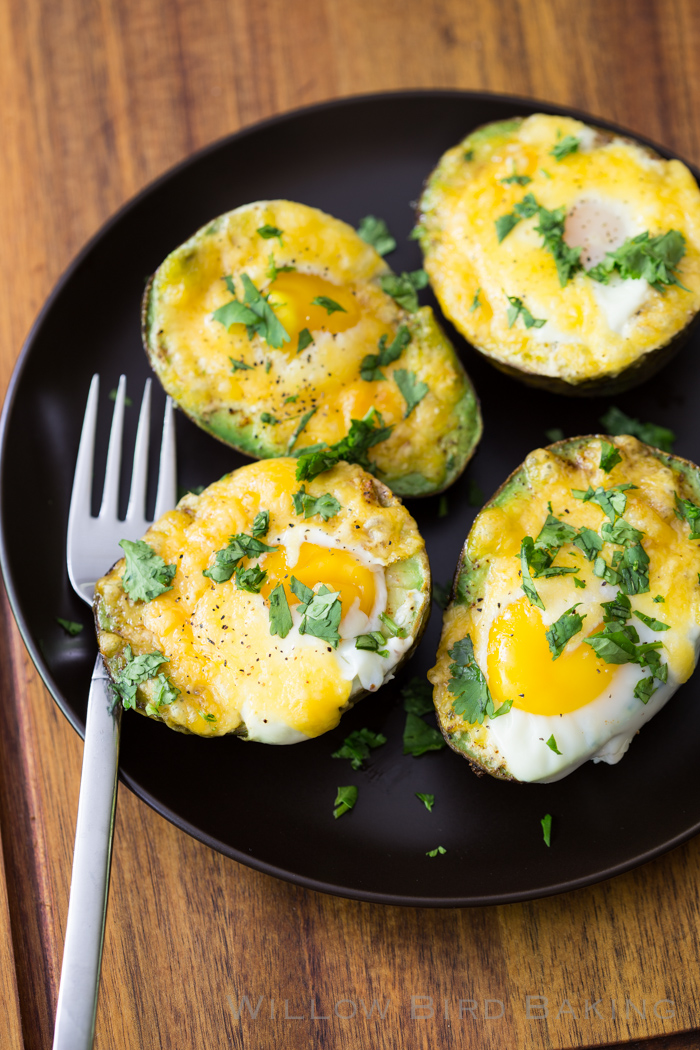 Author:
Willow Bird Baking
3 avocados, halved and seeded
1 tablespoon olive oil
1/4 teaspoon chili powder
1/4 teaspoon salt
1/8 teaspoon ground cumin
1/8 teaspoon ground black pepper
6 large eggs
2 ounces shard cheddar cheese, shredded
finely chopped cilantro
Preheat oven to 425 degrees F. There are a few options to keep the avocados upright and level while baking: you can make little boats of aluminum foil to cradle them on a baking sheet, or use a muffin tin where the wells are filled almost to the top with balls of aluminum foil (the edges of the well will then stabilize the avocados but the foil will prevent them from sinking too far.) Spray your setup with cooking spray.
Using a spoon, scoop out about two tablespoons of avocado flesh, or more, as needed, creating a small well in the center of each avocado. Drizzle the avocados with olive oil. Mix together the chili powder, salt, cumin, and pepper in a small bowl and sprinkle it evenly over the avocados.
Gently crack 1 egg, and slide it into the avocado well, keeping the yolk intact. Some of the egg white may slide down into the well of your cupcake tin or onto your baking sheet — no worries. That's why we sprayed them: for easy cleanup later! Repeat with remaining eggs. Top the avocados with cheese.
Place into oven and bake until the egg whites have set but the yolks are still runny, about 15-18 minutes. Serve immediately, garnished with cilantro.
Recipe by
Willow Bird Baking
at http://willowbirdbaking.com/2017/02/13/baked-eggs-in-avocado-boats-and-an-introduction-to-jesus/