Pumpkin Bread Stuffed with Chai Cheesecake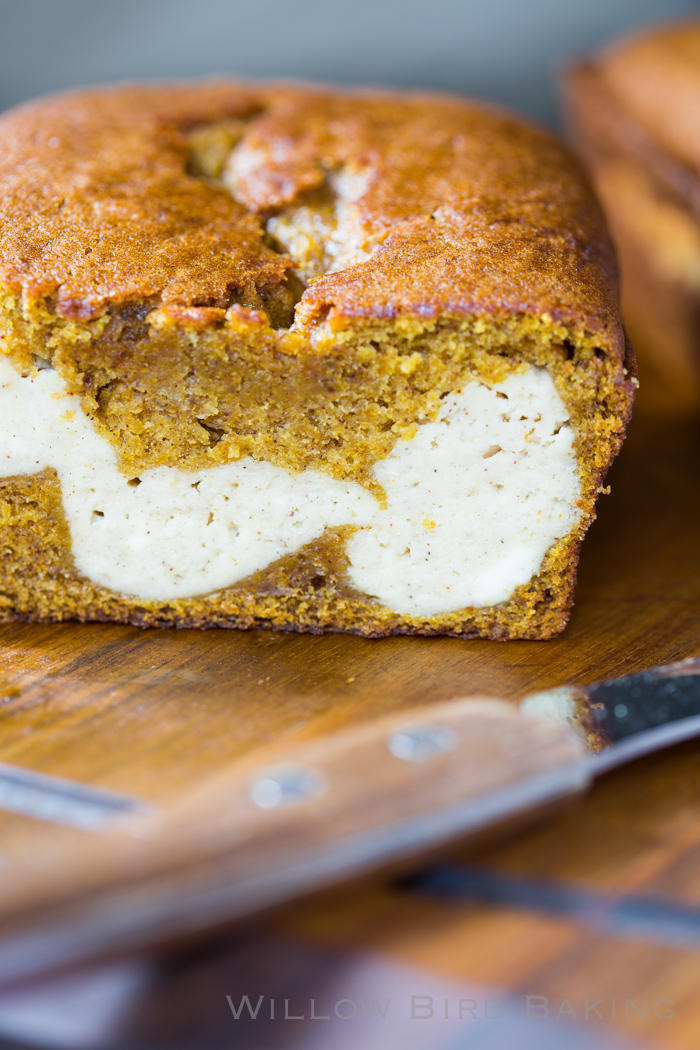 Author:
Willow Bird Baking
3 cups sugar
3 1/3 cups flour
2 teaspoons baking soda
1 1/2 teaspoon baking powder
1 1/2 teaspoon salt
2 teaspoons nutmeg
1 teaspoon ground cloves
2 teaspoons cinnamon
4 whole eggs
1 (15-ounce) can pureed pumpkin
1 cup oil
1 cup water
heaping 1/2 teaspoon ground cinnamon
heaping 1/2 teaspoon ground cardamom
1/4 teaspoon ground nutmeg
1/4 teaspoon ground ginger
1/4 teaspoon ground allspice
1/4 teaspoon ground pepper (white or black)
dash cayenne pepper
4 (8-ounce) packages cream cheese, room temperature
1 cup granulated white sugar
2 large eggs
1 teaspoon pure vanilla extract
Preheat the oven to 350 degrees F and grease 3 (9 x 4-inch) loaf pans. I also place a greased square of parchment in each to encourage the bread to come out after baking.
In a small bowl, whisk together chai spices (cinnamon, cardamom, nutmeg, allspice, ginger, pepper, cayenne) in a small bowl. In a medium bowl, beat together cream cheese, sugar, egg, and vanilla extract. Beat in the spice mixture. Place the chai cream cheese filling into a zip-top bag with a big corner cut off for easy piping. Set aside.
In a large bowl, whisk together the sugar, flour, baking soda, baking powder, salt, nutmeg, cloves, and cinnamon. In a separate medium bowl, beat together the eggs, pumpkin, oil, and water. Add the wet ingredients to the dry ingredients and combine. Pour a very thin layer of pumpkin batter into each pan and pipe thick ribbons of the cream cheese mixture over top, separating it evenly between the three loaves (the cream cheese layer will rise as the bread bakes, so you want to start it out almost at the bottom of the pan). Be sure to use it all. Pour the rest of the pumpkin batter on top, distributing it evenly between the 3 pans. Bake the loaves for 45 minutes to an hour, or until a wooden skewer inserted into the center of the cake comes out with just a few moist crumbs. Don't overbake!
Set the bread out to cool for just 5 minutes before inverting each pan onto a long sheet of aluminum foil. Immediately fold the foil over the bread and secure very tightly to trap steam in. Let the loaves cool inside the foil. Serve just warm with a schmear of softened butter.
Recipe by
Willow Bird Baking
at http://willowbirdbaking.com/2016/10/25/pumpkin-bread-stuffed-with-chai-cheesecake/