Pumpkin Pie Monkey Bread (and My New Bedroom Reveal!)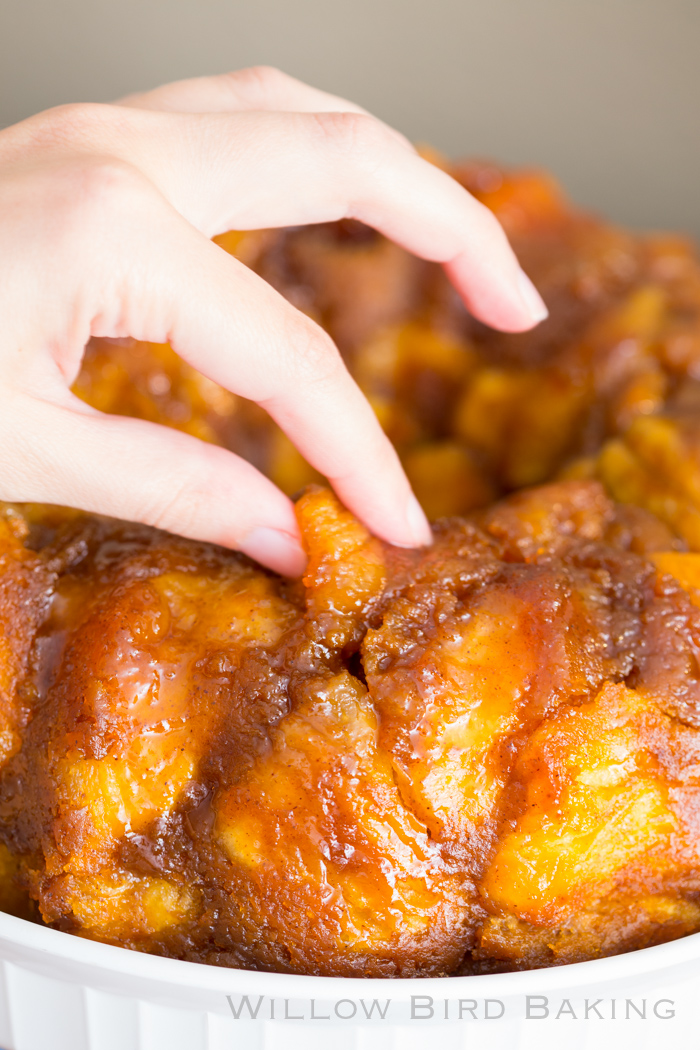 Author:
Willow Bird Baking
1/2 cup sugar
1 teaspoon cinnamon
2 cans giant refrigerated biscuits
6 tablespoons sugar
1/2 teaspoon ground cinnamon
1/4 teaspoon salt
1/4 teaspoon ground ginger
1/8 teaspoon ground cloves
1 egg
1 cup pumpkin puree
1 cup firmly packed brown sugar
3/4 cup butter, melted
Make the monkey bread: Preheat the oven to 350 degrees F. Spray a 12-cup bundt pan with cooking spray. In gallon-size zip-top bag, combine the sugar and cinnamon. Cut each refrigerated biscuit into quarters, adding all of the pieces into the zip-top bag. Seal it and shake to fully coat the pieces.
Make the pumpkin pie filling: In a large bowl, whisk together the sugar, cinnamon, salt, ginger and cloves. Beat egg lightly in a measuring cup. Stir the egg and pumpkin into the spice mixture, whisking to fully combine.
Assemble and bake: Toss biscuit pieces in to pumpkin (I pour the whole bag in, including any leftover cinnamon and sugar). Gently combine until the pumpkin pie filling is evenly distributed around the biscuit pieces. Pour everything into the prepared bundt pan. In a small bowl, whisk together brown sugar and melted butter; pour over biscuit pieces. It will look like a lot, but use it all. Bake 32 minutes or until golden brown and no longer doughy in the center. Cool in the pan 10 minutes. Invert onto a serving plate (I prefer a rimmed one to catch the brown sugar glaze) and pull apart to serve. Serve warm.
Recipe by
Willow Bird Baking
at http://willowbirdbaking.com/2016/09/12/pumpkin-pie-monkey-bread-and-my-new-bedroom-reveal/