Chipotle Shrimp Tacos with White Sauce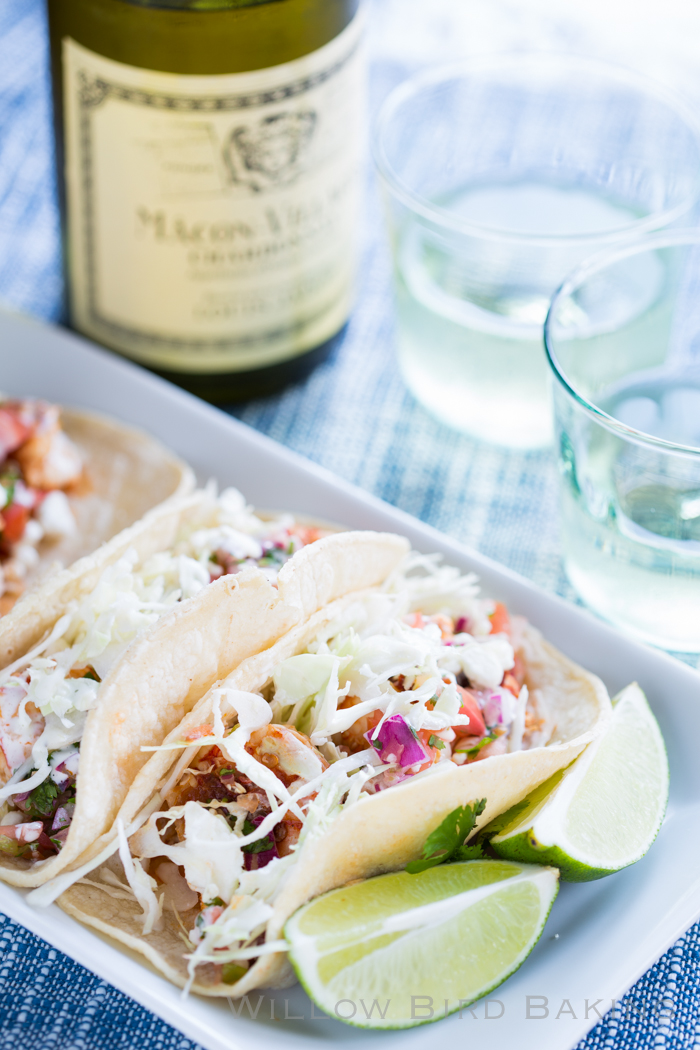 1 cup mayonnaise
1/4 cup milk
4 tablespoons lemon juice
1 teaspoon garlic salt
3/4 medium red onion, diced (you should end up with about 1 cup)
4 Roma tomatoes, diced
2/3 cups chopped fresh cilantro leaves
1 jalapeño, seeded and diced very finely
lime juice from one small lime
salt, to taste
1/2 (7-ounce) can chipotle peppers in adobe sauce
1 pound large shrimp, deveined with tails and shells removed
1 tablespoon minced garlic
3 tablespoons olive oil
salt, to taste
2 tablespoons fresh lime juice
2 tablespoons Maison Louis Jadot Mâcon-Villages Chardonnay
2 tablespoons unsalted butter
thinly shredded Napa cabbage
lime juice
fresh cilantro
queso blanco
8 corn tortillas
Make white sauce: Whisk together mayonnaise, milk, lemon juice, and garlic sauce. Stick in the refrigerate to chill and let the flavors meld for at least a half hour.
Make the pico de gallo: Toss tomato and onion together with the finely diced jalapeño and cilantro in a medium bowl. Add the lime juice and salt (remember you can always add more but can't take it away, so start small). Mix and taste, adjusting the amounts of salt, lime, and jalapeño as needed. Set aside in the fridge for at least a half hour, tossing occasionally. I then pulsed mine through a food processor a few times because I like a finer pico de gallo on my tacos.
Warm the tortillas: Preheat the oven to 350 degrees F. Wrap two stacks of 4 tortillas each in aluminum foil and warm them for 15-20 minutes or until soft and warm.
Make the Chipotle Shrimp: Process the chipotle peppers and sauce in a food processor until smooth. Place the puree, shrimp, and garlic together in a zip-top bag and gently work the bag around until the shrimp are well coated. Place the shrimp in the refrigerator for 20 minutes to marinate. Heat the olive oil in a large skillet over medium heat until it shimmers. Pour the shrimp and sauce out into the prepared skillet. Sprinkle with salt, lime juice, and wine. Cook for around 4 minutes, tossing the shrimp as needed, until the shrimp are cooked through. Remove from the heat and gently mix in the butter.
Assemble the tacos: Top each corn tortilla with three chipotle shrimp, a spoonful of pico de gallo, some shredded cabbage, a spritz of lime juice, fresh cilantro, queso blanco, and a drizzle of white sauce. Serve immediately.
Recipe by
Willow Bird Baking
at http://willowbirdbaking.com/2016/07/03/chipotle-shrimp-tacos-with-white-sauce/