Ultimate Tres Leches Cookies and Cream Cake (and a giant announcement!)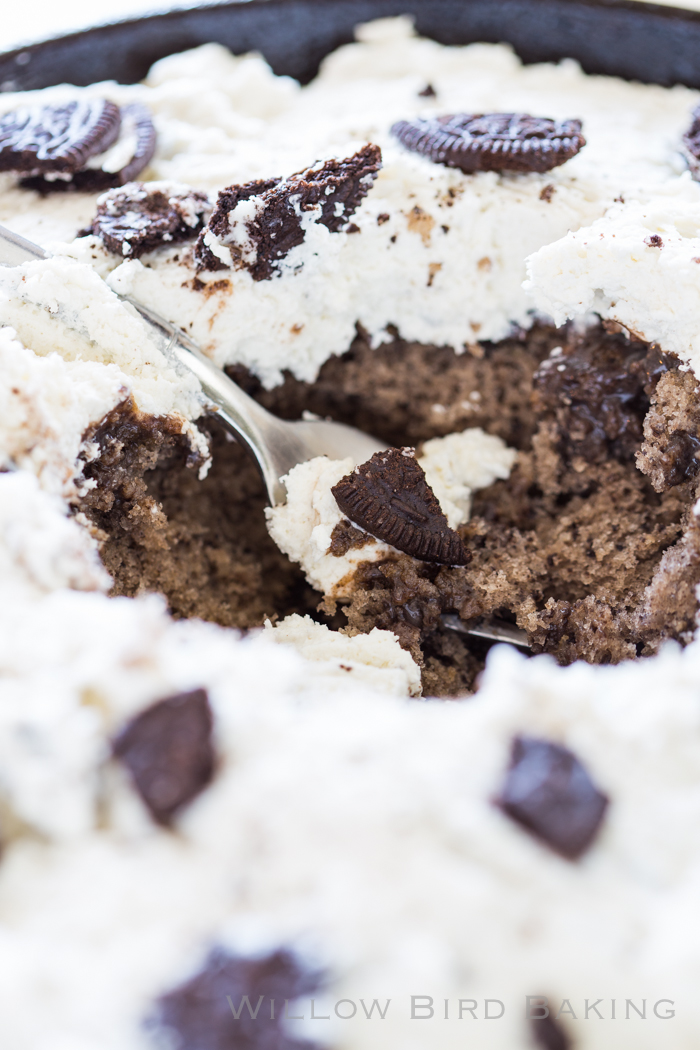 Author:
Willow Bird Baking
1/2 cup butter
1/2 cup water
1 1/8 cups cake flour
1 cup white sugar
1/2 teaspoon baking soda
1/2 teaspoon salt
1/2 cup Oreo cookie crumbs (about 6-7 Oreos processed to fine crumbs)
1 egg, lightly beaten
1/4 cup sour cream
1/4 teaspoon almond extract
1/4 teaspoon vanilla extract
1/3 cup evaporated milk
1/3 cup sweetened condensed milk
1/3 cup heavy cream
5 Oreos
1 (4.2-ounce) package Jell-o Oreo Cookies 'n Creme Instant Pudding & Pie Filling
2 cups heavy whipping cream
crushed Oreos for topping
Make the cookie milks mixture: Whisk together the evaporated milk, sweetened condensed milk, and heavy cream in a small bowl. Soak the 5 Oreos in the milks mixture, flipping them periodically, for 30 minutes in the fridge. Pour the mixture and Oreos into a food processor and process until smooth. Chill overnight.
Make the cake: Preheat the oven to 375 degrees. In a medium saucepan over medium heat, bring the butter and water to a boil. In the meantime, in a separate large bowl, whisk together the cake flour, sugar, baking soda, salt, and Oreo crumbs before adding the egg, sour cream, almond extract, and vanilla extract. Mix to combine. While mixing, slowly pour in the boiling butter and water mixture. Mix to combine completely. Your batter will be very runny. Pour the batter a 10-inch cast iron skillet (if you don't have one, this cake probably works just fine in a greased 8-inch square baking pan). Bake at 375 degrees for 20-24 minutes or until a toothpick inserted in several places comes out with a few moist crumbs (be careful not to overbake). Use a fork to poke holes all over the cake.
Strain the Oreo milks mixture through fine-mesh sieve, discarding the solids, and then poor the milks mixture over the top of the cake. Chill it until completely cool, letting the milks soak in. Some will pool around the sides. It's cool — the frosting will cover it.
Make the frosting: When the cake is completely cool, whip the pudding mix and heavy cream together just to soft peaks. Whip the last bit by hand so you don't overbeat. Pile it on the cake and spread it evenly, adding crushed Oreos on top. Serve immediately.
Recipe by
Willow Bird Baking
at http://willowbirdbaking.com/2016/06/23/ultimate-tres-leches-cookies-and-cream-cake-and-a-giant-announcement/