Quick and Easy Cherry Cheesecake Pie Bites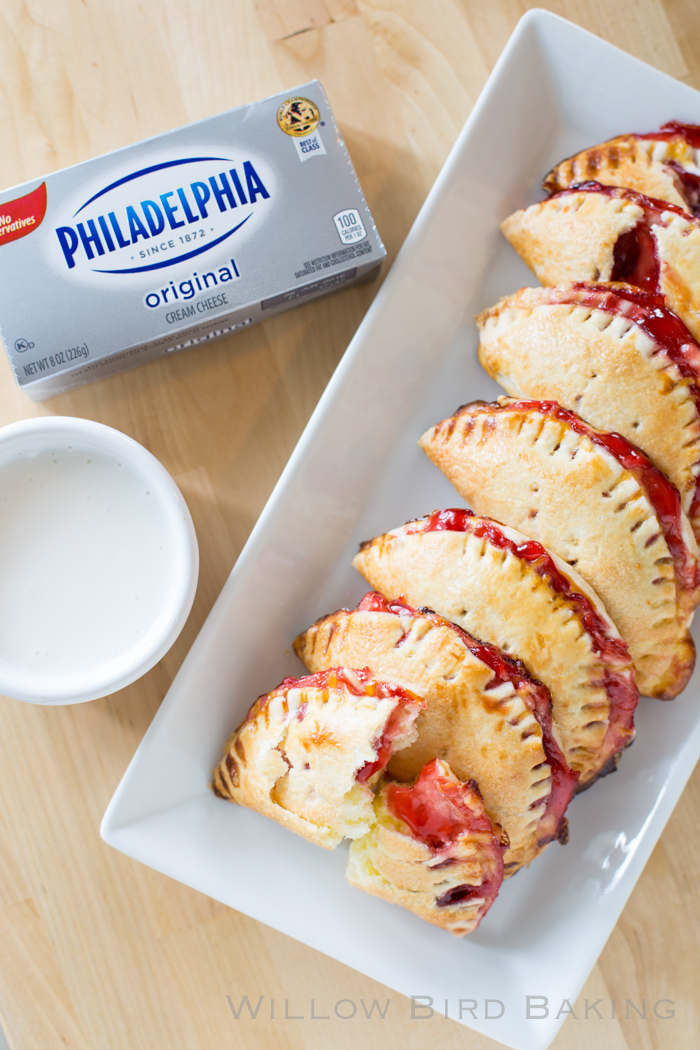 Author:
Willow Bird Baking
Serves:
10 servings (2 bites each)
2 packages (2-count) refrigerated pie crusts (4 crusts total)
1 (8-ounce) Philadelphia Cream Cheese Brick, softened
1/4 cup sugar
1 egg, room temperature
1 can cherry pie filling
1 egg, lightly beaten with 1 teaspoon water for egg wash
Sugar for sprinkling
1 cup powdered sugar
2 tablespoons water
1/2 teaspoon almond extract
Preheat the oven to 425 degrees F and line two baking sheets with parchment paper. Unroll the refrigerated pie crusts one at a time and use a 4 1/2-inch round cookie cutter to cut out as many circles as possible. (I got 5 circles from each crust, for a total of 20 circles.) Lay these out on your prepared baking sheets.
In a large bowl, beat together Philadelphia Cream Cheese, sugar, and egg until smooth. Transfer this to a zip-top bag with the corner cut off. In the middle of each pie crust dough round, pipe about 1 tablespoon of cream cheese mixture. Spoon 1 or 2 cherries with sauce on top. Fold the pie dough over into an empanada shape, sealing together the edges with a fork. (Some of the filling will inevitably ooze out as you crimp, but don't worry! They'll still bake up super cute.) Poke a couple of small vents into each cherry pie bite with a fork, brush it with egg wash, and sprinkle it with sugar.
Bake the bites for 14 to 15 minutes, or until deep golden brown. Remove to a cooling rack to cool. Whisk together the powdered sugar, water, and almond extract, and pour into a dip bowl. Serve the cooled bites and dip together.
Recipe by
Willow Bird Baking
at http://willowbirdbaking.com/2016/04/22/quick-and-easy-cherry-cheesecake-pie-bites/