Chipotle Shrimp Twice-Baked Sweet Potatoes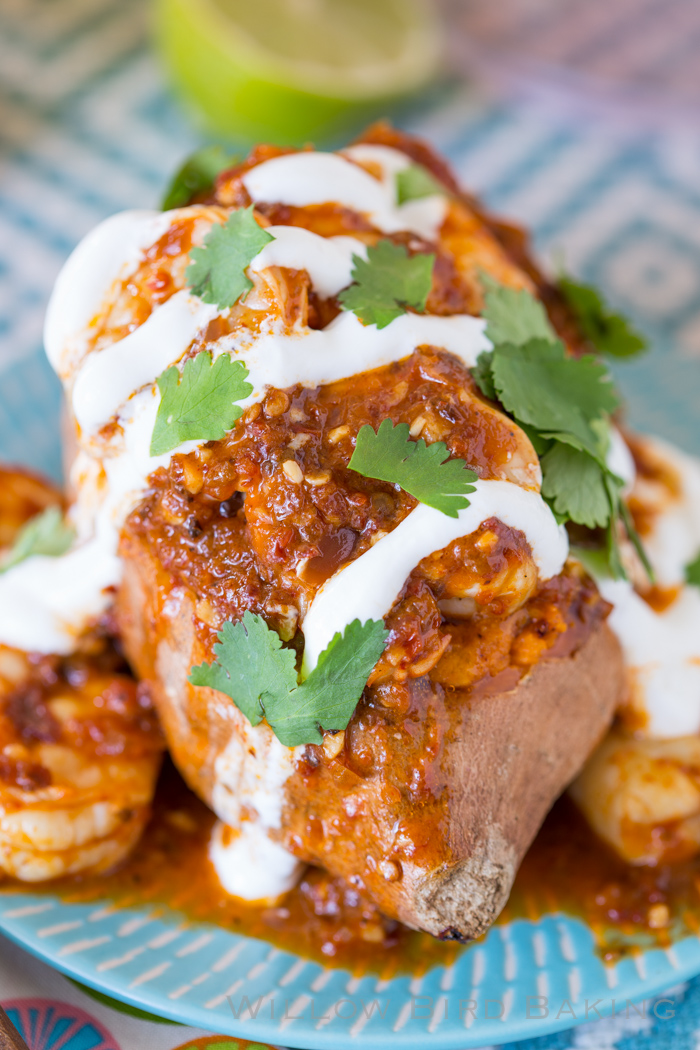 2 large sweet potatoes (look for ones that are shaped like a fat oval)
2 tablespoons olive oil
1/2 teaspoon cumin
1/2 teaspoon chili powder
1 teaspoon brown sugar
1/2 teaspoon salt
2 tablespoons butter
2 tablespoons half & half
2 tablespoon chopped chipotles in adobo sauce
2 teaspoon of adobo sauce from can
1 (7 ounce) can chipotle peppers in adobo sauce, minus what was used above
3/4 pound medium shrimp, deveined with tails and shells removed
2 teaspoons minced garlic
2 tablespoons olive oil
salt
1 1/2 tablespoons fresh lime juice
1 1/2 tablespoons unsalted butter
chopped cilantro and sour cream for garnish
Bake the sweet potatoes once: Preheat the oven to 400 degrees F and cover a baking sheet with foil. Poke each sweet potato 5-6 times with a fork and rub them with olive oil. Bake for 1 hour or until a knife poked into them meets no resistance. While they bake, mix the cumin, chili powder, brown sugar, and salt.
Bake 'em twice: Let the baked sweet potatoes cool for 10 minutes before slicing the top third off of each. Use a spoon to carefully scoop out the flesh (leave about 1/8 inch of flesh in the skin to give it some sturdiness). Mix the sweet potato flesh in a medium bowl with the butter, half and half, spice mixture, chopped chipotles, and adobo sauce. Return the mixture to the potatoes (At this point you can cover the potatoes and refrigerate overnight if you wish. If you do, just let them come to room temperature before you bake them the next day.) Return the potatoes to the oven for 10 more minutes.
Make the chipotle shrimp: While the potatoes enjoy their second round in the oven, process the chipotle peppers and sauce in a food processor until smooth. Place the puree, shrimp, and garlic together in a zip-top bag and gently work the bag around until the shrimp are well coated. Place the shrimp in the refrigerator for 20 minutes to marinate. Heat the olive oil in a large skillet over medium heat until it shimmers. Add the shrimp and sauce to the pan and sprinkle with salt and the lime juice. Cook for around 4 minutes, tossing the shrimp as needed, until the shrimp are cooked through. Remove from the heat and gently mix in the butter. Remove the twice-baked sweet potatoes from the oven, cover with chipotle shrimp, sprinkle with cilantro, drizzle with sour cream, and serve immediately.
Recipe by
Willow Bird Baking
at http://willowbirdbaking.com/2016/02/21/chipotle-shrimp-twice-baked-sweet-potatoes/