Chewy Brown Butter Oatmeal Creme Bars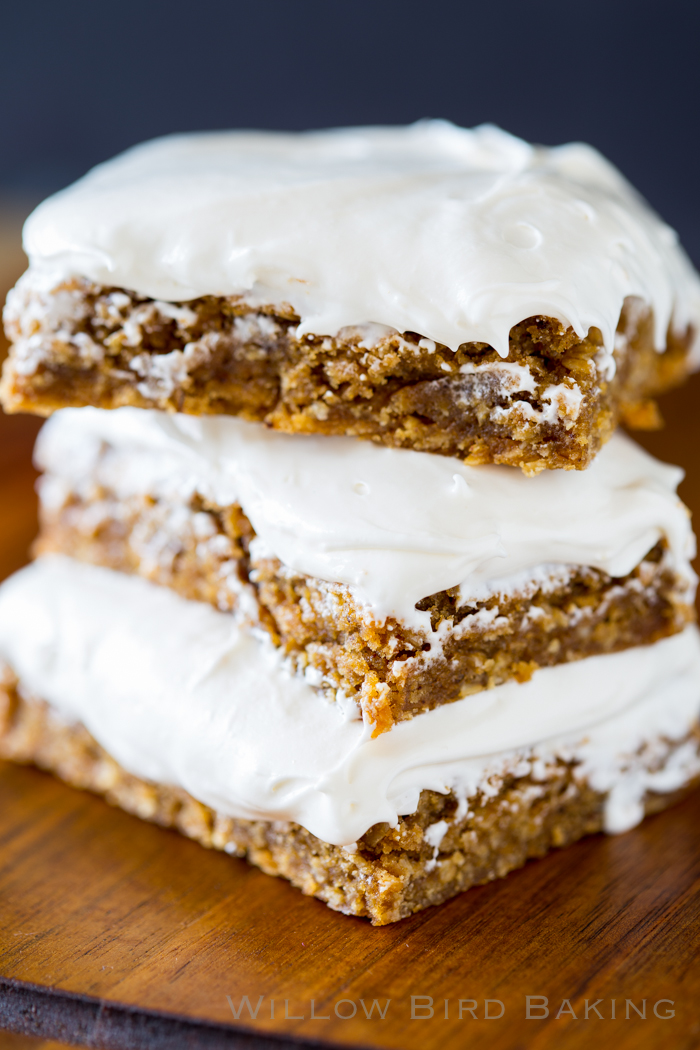 3/4 teaspoon cinnamon
1/4 teaspoon nutmeg
1/8 teaspoon cloves
1/2 cup unsalted Plugrá butter
1 large egg
1 cup light brown sugar
2 tablespoons unsulphered molasses
1 tablespoon vanilla extract
1/2 teaspoon salt
1 cup quick-cooking oats
3/4 cup all-purpose flour
1/2 cup unsalted Plugrá butter, softened
1 1/2 cups powdered sugar
one 7-ounce jar marshmallow creme
1/2 teaspoon vanilla extract
1/2 teaspoon salt
Brown the butter and bloom the spices: Measure the cinnamon, nutmeg, and cloves into one small prep bowl so they're ready. Melt the butter over medium heat in a small, heavy saucepan. Turn the heat up to medium-high, swirling the butter and scraping the bottom of the saucepan with a wooden spoon as it browns. When it's brown (but before it burns — don't take your eyes off of it!), remove it from the heat and add in the spices, swirling to mix. Pour the spiced butter out into a large mixing bowl and set it aside to cool to room temperature.
Preheat the oven to 350 degrees F. Prepare an 8-inch square baking pan with a parchment paper sling and spray it lightly with cooking spray. Whisk the egg, brown sugar, molasses, vanilla, and salt into the brown butter. Stir in the oats and then stir in the flour until just combined. Pour the mixture into your prepared baking pan and smooth out the top. Bake it for 24-25 minutes or until a toothpick inserted into the center of the bars comes out with just a few moist crumbs. Let the bars cool completely.
To make the cream, whip the butter until fluffy. Cream in the powdered sugar for 2-3 minutes. Add the jar of marshmallow creme, vanilla extract, and salt and beat until combined and fluffy. Frost the bars with about half of the frosting using the back of a spoon and cut into squares to serve with extra frosting alongside to add if desired. Store in an airtight container.
Recipe by
Willow Bird Baking
at http://willowbirdbaking.com/2015/11/08/brown-butter-oatmeal-creme-pie-bars/