Roasted Peaches and Shortbread Ice Cream Sundae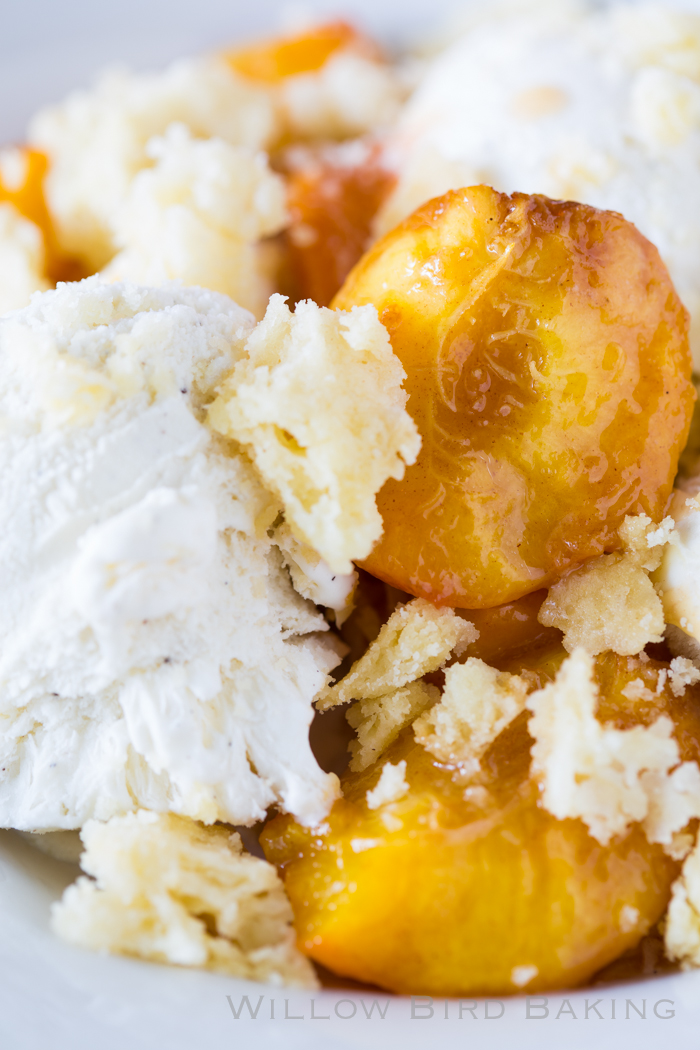 1 cup all-purpose flour
1/4 cup powdered sugar
pinch of salt
1/2 cup butter
8 peaches, peeled and quartered
6 tablespoons butter, melted
6 tablespoons sugar
1/2 teaspoon cinnamon
Make the shortbread. Preheat your oven to 350 degrees F. Line an 8-inch square baking pan with a foil sling. Process the flour, powdered sugar, and salt together for a few seconds before adding in the chunks of cold butter. Cut the butter into the flour mixture with about 6-8 pulses or until it looks like small peas. Press the mixture into the baking dish with the flat bottom of a glass or small dish. Bake for 20 minutes or until very lightly browning. Let cool completely on a wire rack. I remove my shortbread (using the sling) from the pan after just a few minutes to let it cool the rest of the way. When the shortbread is completely cool, break it into hunks.
Roast your peaches: Line two baking sheets with foil sprayed with cooking spray. Arrange the peach quarters in a single layer (I separated mine so they weren't touching) on both baking sheets. Brush them well with melted butter. Mix the cinnamon and sugar together. Sprinkle all of the sugar/cinnamon mixture over the peaches (I even turned them and sprinkled it on their undersides). Broil the peach quarters about 5 inches from the heating unit, turning once, for about 10 minutes or until nicely caramelized.
Assemble: Top vanilla bean ice cream with roasted peaches, syrup, and shortbread crumble. Enjoy!
Recipe by
Willow Bird Baking
at http://willowbirdbaking.com/2015/06/25/roasted-peaches-and-shortbread-ice-cream-sundae/