Hot Crab Dip in a Lemon-Garlic Baguette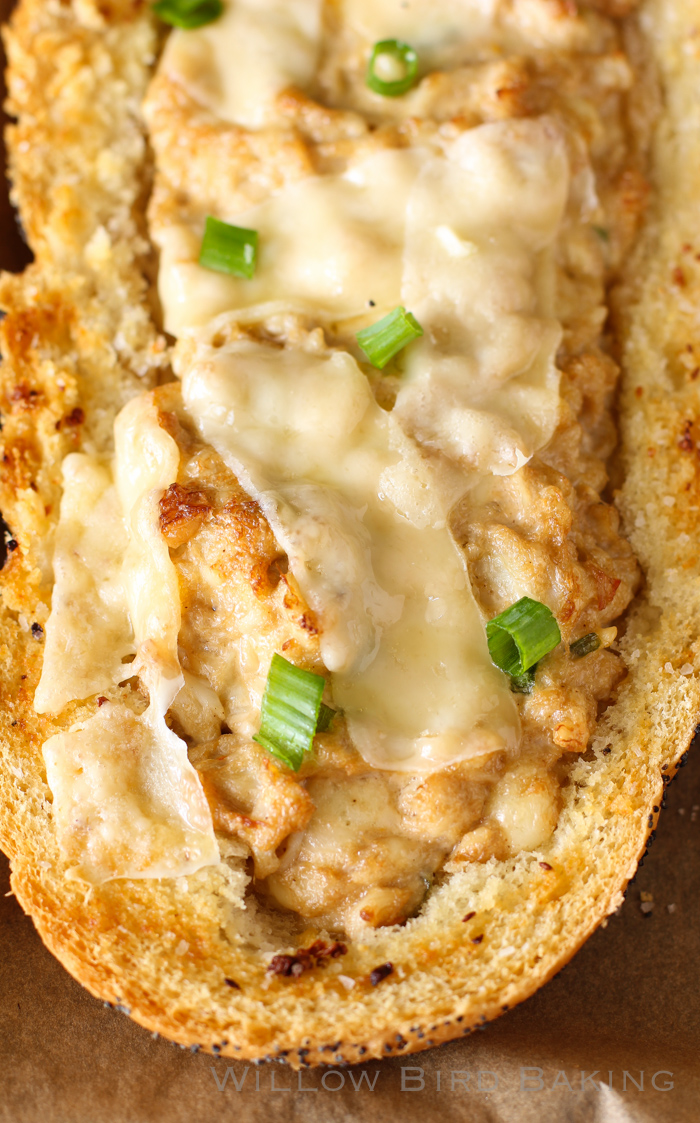 Author:
Adapted from Paula Deen and 101 Cookbooks, who probably never thought they'd be cited in a recipe together.
large loaf of Italian bread (I bought a poppyseeded one!)
3 tablespoons melted butter
1 teaspoon minced garlic
1 pound jumbo lump crabmeat, free of shells
1 cup grated pepper jack cheese (spring for the good stuff!)
3/4 cup mayonnaise
1/4 cup grated Parmesan (plus more shaved off for topping)
1/4 cup green onions, minced (plus more for topping)
2 teaspoons minced garlic
3 tablespoons Worcestershire sauce
2 tablespoons fresh lemon juice
1 teaspoon hot pepper sauce (I used Tabasco)
1/2 teaspoon dry mustard
Salt and pepper
Preheat the oven to 350 degrees F and line a baking sheet with parchment or foil. Use a serrated knife to slice your loaf in half lengthwise and then pull out the innards, making a mostly hollow bread "boat" out of each side. Mix the melted butter and teaspoon of garlic and brush it over the loaves, concentrating on the sides that will be exposed while baking but not neglecting the center well. Sprinkle lemon salt over the bread (maybe 1/4 to 1/2 teaspoon over each), again focusing on the sides. Set this aside.
Gently mix all crab dip ingredients together in a large bowl. Remember when salting the mixture that your bread is salted, so go easy -- you can always add more lemon salt later as a finishing step if you find you need it. Spoon it into your prepared bread and bake for 40 minutes, rotating the pan halfway through and keeping an eye on your bread. Cover it with foil if it starts to burn (mine never did.) With around 10 minutes left, top the dip with Parmesan shavings. Pull it out of the oven, let it cool for around 10 minutes, top it with fresh green onions, and serve in slices.
Recipe by
Willow Bird Baking
at http://willowbirdbaking.com/2015/02/04/hot-crab-dip-lemon-garlic-baguette/