Peach Cobbler Pastry Braid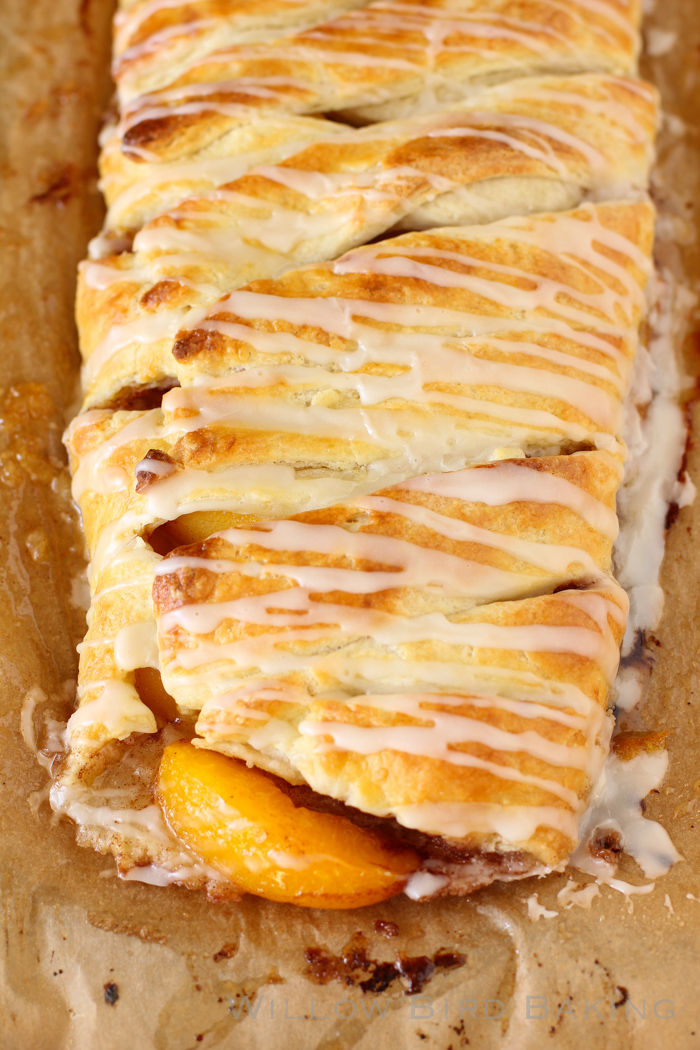 2 cups all-purpose flour
2 tablespoons powdered sugar
1 teaspoon baking powder
1/2 teaspoon salt
1/2 cup Plugrá butter
3 ounces cream cheese
1/2 cup milk
1/2 teaspoon almond extract
1 egg whisked with 1 teaspoon water for egg wash
3 tablespoons Plugrá butter, melted
1/3 cup sugar
1 teaspoon ground cinnamon
1 1/2 (15-ounce) cans sliced peaches in light syrup, drained
1/2 cup powdered sugar
1 tablespoon milk
1/8 teaspoon vanilla extract
ground cinnamon for sprinkling
vanilla bean ice cream for serving
Make the pastry braid: Preheat the oven to 425 degrees F. In the bowl of a food processor, mix the flour, powdered sugar, baking powder, and salt. Add the cream cheese and butter into the flour mixture and pulse to cut the fat into the flour (about 6 pulses). Add the milk and almond extract and blend until it's just starting to come together into a loose dough.
Turn the dough out onto a big sheet of lightly-floured parchment paper and knead each very lightly for just a few strokes (be careful not to overwork the dough or it'll be tough! Don't worry about getting it smooth — just knead for these few strokes and let it stay a little rough.) Very lightly flour the top of the dough and roll it out to a 10- by 12-inch rectangle. Measure and mark the dough lengthwise into thirds. Spread the melted butter over the middle third of the dough. Mix together the sugar and cinnamon and sprinkle the mixture over the butter. Fill the area with peach slices.
Continue assembling the braid: (Remember, there are photos below to help visualize this step in addition to a video above!) Make diagonal cuts at 1-inch intervals on each the long sides. Do not cut into the center filling area. Fold strips, first one from one side and then one from the other side in an alternating fashion, over the filling, dusting off excess flour as you go. It will now resemble a braid. Use the sheet of parchment to carefully transfer your braid to a baking sheet.
Bake and glaze the braid: Brush the pastry braid with the egg wash mixture. Bake in the 425 degree oven for 20-22 minutes, until the dough is really golden on top. When it gets out of the oven, I pour off any melted butter that has pooled around the bottom so the braid won't get soggy as it cools. After allowing the braid to cool for around 30 minutes, whisk together the powdered sugar, vanilla extract, and milk in a small measuring cup with a pour spout. Drizzle over the top of the braid. Top with cinnamon and serve warm with vanilla bean ice cream.
Recipe by
Willow Bird Baking
at http://willowbirdbaking.com/2015/01/18/peach-cobbler-pastry-braid/